Angola Operation Shows China Testing Overseas Security Role; Cambodian Visit to China Rubs Salt in ASEAN Wounds
Publication: China Brief Volume: 12 Issue: 17
By: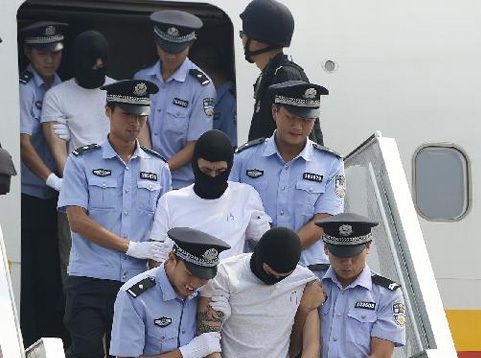 ANGOLA Operation Shows China Testing Overseas Security Role
On August 25, officials from the Chinese Ministry of Public Security (MPS) escorted 37 suspects back to China for violent crimes—including human trafficking, kidnapping, robbery and blackmail—against Chinese émigrés in Angola. The MPS made the arrests in a joint operation with their Angolan counterparts at the request of Luanda and under the aegis of an agreement inked in April (Xinhua, August 25; Wen Wei Po, August 25). Although press coverage at the time did not provide the details of the agreement signed by MPS chief Meng Jianzhu and Angola's interior minister, the MPS dispatched an advance team in May to begin working on this investigation and a working group in July (China News Service, August 29; Xinhua, August 25, April 25). This development—coming on the back of Beijing's Mekong security initiative and kidnappings of Chinese citizens in Africa—signals China's intent to take a more active role overseas protecting its citizens abroad.
Official Chinese press noted the MPS operation was the first such joint operation conducted in Africa; however, it is not the first such Chinese law enforcement operation outside China, nor even in Africa (Xinhua, August 25). An MPS team dispatched to the Congo in November 2010 to rescue Chinese tricked into prostitution left empty-handed, because the women reportedly prefered to stay there—not exactly the outcome one would expect Beijing to tout (South China Morning Post, January 1, 2011). More recently, Chinese police last month worked with their Burmese counterparts to take down a drug production facility inside Burma (The Irrawady, August 16). In May, one report suggested the MPS also conducted a joint operation with local law enforcement inside Laos to arrest Burmese drug kingpin Naw Kham, who is believed to have been behind the murder of 13 Chinese sailors on the Mekong last October (Shanghai Daily, May 11). Most reports, however, suggested the investigation was conducted cooperatively under the auspices of the "Mechanism for Law Enforcement Cooperation along the Mekong River" and the final arrest made by Lao authorities before Naw Kham was handed to Chinese police in Vientiane (Ministry of Public Security, May 16; Beijing News, May 11; "Mekong Murders Spur Beijing to Push New Security Cooperation," China Brief, November 11, 2011). There are other small but successful examples from the mid-2000s that contrast sharply with Beijing's botched dealings with fugitive Lai Changxing (Apple Daily, July 25, 2006; Taipei Times, July 21, 2006).
Between the Mekong incident last October and kidnappings in Africa earlier this year, Beijing has faced public pressure over its seeming inability to protect Chinese citizens abroad (China Daily, February 1; Xinhua, January 30; Guangming Daily, October 10, 2011). China's ability to provide physical security abroad—either using government or private security personnel—however, remains relatively limited ("Assessing China's Response Options to Kidnappings Abroad," China Brief, May 11). Given this situation and China's rhetorically rigid adherence to the non-interference principle, expanding international law enforcement cooperation and preparing "expeditionary" MPS teams to work with local security authorities probably is Beijing's best option. Given that previous examples were downplayed, the trumpeting of the success in Angola is a sign that China is committing both to greater international law enforcement cooperation as well as protecting its citizens abroad.
Cambodian Visit to China Rubs Salt in ASEAN Wounds
On September 1–2, Cambodian Prime Minister Hun Sen traveled to Urumqi to attend the second annual China-Eurasia Expo and to meet with Chinese Premier Wen Jiabao about continuing Chinese developmental aid (Xinhua, September 2). Although the significance of close Cambodian-Chinese ties is minimal in a bilateral context for Beijing, the regional implications for the South China Sea made the meeting appear to be the consummation of a quid pro quo as Phnom Penh has acted as surrogate for Chinese interests in the Association of Southeast Asian Nations (ASEAN). Cambodia came away from the trip with agreements in principle for a basket of aid and significant Chinese investment.
Beijing appears to be rewarding Cambodia almost explicitly for its support in stalling ASEAN deliberations. Premier Wen thanked Hun Sen "for [Cambodia's] important role in maintaining the overall situation of friendly relations between China and the ASEAN" (Xinhua, September 3). Wen also agreed in principle that Beijing would loan Cambodia $300–500 million for infrastructure and agricultural development, while another $80 million in loans are expected to be finalized later this year. Wen also added a grant of $24 million for use where Phnom Penh found appropriate (Jakarta Post, September 5; Xinhua, September 3). During the meeting, which was "held in a close and deep atmosphere with the spirit of friendship and close cooperation," Hun Sen also thanked Wen for China's support for Cambodia's bid to be on the UN Security Council for 2013–2014 (Global Times, September 3).
Although Sino-ASEAN relations are much more than just territorial disputes—China is now ASEAN's largest trading partner—regional actors reacted with suspicion to Hun Sen's China visit (Jakarta Post, September 5; People's Daily, August 29). Wen's expression of appreciation for Cambodia reproduced Manila's negative reaction to Phnom Penh's obstruction of Philippine and Vietnamese efforts to coordinate ASEAN pressure on China (Philippine Star, September 3; "China Pushes on the South China Sea, ASEAN Unity Collapses," China Brief, August 3). The bad blood this incident engendered overcame diplomatic courtesy. The Cambodian ambassador to Manila was asked to leave the Philippines after he publicly blamed Hanoi and Manila for dirty tricks that prevented an ASEAN joint communiqué in July (China Post, August 14). Even if innocent, the timing and statements of the visit feed suspicions of Chinese behavior.
As contentious as Chinese manipulation of ASEAN's consensus might be, Beijing's subtle hand avoids the letter of U.S. and regional accusations of coercion. In rejoinder to U.S. admonitions and during Secretary of State Hillary Clinton's visit, official media editorialized: "if China could really deal with the Philippines and Vietnam through 'coercion,' these two countries would not have acted as provocatively in recent times, and the South China Sea issue would have been much simpler, because the parties involved would have simply prepared for war" (Global Times, September 5). It might not be fair but it is peaceful.