Anti-Corruption Tide Sweeping Across Ukraine
Publication: Eurasia Daily Monitor Volume: 12 Issue: 60
By: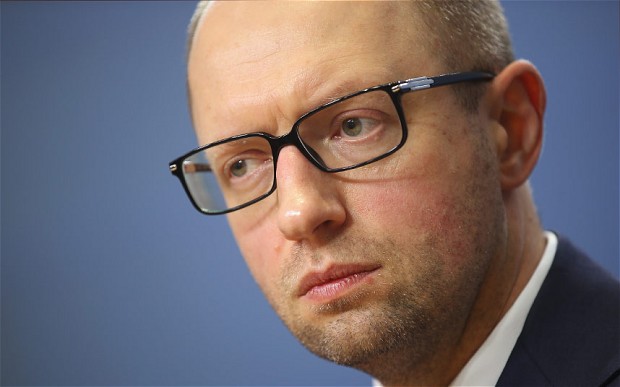 As the fragile truce in eastern Ukraine has provided Kyiv with a respite from war, the Ukrainian authorities have begun to purge their own ranks. Ukrainian Prime Minister Arseniy Yatsenyuk, who has been in charge of economic policy since the Maidan victory in February 2014, is having a hard time fending off corruption allegations. Ihor Kolomoysky, an oligarch who reportedly supported the Yatsenyuk party's election campaign last year and was one of the few oligarchs to openly back the EuroMaidan movement from the very start, has lost the position of governor of a key eastern province over a conflict of interest. Several mid-rank government officials also face corruption charges.
On March 18, Mykola Hordiyenko, who had been suspended as head of the state financial inspectorate, accused Yatsenyuk of covering up corruption. According to Hordiyenko's report to parliament, there were grounds to re-nationalize Ukrtelecom, which was sold to companies linked to Donetsk oligarch Rinat Akhmetov several years ago, but Yatsenyuk tried to prevent this. Also, Hordiyenko alleged that Yatsenyuk suspended him in order to cover up corruption in the national nuclear power company Enerhoatom. The former state financial inspector suggested that the Prosecutor-General's Office should suspend Yatsenyuk and that parliament should pass a vote of no-confidence against the Cabinet if his accusations were confirmed to be true (Hromadske.tv, March 18). Hordiyenko repeated these accusations during a prime-time TV talk show (Inter TV, March 20).
Yatsenyuk rejected Hordiyenko's allegations, saying that his team was the target of a smear campaign similar to the one that toppled the Yulia Tymoshenko government after the first Maidan in 2005. He also said he and his cabinet members were ready to testify regarding Hordiyenko's charges (Lb.ua, March 23). Meanwhile, Prosecutor-General Viktor Shokin, appointed by President Petro Poroshenko this past February, saw a political opportunity and grasped it. He announced that proceedings have been launched against government officials suspected of corruption, and that Yatsenyuk could be interrogated (Inter TV, March 26). Yatsenyuk has been caught between two powerful opposing voices: Inter TV, which is linked to oligarch Dmytro Firtash and has been at the forefront in the campaign against the prime minister, as well as TV channel 1+1, which rival oligarch Kolomoysky uses to attack the Poroshenko team.
Poroshenko, on March 24, fired Kolomoysky as governor of Dnipropetrovsk province. Kolomoysky, who is Ukraine's third or fourth richest businessman, according to Forbes, was appointed as governor a year ago with a mandate to stop pro-Russian insurgents from invading from neighboring Donetsk. He arguably succeeded in that. However, Kolomoysky recently crossed the line. Targeted by corruption fighters from Poroshenko's party, he challenged the Ukrainian president by threatening to organize protests in Dnipropetrovsk and to send his private militias from war-affected areas to Kyiv (Gazeta.ua, YouTube, March 24).
Thanks to agreements with previous governments, Kolomoysky's business interests informally controlled national oil assets. Consequently, industrial companies linked to him have had access to cheap fuel, using schemes involving the national oil company, Ukrnafta, the national oil pipeline operator, Ukrtransnafta, and Ukraine's biggest oil refinery, Ukrtatnafta. Kolomoysky apparently hoped to preserve the status quo after the 2013–2014 EuroMaidan. However, on March 19, Kolomoysky's manager, Oleksandr Lazorko, was dismissed as Ukrtransnafta CEO, and parliament passed a bill lowering the quorum for shareholder meetings to 50 percent plus one share in order to put an end to Kolomoysky's informal control of Ukrnafta, where firms linked to him hold 42 percent of shares (Pravda.com.ua, Zn.ua, March 19). In response, private guards, reportedly hired by Kolomoysky's managers, barricaded themselves in the offices of Ukrnafta and Ukrtransnafta; Kolomoysky asserted they were defending the two companies from corporate raiders (Forbes.ua, March 23).
Kolomoysky may have hoped to receive help from Prime Minister Yatsenyuk, whose ally Arsen Avakov heads the Ministry of Interior, but Yatsenyuk has pledged loyalty to Poroshenko. Speaking in a recent interview, Yatsenyuk said he would fight corruption hand-in-hand with Poroshenko, and denied any rift between them. Furthermore, Yatsenyuk said independent foreign managers would be invited to Ukrnafta, Ukrtransnafta and Ukrtatnafta (ICTV, March 29). It has been rumored that Washington intervened to show Kolomoysky his place. According to some Ukrainian news outlets, United States Vice President Joe Biden reportedly called Yatsenyuk and warned him against siding with Kolomoysky (Zn.ua, Pravda.com.ua, March 27).
Meanwhile, Interior Minister Avakov has been demonstrating his determination to keep order and root out corruption, perhaps a bit too ostentatiously. On March 23, he warned on his Facebook page that police would not tolerate armed private guards of businessmen such as Kolomoysky or Akhmetov, and gave them 24 hours to disarm. On March 25, police handcuffed the chief of emergencies, Serhy Bochkovsky, and his deputy Vasyl Stoyetsky in front of TV cameras at a government meeting. Avakov accused them of buying fuel at artificially high prices from certain chosen producers and transferring kickbacks to offshore accounts (Pravda.com.ua, March 25). Avakov also said officials from the ministries of environment and agriculture were suspected of corruption (Lb.ua, March 25).
Ukraine has been weakened by recession, war and corruption to such an extent that its economy is sure to collapse if Poroshenko and Yatsenyuk fail to impress the International Monetary Fund, the European Union and other creditors with reform efforts. Their record has been weak thus far, especially as far as corruption is concerned. It remains to be seen whether President Poroshenko is more serious about tackling corruption than his predecessors, or whether the recent series of incidents simply represents his efforts to impress foreign creditors and weaken domestic rivals.