AQAP Resilience Exposes the Weakness of Yemen's Security Apparatus
Publication: Terrorism Monitor Volume: 11 Issue: 21
By: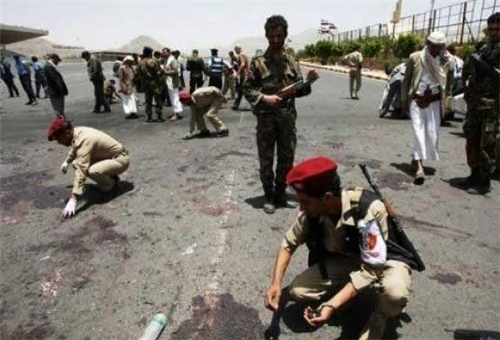 Using an explosives-laden vehicle, a suicide bomber targeted the gate of Yemen's 111th Army Brigade base in Ahwar, Abyan province, on October 18, while a commando of a dozen militants simultaneously stormed the camp with machine guns and RPGs (Barakish, [Sana'a], October 18; Yemen Post, October 20). A dozen Yemeni soldiers were killed and 15 others injured in the latest coordinated assault carried out by al-Qaeda in the Arabian Peninsula (AQAP) against army posts and compounds in the country's south, a pattern that shows both the group's resistance to the on-going military crackdown and the worrying weakness of Yemen's security apparatus (al-Sahwa [Sana'a], October 18).
Between July and October, AQAP militants successfully launched at least seven high-profile attacks on military camps across the southern governorates:
On July 23, jihadi militants used RPGs and mortars against the Political Security Organization (PSO) headquarters in al-Hawta, Lahij governorate, without causing any casualties (Marebpress.net

,

July 24).

On September 6, suspected AQAP militants shelled the camp of the Third Military District in Ma'rib city (

Barakish,

September 6).

On September 12, the First Military Region headquarters in Seyoun, Hadramawt governorate, was shelled with mortar fire (

al-Sahwa,

September 12).

On September 20, AQAP militants launched a coordinated attack using vehicle-borne improvised explosive devices (VBIEDs) against a military camp in al-Nashama, Shabwah governorate, killing at least 25 soldiers. On the same day, an AQAP commando attacked an army base in Mayfa, Shabwa, killing eight special forces soldiers, kidnapping five army officers and stealing several military vehicles (

Barakish,

September 20;

Yemen Today,

September 21).

On September 30, AQAP militants wearing military uniforms seized the Yemeni Army's Second Military District headquarters in al-Mukalla, Hadramawt. After a three-day standoff, an army raid supported by counter-terrorism units to recapture the compound resulted in the deaths of 25 militants and 10 soldiers (Honahadhramout.com

,

September 30; Hadrmoutpress.com

,

September 30; Marebpress.net

,

October 4; see Terrorism Monitor Brief, October 18).

On October 14, AQAP militants wearing military uniforms attacked a camp of the newly-formed special security forces in al-Hawta, Lahij, killing three soldiers (Alwatanye.net, October 14).
While this series of attacks seems to suggest a strategic move by AQAP aimed at supplementing its relentless assassination campaign on security and army personnel with higher-profile attacks targeting security assets, it also indicates how AQAP is gradually recovering its ability to stage major operations that take advantage of its inroads in the southern governorates. Besides its traditional strongholds in Shabwah, Hadramawt and Abyan, where according to security officials the group continues to train militants and keeps a large arsenal of weapons, AQAP is also extending its presence in the central al-Baydah governorate (Yemen Times, November 5). Here, according to Colonel Hamoud al-Amari, the Army's commander in the province, around 700 militants have found shelter in the Ra'da, al-Zahir, Almikras and Alhd districts (Yemen Times, October 8). The control of al-Baydah represents a strategic corridor for mounting AQAP operations further north, especially in the capital, Sana'a, where the number of AQAP attacks has increased in the last few months. On August 22, security forces discovered and defused five IEDs planted in the Parliament building; on August 25, a bomb planted on a bus transporting Air Force officers to al Daylami air base exploded killing at least one soldier; on October 6, suspected AQAP gunmen failed in an attempt to kidnap the German ambassador, but killed his bodyguard (Yaspr.net, August 23; Sabanews, August 25; Okaz [Jeddah], August 26; al-Jazeera, October 6).
Although AQAP operations in the capital have not reached the same level of effectiveness demonstrated in the south, the overall militant campaign is pointing to an increased level of sophistication. Jihadi militants are resorting more frequently to coordinated assaults aimed at taking control of strategic military bases, with AQAP commandos wearing military uniforms, using heavy weapons and unmanned VBIEDs to attack the bases' gates before breaching the compound. In August, security forces claimed to have thwarted an AQAP plot using militants posing as protesting soldiers to take over strategic locations in Ghayl Ba Wazir, Mukalla, and Belhaf (Barakish, August 7). The plot included IED attacks on natural gas and oil pipelines and the killing of foreign experts working at the Mukalla and Belhaf energy facilities (Barakish, August 7). Although attacks on oil and gas assets in Yemen are generally a prerogative of local tribes, especially in Ma'rib, as a tool to exert concessions from the central Government, further episodes suggest that AQAP is looking increasingly at oil infrastructure as a potential target. On August 11, AQAP militants killed five soldiers during an attack on oil and gas facilities in Radhum, Shabwah province, (Barakish, August 11). On September 13, AQAP elements attacked soldiers guarding oil tankers in Wadi 'Ayn, Hadramawt, killing 9 and injuring 8 (Marebpress.net, September 14). On September 20, security forces defused a VBIED allegedly parked by AQAP operatives in front of the Belhaf gas facility (Yaspr, September 21).
AQAP's successful attacks on military targets demonstrate the group's ability to recover from three major military offensives and the on-going ground and aerial campaigns against AQAP militants. Most worryingly, AQAP resilience is fostered by the central government's failure to assert its presence and authority in several areas of the country and is facilitated by the increasing number of episodes pointing to the complicity of security personnel with militants, which risks undermining the overall efforts to quash the group's militant activities. In Rada'a district (al-Bayda governorate), residents reportedly turned to AQAP to mediate their disputes because the government is not considered capable of doing so. While local authorities said Rada'a needs at least 6,000 soldiers to maintain security, the district has just 1,500 soldiers (Yemen Times, October 8; October 10). Similar assessments were given for Abyan, where four army brigades have often been out-gunned by the militants they are fighting, and for Ma'rib, where according to a report by the Yemeni Army the increase in the attacks on oil and gas infrastructures was a result of five military brigades being withdrawn from the central military region (Yemen Times, November 5, al-Bald News [al-Mukalla], October 8).
If the inability to guarantee higher levels of security is a symptom of the general political crisis still entangling the Yemeni government, the arrest of seven army officers at the Second Military District HQ in Mukalla on charges of having spied for AQAP and facilitating the September 30 attack on the building represents the most prominent case of complicity between militants and elements of the security apparatus (Barakish, October 3). The case is not isolated, however; Abyan Popular Committee members claimed, for instance, that some military forces are conspiring with AQAP and they are providing the militants with military uniforms (Yemen Times, October 24). Further, official documents quoted in local media revealed that Yemeni customs officials allowed AQAP to import around 700 cars without valid identification numbers, which provide the only way to trace a VBIED to its owner (HourNews.net, October 24). These episodes reiterate the multiple challenges the Yemeni administration still has to face in its attempt to eradicate AQAP presence in the country, an effort that should include a more effective strategy to deal with those cases of connivance between officials and militants that risk frustrating any future progress in the battle against the group.
Ludovico Carlino is a Ph.D. Candidate in the Department of International Politics at the University of Reading, specializing in al-Qaeda and its affiliated movements.