Are Continued Arrests of Ukraine's Former Top Officials Politically Motivated?
Publication: Eurasia Daily Monitor Volume: 8 Issue: 10
By: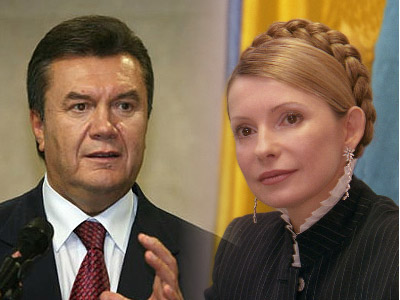 Several former top officials who served in the 2008-2009 government of the then Ukrainian Prime Minister, Yulia Tymoshenko, have been arrested on corruption charges since her arch rival Viktor Yanukovych was elected president in February 2010. Tymoshenko herself has to spend several hours almost weekly at the Prosecutor-General's Office (PGO), interrogated in a case opened against her. The PGO and the current government assert that there is no political motive in those cases and claim they are all part of an anti-corruption campaign launched by Yanukovych. However, investigators target almost exclusively Tymoshenko's allies and people with whom she worked. This prompts suspicions of political bias.
The arrests started last summer, when the former deputy director of Naftohaz Ukrainy, the state-controlled oil and gas company, Ihor Didenko, was detained in the case of the seizure of gas which belonged to RosUkrEnergo from underground reservoirs on Tymoshenko's orders in early 2009. RosUkrEnergo is a gas trade intermediary co-owned by Russia's Gazprom and Ukrainian tycoon Dmytro Firtash, a supporter of Yanukovych (Fokus, December 9, 2010; Kommersant, November 30, 2010; Ukrainski Novyny, July 12, 2010). Later, during the summer and fall of 2010, a former deputy head of the treasury, a former customs chief and a former acting defense minister were detained, while the former Economy Minister, Bohdan Danylyshyn, and former State Treasury Head, Tetyana Slyuz (who had both fled Ukraine) were placed on an international wanted list. All of these individuals face corruption charges and each worked in the Tymoshenko government.
The most recent wave of arrests started in December 2010. On December 14, the PGO detained former Environment Minister, Georgy Filipchuk, on suspicion of abuse of office (Zerkalo Nedeli, December 15). On December 15, the PGO announced that Tymoshenko was obliged to sign a written pledge not to leave Ukraine as she was suspected of abuse of office. Tymoshenko said she would be charged with illegally using the funds received by Ukraine for carbon quotas to pay pensions in 2009. Tymoshenko denied misusing the carbon funds and claimed the case against her was political (UNIAN, December 15). An audit commissioned by the current government to the US-based investigators Trout Cacheris found last October that the 320 million Euros ($427.75 million) which Ukraine received for carbon emission credits were not kept in the special Kyoto accounts, required by the Kyoto Protocol and the creditors Japan and Spain. Instead, the funds were used to fill the Pension Fund deficit and issue loans to Naftohaz, according to those findings (Interfax-Ukraine, October 14). The funds were later returned to the Kyoto accounts.
On December 22, the PGO detained former Deputy Justice Minister, Yevhen Korniychuk, on charges of abuse of office for authorising a tender for the provision of legal services to Naftohaz without competition, allowing the only legal company which had applied to win the tender. Korniychuk reportedly was a former partner in the company (Zerkalo Nedeli, December 22). Korniychuk happens to be the leader of the Social Democratic Party, which is allied with Tymoshenko's bloc. Korniychuk is also the son-in-law of Supreme Court Chief Judge, Vasyl Onopenko, who had founded that party and has been Tymoshenko's ally for many years.
The most sensational arrest was made on December 26, when the PGO detained the former Interior Minister, Yury Lutsenko, one of the leaders of the Orange Revolution in 2004, and in 2005 as the then interior minister he spearheaded an anti-corruption campaign against former officials. With Lutsenko's approval, the then Donetsk Region Council Chairman, Borys Kolesnykov, was arrested only to be acquitted after spending several months in prison, and the police raided the offices of a key ally of Yanukovych and Kolesnykov, the metals tycoon Rinat Akhmetov. Now the tables are turned. Kolesnykov is a Deputy Prime Minister and Akhmetov is Ukraine's richest businessman, while Lutsenko has been charged with embezzlement, abuse of office and fraud and may spend years in prison. Lutsenko claimed his arrest was political and the charges against him were trumped-up (Ukrainska Pravda, December 27).
Commenting on the arrests and her own case in a recent interview, Tymoshenko said that the authorities had launched "political repression" against their opponents in order to cripple the opposition ahead of parliamentary elections. The elections are expected in the fall of 2012, but Tymoshenko insists they should be held this year (Channel 5, January 4). Tymoshenko has logic on her side as dramatic austerity measures approved by the current government, especially the hikes in electricity and gas prices planned for this year, may spoil the Yanukovych camp's chances in the elections and increase the opposition's popularity.
Hanna Herman, Yanukovych's aide who acts as his unofficial spokeswoman, dismissed Tymoshenko's claims. Herman said the PGO targets both former and current officials who break the law. Herman said she had "two pages filled in small font" with the names of the current government officials against whom criminal cases were opened (Channel 5, January 5). At least two senior officials from Yanukovych's government indeed were detained on suspicion of corruption recently. These were the Chief Price Controller, Tetyana Rud, and the Deputy Chief of the Customs Service, Viktor Bondar (Ukrainska Pravda, November 10, 2010, Zerkalo Nedeli, December 24). However, this cannot be compared with the number of recent arrests among Tymoshenko's former and current allies. This arguably gives Tymoshenko grounds to claim political persecution. Meanwhile, on January 11, visiting EU enlargement commissioner Stefan Fule warned Ukraine against using criminal prosecution for political purposes, and on January 13 the Czech Republic granted political asylum to Danylyshyn (Ukrainska Pravda, January 11, 13).