Are Georgian-Ukrainian Bilateral Relations Deteriorating?
Publication: Eurasia Daily Monitor Volume: 12 Issue: 58
By: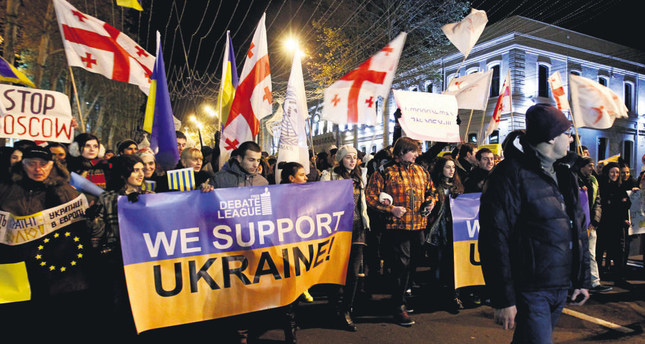 On March 26, Georgian Prime Minister Irakli Garibashvili declared that he was postponing his state visit to Ukraine because he was too busy dealing with Georgia's domestic affairs. Garibashvili took pains to emphasize that the postponement of his visit was not due to his unhappiness at the Ukrainian leadership's decision to appoint former president Mikhail Saakashvili and his former senior Georgian officials—all political nemeses of the current Georgian ruling elite—to high-ranking government positions in Kyiv (Channel 1 TV; Rustavi 2, March 26). However, many signs indicate that the reason for Garibashvili's postponement was indeed sparked by that issue.
The fate of former president Saakashvili and his political allies became the single biggest spoiler in relations between Ukrainian President Petro Poroshenko's administration in Kyiv and the Georgian Dream (GD) coalition–led government in Tbilisi. President Poroshenko appointed several of Saakashvili's close political allies to high-level positions in 2014–2015: Alexander Kvitashvili became Ukrainian minister of healthcare; Eka Zguladze took the post of deputy minister of interior; David Sakhvarelidze was appointed deputy attorney general; and Gia Getsadze became deputy minister of justice (Netgazeti.ge, February 16). All of these individuals served in these same capacities in the Georgian government during Saakashvili's presidency. Moreover, Zurab Adeishvili, the former minister of justice, who is wanted by the current Georgian authorities under Interpol's Red Notice on multiple charges of abuse of power, serves as an informal advisor to the Ukrainian government (Interpressnews.ge, February 2).
This flurry of appointments culminated in Saakashvili being put in charge of a newly created International Advisory Council on Reforms in Ukraine (Liberali.ge, February 14). Saakashvili's appointment irritated Tbilisi, however. The Georgian Ministry of Foreign Affairs even summoned Ukrainian ambassador to Georgia, Vasyl Tsibenko, to explain the matter (Channel 1TV, February 16). Later, the Georgian Chief Prosecutor's Office complained that, despite its request, Ukraine—in violation of various international treaties—refuses to extradite Saakashvili and Adeishvili (Rustavi 2, February 17). Earlier, Prime Minister Garibashvili, apparently irritated, stated that Kyiv's failure to extradite these former senior Georgian officials back to Georgia, and even appointing them to key positions in the Ukrainian government, were damaging bilateral ties (Channel 1 TV, December 20, 2014). Many of those Georgians who were angered by the alleged abuses of power under then-president Saakshavili's rule, might share Garibashvili's sentiments.
Yet, considering the aforementioned tensions in the bilateral relationship, are Georgian-Ukrainian relations actually deteriorating? On the one hand, both Georgian and Ukrainian officials have been doing their best to hide the thorn in their bilateral relations, sticking to the language of mutual respect and friendship. Prime Minister Garibashvili always reiterates that Georgia is ready to provide humanitarian help to Ukraine in any sphere. Georgia is, in fact, the largest contributor of humanitarian aid to Ukraine (Newsday.ge, December 29, 2014).
On the other hand, it is undeniable that Ukrainian-Georgian relations are suffering; but one has to make a clear distinction between the relations of the Ukrainian and Georgian governments versus people-to-people links. Moreover, this downturn is arguably temporary. To understand why it is temporary and why only inter-governmental relations are currently going through tough times, one needs to look more closely at the Ukrainian side.
Specifically, within the last five years, Ukraine and Georgia essentially switched places in terms of their relationship with Moscow. In 2010–2014, Ukraine, under pro-Moscow (or at least not anti-Russian) president Viktor Yanukovych, was cozying up to Russia, a policy which eventually led to Yanukovych's downfall in 2014. Since 2014, however, a new Ukrainian government quickly found itself engaged in a war of attrition, fighting for the country's very survival against Russia.
Georgia, on the other hand, until 2012, was ruled by the pro-Western Saakashvili. Furthermore, the country was engaged in constant political and, in 2008, even large-scale military conflict against Russia. Since 2012, however, the new, GD-led Georgian government began to take a more conciliatory, sometimes even servile, stance vis-à-vis Moscow, as it has tried to normalize its relations with the Russian Federation (see EDM, April 4, 2013; October 14, 2014).
Against this background, the current Ukrainian government would almost certainly have preferred to deal with a more pro-Western government in Tbilisi, which would support the struggling Ukraine far more actively, politically and even militarily, in its fight against Russia. Hence, this factor is a key cause of Kyiv's irritation with Tbilisi.
Another factor is more personal. Specifically, Saakashvili and his political allies have cultivated close personal relations with Petro Poroshenko for years. In fact, Poroshenko and Saakashvili had both attended the National University of Kyiv, where their friendship is believed to have originated. Subsequently, Poroshenko may feel a close personal connection with Saakashvili, whom he likely sees as a political victim of the current Georgian government—a government to which he probably does not hold a similar emotional attachment.
Nevertheless, despite the current problems between the two governments, relations between the Ukrainian and Georgian states, as well as between the Ukrainian and Georgian peoples, will most likely persevere and remain strong. Indeed, the friendship and mutual affinity between the Ukrainian and Georgian nations stretch back several centuries, since at least the time when the much-revered Georgian poet David Guramishvili first settled in Russian-occupied Ukraine in the 1730s.
After that time, Georgia and Ukraine shared a similar history under tsarist and Soviet occupation, which was exemplified by political repression, economic exploitation, cultural assimilation, and even systematic mass murders. Moreover, during the 1992–1993 Abkhazia War, hundreds of Ukrainian volunteers fought on the Georgian side. Dozens of them were killed in action. In return, after Russia annexed Crimea in spring 2014 and launched a war in eastern Ukraine, hundreds of Georgian volunteers went to fight on the Ukrainian side (see EDM, January 8). Several of them have died in combat.
This shared history of a mutual struggle and the joint friendship together create a solid bedrock on which Georgian-Ukrainian relations can stand firm. Whatever the current qualms between the respective governments in Tbilisi and Kyiv, they appear temporary and are highly unlikely to negatively affect medium- and long-term relations between the two countries.