Armenia, Azerbaijan Hold Face-Saving Summit for Russia's Medvedev
Publication: Eurasia Daily Monitor Volume: 9 Issue: 22
By: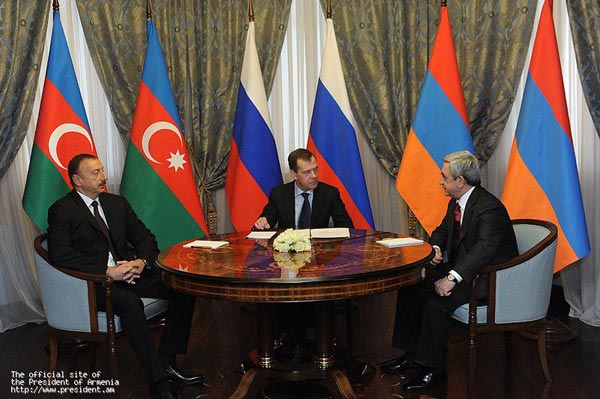 The presidents of Armenia and Azerbaijan have held yet another Russian-mediated meeting that was apparently intended to help their Russian counterpart, Dmitry Medvedev, save face after three years of intensive but unsuccessful efforts to broker a solution to the Nagorno-Karabakh conflict. The summit hosted by Medvedev in Sochi on January 23 also underlined Russia's central role in the Karabakh peace process, which seems to be acquiesced to by the other mediating powers, the United States and France. Predictably, it produced no indications that the conflicting parties will reach a breakthrough in the months ahead.
As usual, the three presidents made no public statements after their talks, issuing a written statement instead. The statement posted on the Kremlin's website (www.kremlin.ru) said that Armenia's Serzh Sargsyan and Azerbaijan's Ilham Aliyev "expressed readiness to accelerate the achievement of an agreement on the Basic Principles of the Nagorno-Karabakh settlement." But it did not specify if the two leaders narrowed their differences on the framework peace deal drafted by the US, Russia and France.
Those differences seemed to have been mostly overcome ahead of the previous Medvedev-Aliyev-Sargsyan meeting that was held in another Russian city, Kazan, in June last year. Yerevan says it yielded no agreement because of a dozen last-minute changes in the latest version of the Basic Principles demanded by Aliyev. Azerbaijani officials have not explicitly denied these claims echoed by Russia and Western diplomatic sources.
Russian Foreign Minister Sergei Lavrov told journalists after the Sochi talks that the two sides agreed to "move away from maximalist positions" in order to ensure further progress in the talks. Yet significantly, he noted that there is "a whole series of issues that remain to be agreed" (Interfax, January 23). This was a further indication that Baku and Yerevan did not move closer to bridging their unpublicized differences on the proposed peace formula.
What Aliyev and Sargsyan did agree on was praising Medvedev's Karabakh diplomacy. Their trilateral statement insisted that the nearly one dozen Armenian-Azerbaijani summits organized by him since late 2008 have brought the parties closer to peace. The outgoing Russian president can presumably use it to claim that his peace efforts have not been totally fruitless before completing his tenure and, as is widely anticipated, formally returning power to Vladimir Putin in less than two months. "In some areas we have moved forward, in others substantial difficulties still remain," Medvedev told Aliyev at a separate meeting in Sochi. "The fact that you are continuing these efforts gives me additional optimism," the Azerbaijani president replied (Russian First Channel, January 23).
According to Russian press reports, Medvedev was so frustrated with the Kazan fiasco last summer that he threatened to end his personal involvement in the negotiating process. But Russian officials made clear later in 2011 that Moscow will continue to take center stage in that process. Few observers in and outside the region believe, though, that Putin will show as much interest in the thorny Karabakh issue as Medvedev has. Especially now that both South Caucasus nations are entering a new pre-election period that hardly bodes well for mutual concessions on Karabakh. Sargsyan will be increasingly busy ensuring his Republican Party's victory in this May's parliamentary elections before trying to secure a second term in office early next year. Aliyev will also be up for reelection in 2013.
Accordingly, the international mediators have changed their focus from trying to broker a deal on the Basic Principles to bolstering the shaky ceasefire regime in the conflict zone. The US, Russian and French diplomats co-chairing the OSCE Minsk Group have repeatedly expressed serious concern over more frequent deadly skirmishes reported from the main Armenian-Azerbaijani "line of contact" east and north of Karabakh. After visiting Yerevan, Baku and Stepanakert in late October, they said the parties had agreed, in principle, to a mechanism for joint investigations of such incidents that was proposed by the co-chairs (www.osce.org). However, no definitive agreement to that effect has been announced yet.
The mediating powers highlighted their fears of another Armenian-Azerbaijani war in a statement issued by Lavrov, US Secretary of State Hillary Clinton and France's European Affairs Minister Jean Leonetti during an OSCE ministerial conference in Vilnius on December 6. The statement, also signed by the Armenian and Azerbaijani foreign ministers, reaffirmed their view that that "there can be no military solution to the Nagorno-Karabakh conflict." It at the same time described as "unacceptable" the status quo in the unresolved dispute (www.armenialiberty.org).

Azerbaijan threatens to forcibly win back Karabakh and Armenian-controlled territories surrounding the disputed enclave on a regular basis. Senior officials in Aliyev's government also regularly criticize the mediating troika. Ali Ahmedov, executive secretary of the ruling Yeni Azerbaycan party, demanded "significant changes" in the Minsk Group's activities the day after the Sochi summit. Ahmedov said Baku could seek "a new format" for the negotiating process if the group's three co-chairs fail to take "serious steps to resolve the conflict within a short period" (Trend, January 24).
This was a thinly veiled threat to move the conflict mediation to other international bodies, notably the United Nations, where Azerbaijan can count on the strong backing of dozens of fellow Muslim countries. (Two of them, Saudi Arabia and Pakistan, do not even recognize Armenia as an independent state.) Baku is in a better position to do that now, having secured a two-year membership of the UN Security Council last November. It already pushed through the UN General Assembly in 2008 a non-binding resolution that demanded an "immediate, complete and unconditional withdrawal of Armenian forces from occupied Azerbaijani lands."
This explains why Armenia is categorically against any UN involvement in the Karabakh peace process. Armenian Foreign Minister Edward Nalbandian insisted on November 3 that the US, Russia and France continue to share the Armenian side's view that the Minsk Group must remain the key international body mediating Armenian-Azerbaijani peace talks (Yerkir Media TV). All three mediating powers voted against the General Assembly resolution.