Armenia Debates Nuclear Energy After Japan Disaster
Publication: Eurasia Daily Monitor Volume: 8 Issue: 70
By: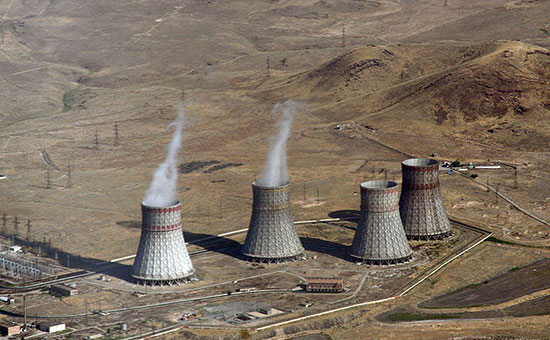 The future of the nuclear power plant at Metsamor and Armenia's continued reliance on atomic energy has come under pressure following the nuclear disaster in Japan. The Armenian government is facing renewed calls by local environmentalists to shut down the plant that generates about 40 percent of the country's electricity.
While pledging to learn lessons from the series of explosions at Japan's Fukushima nuclear plant, the Armenian government insists that the Soviet-built facility is safe enough to continue to operate for at least several more years. It has also pledged to forge ahead with ambitious plans to build a new, more powerful nuclear plant.
Located more than 30 kilometers (km) west of Yerevan, the Metsamor plant has two light-water reactors built in 1976 and 1980. They both were brought to a halt by the Soviet government one year after a catastrophic 1988 earthquake that killed some 25,000 people and devastated much of northwestern Armenia. The epicenter of the earthquake was only 75 km north of Metsamor. Armenia's first post-Soviet government reactivated the second Metsamor reactor in 1995 to end a crippling energy crisis resulting from the war with Azerbaijan and wider turmoil in the South Caucasus. The decision was made despite strong objections from the West, which considers this and many other Soviet-era nuclear plants inherently unsafe. It was also opposed by Armenian environment protection groups.
The latter now suggest that the Fukushima accidents triggered by a powerful earthquake and tsunami should be a wake-up call to the authorities in Yerevan. Their main argument is that like Japan, Armenia is located in a seismically active zone and should not have any nuclear facilities in principle. Hakob Sanasarian from the "Union of Greens" NGO claimed last month that Metsamor lies only 500 meters away from the nearest tectonic fault line. "In the seismic sense, it lies in the worst possible location," agreed Karine Danielian, a former environment minister who leads another NGO (www.armenialiberty.org, March 16).
Government officials and nuclear experts in Yerevan dismiss such concerns. Citing seismic research, they say, in particular that a magnitude 8.9 earthquake, which has wreaked havoc on Japan, is extremely unlikely to ever hit Armenia. The 1988 earthquake, they note, had a 7.2 magnitude and caused no damage to the Metsamor plant. On April 5 the Energy and Natural Resources Minister, Armen Movsisian, also argued that the Fukushima disaster was caused by the tsunami, rather than the earthquake (www.news.am, April 5).
The massive tidal waves are believed to have flooded and knocked out Fukushima's diesel-powered emergency backup generators, which are designed to keep the reactor cores cool during an emergency shutdown. Metsamor's reactor cooling system is different from Fukushima's, a fact emphasized by Armenian officials such as Ashot Martirosian, head of the State Committee on Nuclear Safety Regulation. They also consider the system more reliable.
Another argument advanced by Armenian officials is that Metsamor has undergone numerous safety upgrades since 1995. According to Movsisian's ministry, Armenia has received $130 million worth of assistance from the US, EU, Russia and other international bodies to finance these improvements. Another $25 million is to be spent on additional safety measures there in the next two years (www.armenialiberty.org).
Even so, Prime Minister Tigran Sargsyan announced on March 18 that the government has decided to initiate a comprehensive international review of Metsamor's safety because of the Fukushima disaster. He said at a cabinet meeting that international experts will be asked to advise Yerevan on "what additional steps need to be taken to improve the safety of our nuclear plant" (Statement by the Armenian government, March 18).
Addressing the Armenian parliament five days later, Sargsyan made clear that in any case the government will not abandon its plans to replace the nuclear plant by a new facility meeting modern safety standards. "Clearly, new-generation power plants have a higher degree of reliability than the nuclear plant that operated in Japan," he told lawmakers (Armenian Public Television, March 23).
Sargsyan's cabinet has already approved the design and technical parameters of the new plant's reactor. It is due to be built by a Russian-Armenian joint venture set up in late 2009. In August 2010 Moscow and Yerevan also signed an agreement on "technical and financial cooperation" in the implementation of the project estimated to cost $5 billion. Russian officials said afterwards that their government and energy companies could foot up to 20 percent of the bill. The Armenian government has yet to find other potential sources of funding. Movsisian told News.am that the government will hold an international conference on the project in Yerevan on April 27-28. Movsisian said it will be attended by potential investors and nuclear equipment manufacturers (Arka, April 5).
Visiting Armenia last November, a senior US State Department official, Daniel Rosenblum, said that Washington is "interested in having US companies participate" in the project. Rosenblum told journalists that the US-Armenia Joint Economic Task Force (which he co-chairs) discussed the issue during a meeting in Yerevan. In 2007, the US government allocated $2 million for a feasibility study on the project.
Armenian officials have said in the past that work on the new nuclear plant will start by 2012 and probably end in 2017, in time for Metsamor's planned decommissioning. However, others suggest that the construction could be delayed by several years. This implies that the existing plant may well operate longer than planned. There are no indications yet that the Fukushima emergency will shorten its life.