Armenia Pledges to Withdraw Armed Forces From Karabakh
Publication: Eurasia Daily Monitor Volume: 19 Issue: 110
By: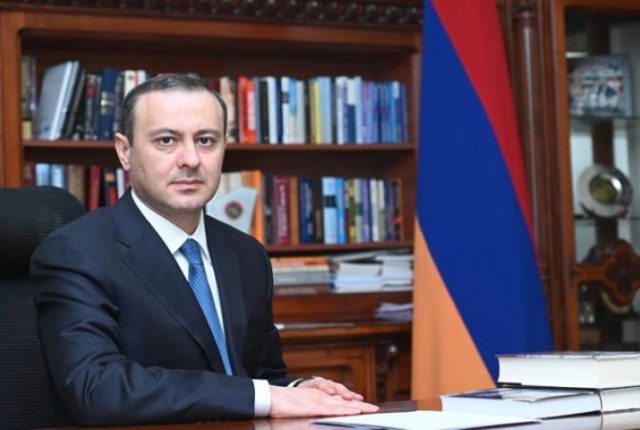 On July 19, Security Council of Armenia Secretary Armen Grigoryan, in an interview with local media, declared that Armenia will withdraw its armed forces from the Karabakh region of Azerbaijan and Armenian military servicemen will no longer be deployed there (News.am, July 19). "This process is nearing completion and will end in September," he added.
This came as a surprise to local observers for several reasons. First, the Armenian side had been refusing to pull back its forces from the region and even declared its plans to deploy contract soldiers from Armenia to the area as recently as June 2022 (Caliber.az, June 28). Second, despite the Azerbaijani government's assertions, many international observers, including the International Crisis Group, had erroneously reported earlier that "Armenia has withdrawn its forces [from Karabakh] to its territory and, with them, most of the heavy weaponry that was deployed against Azerbaijan during the fighting" (International Crisis Group, April 22).
Grigoryan's statement came on the heels of several important developments in the Armenia-Azerbaijan peace process over the past few weeks. The latest such development was the cabinet meeting of Azerbaijani President Ilham Aliyev on July 15, in which he criticized Armenia's refusal to fulfill its obligations and Russia's unwillingness to ensure the implementation of the trilateral statement from November 10, 2020 (President.az, July 15).
According to the fourth clause of this statement, which ended the Second Karabakh War, "The peacekeeping contingent of the Russian Federation shall be deployed in parallel with the withdrawal of the Armenian Armed Forces" (President.az, November 10, 2020). "This [obligation] has not been fulfilled [by the Armenian side] so far. We have repeatedly raised this issue, but Armenia is procrastinating," argued President Aliyev on July 15 (President.az, July 15).
In his speech, Aliyev disclosed an important previously unknown detail on the negotiations of this matter. According to the Azerbaijani leader, a high-ranking official of Russia's Defense Ministry, during his visit to Baku a few months ago, promised that Armenia would withdraw its armed forces from Karabakh by June 2022. As Aliyev has contested, "We are now in the middle of July, but this issue has yet to be resolved" (President.az, July 15).
Russia's role in implementing the fourth clause of the trilateral statement and the Armenian government's recent decision was also mentioned by Grigoryan in his interview. According to him, "The Russian Federation assured us that the invading Azerbaijani forces must withdraw [from Farrux village], and we hope that the Russian peacekeeping forces will ensure the withdrawal of the Azerbaijani units that have illegally invaded this area of responsibility for the Russian peacekeeping forces in Nagorno-Karabakh" (News.am, July 19). Farrux is a village located in the zone that was under Russian peacekeeping forces' control in Karabakh; Azerbaijan restored its control to this area in March 2022. Grigoryan also added that the military units of the Armenian separatist regime in Karabakh would remain operational and ensure the security of Armenians in Karabakh jointly with the Russian peacekeeping forces.
This statement, along with reaffirming that Russia remains a main actor in the peace process despite the European Union's growing role, demonstrates that Armenia still holds territorial claims to the Azerbaijani territories, although Yerevan had pledged to withdraw its troops from the Karabakh region (See EDM, April 14, May 18, 31). Farrux, where Grigoryan says Azerbaijan "illegally invaded," is part of Azerbaijan's sovereign territories as recognized by the United Nations Security Council (See EDM, March 29). The presence of armed forces of the separatist regime in this region is, therefore, perceived in Baku as a threat to Azerbaijan's national security. Azerbaijan will more than likely seek to ensure the demilitarization of separatists in the next stages of negotiations.
Even in the face of these setbacks, positive dynamics within the peace process raise hope that these fateful issues can be solved in a peaceful manner by both sides. To this end, the foreign ministers of Armenia and Azerbaijan met for the first time in a bilateral meeting on July 16 (Mfa.gov.az, July 16). Although no novel promises were declared by either side following the meeting, which was held in Tbilisi, Georgia, the continuation of bilateral contacts between the two sides is imperative for the peace process. And in fact, the first bilateral contacts between Armenia's and Azerbaijan's foreign ministers took place in April 2022, when they spoke twice by phone (Mfa.gov.az, April 11, Mfa.am, April 25).
Both countries' leaders are now expected to meet in Brussels for the third time this year via the mediation of European Council President Charles Michel. According to the outcomes of the previous Brussels summit between Armenia and Azerbaijan on May 22, the governments pledged to meet again in July or August (Consilium.europa.eu, May 23). Meanwhile, each side has launched an international commission on border delimitation and demarcation, which held their respective first meetings only few days after the May summit (Caspiannews.com, May 25), and reactivated the Russian-mediated working group of deputy prime ministers on the re-opening of regional transportation channels  (Mfa.gov.az, May 24). These developments promise to deliver positive results for regional peace and security, but the ongoing threats and challenges of Karabakh should not be overlooked (See EDM, May 18, 31).