ARMENIAN, AZERI PRESIDENTS REKINDLE HOPES FOR KARABAKH PEACE
Publication: Eurasia Daily Monitor Volume: 3 Issue: 221
By: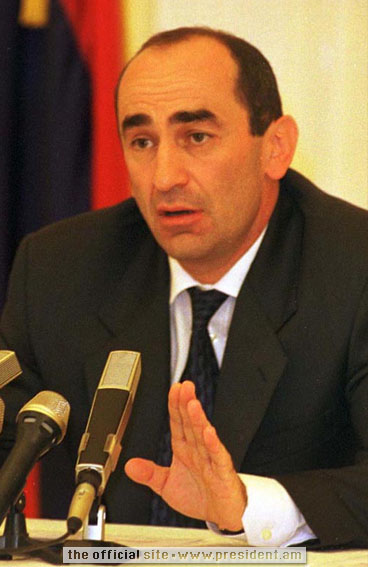 The presidents of Armenia and Azerbaijan have produced a new glimmer of hope for a resolution of the Karabakh conflict following their third face-to-face meeting in less than a year. Robert Kocharian and Ilham Aliyev have indicated that they made further progress towards a mutually acceptable settlement during their talks held on the sidelines of a Commonwealth of Independent States summit in Minsk on November 28. It is not yet clear, however, whether they are seeking to sign any peace accords before next spring's Armenian parliamentary elections, or the presidential elections due in both South Caucasus states in 2008.
The latest Armenian-Azerbaijani summit was widely seen as the last opportunity to achieve a breakthrough in the protracted search for Karabakh peace before those polls. The fact that it started in the presence of the foreign ministers of Russia and Belgium, which currently holds the OSCE's rotating presidency, only underlined its importance for the international community. Aliyev and Kocharian reportedly continued the discussion in a tête-à-tête format for about two hours before flying home without making any statements in the Belarusian capital. The U.S., French and Russian diplomats co-chairing the OSCE's Minsk Group on Karabakh, who arranged the encounter, likewise declined comment.
Aliyev's subsequent assessment of the talks was particularly positive. "I can say that we are already approaching the final phase of negotiations," he told state television in Baku, in remarks cited by Azerbaijani newspapers on November 30. Significantly, Aliyev stated that he and his Armenian counterpart reached agreement on a number of unspecified sticking points that had prevented a breakthrough in their two previous meetings held in February and June. He did not elaborate.
Kocharian also expressed, through his Foreign Minister Vartan Oskanian, his satisfaction with the results of the negotiations. "I cannot say concretely whether progress was made or not, but both presidents assessed the meeting as positive in terms of atmosphere and constructive approaches," Oskanian told journalists in Yerevan. "I think that the Armenian and Azerbaijani presidents will analyze everything in detail within a few days and give precise instructions to the foreign ministers about their future work," he added.
The Aliyev-Kocharian talks were preceded (and made possible) by a flurry of diplomatic activity by the Minsk Group co-chairs, Oskanian, and his Azerbaijani opposite number Elmar Mammadyarov. The two foreign ministers met for three times in less than a month, most recently in Brussels on November 14. The meetings focused on what the mediators have described as "complementary elements" to their existing Karabakh peace plan that were put forward following the failure of the previous Armenian-Azerbaijani summits. Neither the co-chairs nor the conflicting parties have disclosed those elements so far.
The parties, meanwhile, continue to make differing interpretations of a key point of the Minsk Group plan: a referendum in Karabakh that would determine the disputed region's future status. Official Yerevan insists that the territory's predominantly ethnic Armenian population would be able to decide whether it wants to be independent, become a part of Armenia or return under Azerbaijani rule. The Karabakh Armenians would almost certainly reject the latter option.
Azerbaijani leaders, for their part, say that the proposed referendum should only determine the extent of Karabakh's future autonomy within Azerbaijan. In his latest televised remarks, Aliyev reiterated that Baku would only agree to give Karabakh a "maximum degree of self-rule," something that is a non-starter for the Armenian side.
Even assuming that the two sides have managed to find common ground on their main bone of contention, they will not necessarily rush to announce any agreements in the coming months. In particular, Armenia's government and its political allies have already started preparations for the 2007 parliamentary elections and will hardly be willing to let the domestic opposition exploit unpopular Armenian concessions to Azerbaijan. Those include liberation of at least six of the seven Azerbaijani districts surrounding Karabakh that were fully or partly occupied by Armenian forces during their 1991-94 war. (The scale and timetable of the Armenian troop withdrawal has been another contentious issue.) Oskanian implied that the signing of any Armenian-Azerbaijani agreements before the upcoming polls is not in the offing. Still, he insisted that the election period "will not interrupt" the peace process, disagreeing with the widely held belief that failure to cut a framework peace deal now would keep the conflict unresolved at least until 2009.
The Minsk Group's U.S. co-chair, Deputy Assistant Secretary of State Matthew Bryza, likewise claimed in July that the Armenian and Azerbaijani elections are not an insurmountable obstacle to Karabakh peace. "If they come up with an agreement that's mutually acceptable, that should be a plus in an election," he said, referring to Aliyev and Kocharian. "That's a huge achievement that should actually help political leaders and their parties to win votes."
Some analysts interpreted the remarks as a sign that the West, and the United States in particular, will let the ruling regimes in Baku and Yerevan get away with fresh vote rigging and cling to power if they embrace the proposed peace formula. Peter Semneby, the European Union's special representative to the South Caucasus who accused the two governments of "playing for time," seriously questioned their commitment to mutual compromise on October 5. According to Semneby, Azerbaijan is trying to use its soaring oil revenues to change the balance of forces in its favor, while Armenia hopes that the Karabakh status quo will "cement itself" in the coming years.
(Zerkalo, November 30; Aravot, November 30; Armenian Public Television, November 29; RFE/RL Armenia Report, October 5; Interview with Matthew Bryza, July 29)