Armenian Government Allows Sale of Country's Sole Electricity Distributor
Publication: Eurasia Daily Monitor Volume: 12 Issue: 169
By: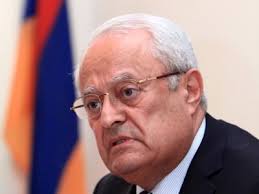 On September 17, Armenia's Energy Minister Yervand Zakharyan told journalists in Yerevan that the government's final decision about RAO UES International's intention to sell 100 percent of the shares of Electric Networks of Armenia (ENA) should be expected within one week (Armenpress.am, September 17). By law, ENA, which is a monopolist and holds an exclusive license to distribute electricity in Armenia, cannot be sold without the government's consent.
In June 2015, when the government's decision to approve an increase of the electricity fee requested by ENA resulted in mass public protests (see EDM June 12, 29), suggestions had even then been floated that RAO UES International could be considering the possibility of selling its electricity distributor. The Russian newspaper Kommersant reported that RAO UES International was already engaged in negotiations with a potential buyer before filing the request for the tariff increase. According to Kommersant, a Russian businessman of Armenian origin, Samvel Karapetyan, was the probable buyer. Karapetyan's assets are estimated at $4 billion, with business interests in Russia including real estate property development, a network of multiplex cinemas, and some regional electricity networks. But he has denied that his group of companies had been negotiating the possibility of buying ENA from RAO UES International (Kommersant, June 29); ENA representatives also claimed that the owner had no intention of selling the company (Azatutyun.am, June 29).
Nonetheless, throughout July, Armenian media continued to report that perhaps Samvel Karapetyan would buy ENA after the conclusion of the company's financial audit, planned as part of the government's attempt to calm the protesters (News.am, July 8). Even the auditor company has not been chosen yet, however: a tender was announced in late August, and the deadline for proposals is September 30 (Armenpress.am, August 31). Meanwhile, Yerevan decided to use the amount of $180 million received from Contour Global for the Vorotan hydropower plant to subsidize ENA, covering the accepted electricity fee difference, as it had been suggested before (Azatutyun.am, August 1).
Most recently, the Cyprus-registered Liormand Holdings Limited has been named as the potential buyer of ENA (Armenpress.am, September 17). That company is a subsidiary of another Cypriot company, Turva Management Limited, which, in turn, is owned by the Marcuard Trust (Cyprus) Limited (Rbc.ru, September 17). The latter is a subsidiary of a Swiss asset management company, Marcuard Heritage. According to media reports, one of the founders of Marcuard Heritage, head of its Moscow branch Sinan Bodmer, is also a member of the council of directors of the Moscow-based Fora Bank (Azatutyun.am, Sept. 18); at the same time, 69 percent of Fora Bank's shares are directly controlled by Karapetyan (Forabank.ru, accessed September 18).
In the opinion of Transparency International's analyst Artak Manukyan, ENA's sale at this stage—that is, before conducting an audit—would mean that the probable misappropriation of funds, which ENA's management had been repeatedly accused of previously, would not be properly considered. Moreover, according to Manukyan, the planned deal lacks transparency, and the buyer might have been chosen in order to underscore Yerevan's loyalty to Moscow, thus allowing Russia to maintain effective control over Armenia's energy production and distribution. At the same time, Armenian public opinion might be less inclined to blame Russia for the tariff rise, the quality of management, and numerous shortcomings as to the quality of service delivered to the consumer (Lragir.am, September 18).
The Armenian Times' economic analysis unit has also expressed skepticism about the lack of transparency of the planned deal, reminding that before being sold to RAO UES International, ENA had initially been privatized and sold to another offshore company, Midland Resources Holding, incorporated in Guernsey. And this sale went through despite interest expressed by French and Swiss companies that already specialized in the management of similar assets. Therefore, the Armenian government officials' motivation concerning the current deal on such an important asset could be suspect. It has also been noted that buying ENA would be Liormand Holdings Limited's first business deal since its incorporation in 2010; and ENA is likely to be resold soon, probably to Samvel Karapetyan (Armenian Times, September 18).
The suggestions about the non-transparent nature of the deal, as well as Russia's apparent wish to dispose of a problematic asset while keeping the entire situation under control, seem grounded in truth. The genuine value of ENA as an asset may be difficult to determine before the audit, particularly when taking into account the company's large unpaid bank loans and overdue tax payments—nearly $253 million altogether (see EDM, June 12). Yet, considering the well-known dependence of large Russian-based businesses on the authorities in Moscow, the eventual buyer may likely have to pay that amount (or at least repay ENA's bank loans). Similarly, the Armenian government's unwillingness to file a bankruptcy case against ENA, despite the company's outstanding debts, raise suspicions that the sale of Armenia's monopoly electricity distributor was motivated and handled, at least in part, according to political considerations. Whoever ENA's final buyer might be, selling the problematic asset to a friendly business structure will likely help to avoid any further investigations into the probable previous misappropriations of funds. In any case, it seems unavoidable that the buyer's connections with the Armenian political establishment will play an important role. Therefore, profiteering at the expense of the general public can be expected to continue in this case.