Armenian Government and Parties Gear Up For Parliamentary Race
Publication: Eurasia Daily Monitor Volume: 8 Issue: 216
By: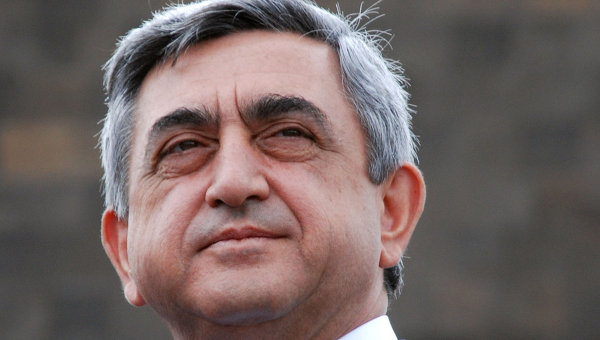 Parliamentary elections slated for May 2012 are becoming the focal point of political life in Armenia, with the main political forces already positioning themselves for the contest seen as a dress rehearsal for a presidential ballot due in 2013. President Serzh Sargsyan is expected to go to great lengths to retain a solid majority in parliament and thus pave the way for a second five-year term in office.
A series of unexpected changes within the country's political leadership engineered by him in recent weeks are clearly meant to serve that purpose. More specifically, Sargsyan seems anxious to ward off a possible challenge to his rule from Robert Kocharian, his predecessor and erstwhile ally. Sargsyan sees less of a threat emanating from the main opposition Armenian National Congress (HAK) alliance led by another former president, Levon Ter-Petrosian.
Having failed to clinch more concessions from the government through recent non-stop street protests in Yerevan, Ter-Petrosian announced in late October that the HAK may well fail to force early national elections (his key demand since 2008) and should therefore start preparing for the regular legislative polls. In a speech at a Yerevan rally witnessed by the author, he said his bloc will be seeking to gain a "weighty presence" in the National Assembly that would enable it to impeach the president "single-handedly or in an alliance with other forces."
Sargsyan's failure to respond to this statement as well as earlier overtures made by Ter-Petrosian is a measure of his self-confidence. Senior figures from his Republican Party of Armenia (HHK) have expressed confidence that the HHK will not only retain but even expand its parliamentary majority. The presidential party already controls most of the 131 parliament seats. It also relies on the backing of two junior partners in the governing coalition, the Prosperous Armenia (BHK) and Orinats Yerkir parties.
The BHK is particularly important, boasting the second largest faction in the current parliament and being represented in the government by four ministers. The party reportedly came under strong pressure from the presidential administration after its Kocharian-linked leader, businessman Gagik Tsarukian, pointedly declined to reaffirm support for Sargsyan's re-election in early October (www.tert.am, October 3). Tsarukian committed himself to such support in a February 2011 joint declaration with Sargsyan and Orinats Yerkir leader Artur Baghdasarian.
The tycoon spoke evasively about the 2013 presidential election just days after Kocharian, who governed the country from 1998-2008, gave the strongest indication yet of his desire to return to active politics (See EDM, October 28). Sargsyan's ensuing actions suggest that he is worried about the prospect of a Kocharian comeback despite the long history of mutually beneficial interaction between the two Karabakh-born men.
On October 28, Yerevan's Mayor Karen Karapetian (also a native of Karabakh) unexpectedly announced his decision to resign after less than one year in office. Karapetian attributed the move to "personal reasons" and denied any political reasons for it, insisting that he has always enjoyed "unlimited" support from the president (ArmNews TV, October 28). Some media commentators suggested that Karapetian was told to quit because of being regarded as a potential Kocharian loyalist. Similar speculation surrounded the resignation of Parliamentary Speaker, Hovik Abrahamian, which was announced on November 2 and formalized on November 14 (www.parliament.am). Abrahamian was more influential during Kocharian's rule. Also, one of his sons is married to a daughter of Tsarukian.
Speaking to Radio Free Europe's Armenian service on November 2, the outgoing speaker denied any connection between his resignation and Kocharian's political plans. He claimed that he stepped down in order to accept Sargsyan's offer to manage the ruling HHK's parliamentary election campaign.
In a related development, Mikael Minasian, Sargsyan's son-in-law and reputedly closest confidante, was relieved of his duties as deputy chief of the presidential staff on the next day. Minasian, 34, said he left the staff to "help" Abrahamian prepare for the parliamentary elections (www.news.am, November 3). This was construed by analysts as a further sign that Abrahamian is not trusted by the president.
The November 1 sacking of Alik Sargsyan (no relation), the chief of the Armenian police appears to have also been election-related. His replacement, former Deputy Defense Minister Vladimir Gasparian, is widely regarded as a tougher figure fully loyal to the head of state.
Meanwhile, the BHK is still in no rush to explicitly state whom it will support in the presidential election. One of its senior parliamentarians, Vartan Bostanjian, suggested on November 10 that Tsarukian's party can actually win the 2012 polls if "equal conditions" are put in place for all election contenders (www.armenialiberty.org). Bostanjian spoke three days before a BHK candidate defeated the incumbent HHK-affiliated mayor of the northern town of Ijevan in a local election. The presidential camp downplayed nationwide implications of its rare electoral loss. It also insists that the forthcoming elections will be the most democratic in Armenia's history, a pledge dismissed by the leading opposition groups. Their skepticism is rooted in the Armenian authorities' handling of past elections marred by reports of serious fraud.
In a November 21 open letter, Raffi Hovannisian, the US-born leader of the opposition Heritage party, challenged Sargsyan to prove his stated commitment to clean elections by ending the HHK's heavy use of government levers and enacting more radical changes to electoral legislation. In particular, Hovannisian said, election commissions must be required to ink voters' fingers to prevent multiple voting – a measure the authorities have long opposed (Aravot, November 22). The Armenian leader has still not responded to the letter.