Armenian Leader Firmly in Control Despite Renewed Opposition Protests
Publication: Eurasia Daily Monitor Volume: 7 Issue: 191
By: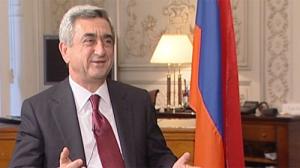 Armenian President, Serzh Sargsyan, remains in full control of the political processes in his country and should be able to serve out his first term in office despite renewed street protests staged by his most bitter adversary, Levon Ter-Petrosian (who served as Armenia's first president from 1991-1998). Armenian political discourse is increasingly turning to the next, regular parliamentary and presidential elections due in 2012 and 2013 respectively.
Sargsyan has already indicated through his Republican Party of Armenia (HHK) that he will run for reelection and seek to retain a comfortable majority in parliament. Currently, he has more reason to worry about potential challenges from some establishment forces than from Ter-Petrosian. Ter-Petrosian's Armenian National Congress (HAK) alliance resumed its regular demonstrations in Yerevan on September 17, after a six-month hiatus that highlighted its cautious strategy of taking on the ruling regime. The author witnessed the HAK leader addressing a number of recent rallies, during which Ter-Petrosian announced the start of "a new period of political struggle." Ter-Petrosian reiterated his demands for the immediate release of more than a dozen HAK loyalists remaining in prison, Sargsyan's resignation and holding snap national elections. Ter-Petrosian suggested this was the only way to save the country from "destruction."
Ter-Petrosian's speech at a HAK rally held on October 15 focused on government corruption, which he said has reached "incredible" proportions. The opposition bloc again rallied supporters and had them march through the city center four days later. The action was timed to coincide with the start of a high-level international conference on democracy organized by the Council of Europe in Yerevan. Several dozen HAK youths picketed the conference venue to demand the release of the "political prisoners," almost all of them were arrested following the hotly disputed presidential election in February 2008 (www.news.am, October 19). That was also the main theme of the HAK rally held later in the day.
In none of his three speeches, did Ter-Petrosian offer any indication that he is ready to make another push for power. Ter-Petrosian came very close to thwarting the handover of power from former President Robert Kocharian to Sargsyan that was formalized by the 2008 election. The Armenian authorities resorted to lethal force and mass arrests to end his ten-day non-stop protests staged in the wake of the ballot. Ter-Petrosian has since been careful to avoid a repeat of such unrest, despite pressure from the more radical elements in his opposition movement. Ter-Petrosian has even refrained from defying a de facto government ban on demonstrations in Yerevan's Liberty Square, the venue of his massive 2008 rallies. The HAK continues to organize its anti-government gatherings in another, smaller location in downtown Yerevan.
Ter-Petrosian's contradictory statements reinforce the impression that the charismatic former president, who made a dramatic political comeback in late 2007, lacks a clear plan of action and is sticking to his wait-and-see tactics. In a July 2010 speech, for example, Ter-Petrosian declared that Armenia cannot secure its future without making peace with Azerbaijan and Turkey (Aravot, July 20). Moreover, Ter-Petrosian reaffirmed this view (repeatedly expressed during his presidency) on September 17, while warning that the HAK would "resolutely act" against an unpopular resolution of the Karabakh conflict accepted by the Sargsyan administration.
One possible explanation for this caution is that popular enthusiasm for Ter-Petrosian's movement has steadily eroded over the past two years, making the latter a shadow of its former self. Only between two and five thousand people attended the most recent HAK rallies, a far cry from the 2008 protests. Most Armenians have traditionally shown little interest in politics between presidential elections, and Ter-Petrosian has clearly failed to change this pattern.
Ter-Petrosian publicly acknowledged last year that the HAK will fail to unseat Sargsyan without the backing of other major opposition groups, notably the Armenian Revolutionary Federation (ARF, also known as the Dashnak Party) and the Heritage Party. Yet, none of these parties have been willing to join forces with the HAK. The ARF has a long history of mutual antagonism with Ter-Petrosian, while Heritage's US-born leader, Raffi Hovannisian, is expected to run for the presidency in 2013. Equally, both parties agree that fresh presidential or parliamentary elections are extremely unlikely.
Meanwhile, Sargsyan's HHK intends to win a majority of seats in Armenia's next parliament to be elected in May 2012. Senior HHK figures have also made clear that the Armenian president will seek a second five-year term in 2013. In carrying out these plans, the ruling party may pit itself not only against the three opposition forces, but also its main junior partner in the governing coalition, the Prosperous Armenia Party (BHK) of Gagik Tsarukian, a wealthy businessman close to Kocharian. The Armenian press has been rife with speculation about mounting tensions between the two parties. Some commentators have even spoken of an inevitable clash between Sargsyan and Kocharian, who is allegedly plotting a return to government. However, the HHK and the BHK have denied having any serious differences.
However, on October 15 the Hayots Ashkhar daily cited a spokesman for Tsarukian as confirming reports that the BHK is also aiming for a parliamentary majority and that the results of the 2012 polls "cannot be predetermined in advance." Tsarukian's party has also pointedly declined to endorse Sargsyan's reelection bid. Razmik Zohrabian, the HHK's blunt-talking deputy chairman, scoffed at this "ambiguity" in an October 19 interview with the newspaper. Zohrabian was also scathing about the BHK's parliamentary election ambitions. "Not all soldiers become generals, no matter how much they want or talk about that," Zohrabian said in separate remarks (Hayots Ashkhar, October 19, 15; Aravot, October 14).