Armenian President Criticized Over Turkish Rapprochement
Publication: Eurasia Daily Monitor Volume: 6 Issue: 91
By: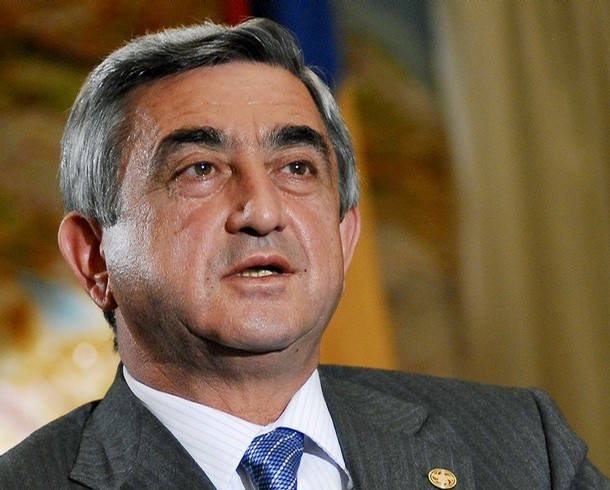 Armenia's President Serzh Sarksyan is facing mounting domestic criticism against his conciliatory policy toward Turkey, which is regarded as an initiative that has achieved few tangible results. A recent joint announcement by Ankara and Yerevan on a "roadmap" for normalizing bilateral ties has met with an overwhelmingly negative reaction in the country and especially within the worldwide Armenian diaspora. Many politicians and pundits believe that Sarksyan effectively thwarted any official U.S. recognition of the mass killings of Armenians in the Ottoman Empire as genocide, without securing an explicit Turkish pledge to re-open the border with Armenia.
One of the four parties represented within the Armenian government has withdrawn from the ruling coalition in protest over the Turkish-Armenian agreement -which was reportedly brokered by Washington. Its details remain unknown even after a meeting on May 7 in Prague between Sarksyan and Turkish President Abdullah Gul. The Armenian leader told reporters after the talks that they "agreed to honor our agreements" and continue with normalizing the historically strained ties between their nations "without preconditions and within reasonable time frames" (Armenian Public Television, May 8). According to the Turkish media, Gul stopped short of confirming that intention, and instead stressed the importance of resolving the Karabakh conflict.
The talks, held on the sidelines of the European Union summit in Prague, came two weeks after the Armenian and Turkish foreign ministries announced the "roadmap" deal in their first-ever joint statement. It was issued less than two days before the Armenian Remembrance Day on April 24 -an annual commemoration of the more than one million Ottoman Armenians massacred between 1915-1918. The timing of the statement is widely believed to have allowed U.S. President Barack Obama to circumvent his election campaign pledge to describe the slaughter as "genocide."
On April 27 the Armenian Revolutionary Federation (ARF, also known as the Dashnak Party) condemned the deal before pulling out of Sarksyan's coalition government. In an official statement the influential nationalist party -which has branches in all major Armenian communities abroad- said that Yerevan had seriously complicated greater international recognition of what many historians consider as the first genocide of the twentieth century and had gained nothing in return (www.armtown.com, April 27). In an unprecedented move, the ARF's branch in the United States, the Armenian National Committee of America (ANCA), boycotted Foreign Minister Eduard Nalbandian's May 5 meeting in Washington with the leaders of the Armenian-American community. A memo sent by the ANCA to its activists dismissed Nalbandian's trip, which included talks with U.S. Secretary of State Hillary Clinton, as a "PR offensive designed to consolidate the defeatist agreements reached recently between Armenia and Turkey" (RFE/RL Armenia Report, May 6).
Armenia's two main opposition forces, the Armenian National Congress (HAK) and the Heritage Party, also expressed concerns about the "roadmap," demanding its immediate disclosure by the authorities. The HAK's leader, former President Levon Ter-Petrosian, in a speech witnessed by Jamestown during a rally in Yerevan on May 1, alleged that Sarksyan "has literally sold out the genocide" to ensure the West's support for his continued rule. "Turkey has fully achieved its goal, Armenia has been left empty-handed and the diaspora again disappointed," Ter-Petrosian said. The remarks were extraordinary from an individual that championed Turkish-Armenian reconciliation, for which he was vilified by the ARF during his 1991-1998 presidency.
Sarksyan's handling of the year-long dialogue with Ankara has prompted criticism even from more moderate government critics such as Vartan Oskanian, who served as Armenia's foreign minister under Ter-Petrosian's successor Robert Kocharian from 1998-2008. "Turkey can now act the way it wants to," Oskanian wrote in a May 2 article in the 168 Zham newspaper. "It already has Armenian public consent over the basic bilateral issues and will decide at will when to open the border and on what terms."
Oskanian bases his skepticism on the Kocharian administration's decade-long fruitless dealings with successive Turkish governments. The current AKP government initiated a series of fence-mending negotiations with Yerevan shortly after taking office in early 2003. According to David Phillips, a U.S. scholar who chaired the U.S.-sponsored Turkish-Armenian Reconciliation Commission operating at the time, Turkey came very close to re-opening the border with Armenia in the summer of 2003. In a book published in 2005, Phillips said they eventually reconsidered in order to avoid alienating Azerbaijan.
The Azerbaijani factor has also re-emerged as the key hurdle to the success of the ongoing Turkish-Armenian dialogue. Ankara appeared to have stopped linking the normalization of Turkish-Armenian relations with a resolution of the Karabakh conflict acceptable to Azerbaijan, when it embarked on a dramatic rapprochement with Yerevan last summer. For his part, Sarksyan essentially accepted, despite strong domestic opposition, a Turkish proposal to form a joint commission of historians tasked with looking into the 1915 massacres.
Reports within both Western and Turkish media earlier this year, indicted that the two governments might establish diplomatic relations in April. But faced with vehement protests and warnings from Baku, Turkish Prime Minister Recep Tayyip Erdogan repeatedly stated in recent weeks that Turkey will not lift its 16-year economic boycott of Armenia before a Karabakh settlement. Significantly, Erdogan's stance has been publicly endorsed by Turkey's powerful military (Today's Zaman, April 29).
Ankara's renewed linkage between Turkish-Armenian relations and the Karabakh conflict is making it harder for the Armenian leadership to defend the year-long rapprochement policy with Turkey, and putting it under greater pressure to withdraw from the process. In an April 20 interview with The Wall Street Journal, Sarksyan said that he will not travel to join Gul in Turkey to watch the return match of the two countries' national soccer teams in October, if the Turkish-Armenian border has not re-opened. Yet even this might not satisfy those Armenians who hold him responsible for Obama's failure to use the word "genocide" in his April 24 statement.