Armenian President Nominates a Successor
Publication: Eurasia Daily Monitor Volume: 15 Issue: 13
By: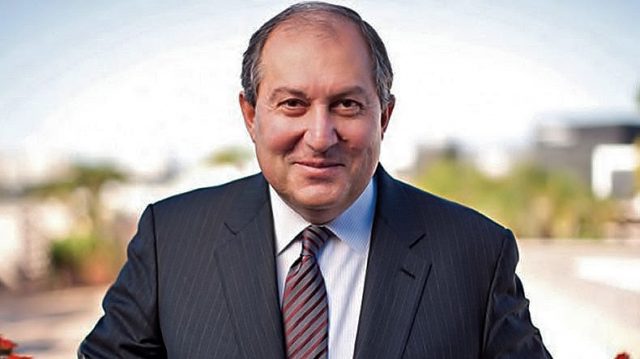 The constitutional amendments Armenia adopted in December 2015 provided for a fundamental change—shifting from a presidential to a parliamentary system, but establishing a transitional period until the end of Serzh Sargsyan's second presidential term in 2018. The new president elected by the National Assembly in March will become a ceremonial figure, while executive power will belong to the prime minister.
In recent months, Serzh Sargsyan openly expressed his ambition to become prime minister under the new system. During a Soviet-style meeting, in mid-January, with representatives of the "intelligentsia" (writers, painters, composers and so forth) to discuss "patriotic education of youth" and similar issues, the current head of state also hinted about his potential nominee for the post of president. Notably, Sargsyan declared that the country's next president "must have established connections in Armenia and the diaspora, must speak foreign languages fluently, and must not have been a member of any political party" (News.am, January 16). The ruling Republican Party of Armenia's (RPA) nominee was officially announced at a meeting of the party executives on January 18. The sitting president's choice is Armen Sargsyan (not related), Armenia's current ambassador to the United Kingdom (President.am, January 19).
Armen Sargsyan, who received a doctorate in physics from Yerevan State University, was a visiting professor at the University of Cambridge in 1984–1985. Hs time at Cambridge suggests he must have been trusted enough by the Soviet authorities and state security to obtain permission to leave the Union of Soviet Socialist Republics (USSR). Soon after the breakup of the USSR, in 1992, Sargsyan returned to London as Armenia's ambassador. He was appointed prime minister in 1996 but left the post four months later, in February 1997. The official version was that he needed to undergo intensive medical treatment; but there was speculation that he had a conflict with the then–defense minister, Vazgen Sargsyan (not related to either him or Serzh Sargsyan), whose influence on Armenian politics was tremendous at the time (Mediamax.am, January 18). In fact, such speculation has persisted to this day. In any case, Armen Sargsyan's resignation as head of government allowed the then-president of the non-recognized Nagorno-Karabakh Republic (NKR), Robert Kocharyan, to obtain Defense Minister Vazgen Sargsyan's support and become the next prime minister. A year later, in 1998, Kocharyan and Vazgen Sargsyan, joined by the then-minister of interior, Serzh Sargsyan, ousted the sitting president, Levon Ter-Petrossian, who had proposed substantial concessions in order to reach a peace agreement with Azerbaijan. Meanwhile, Armen Sargsyan had returned to the United Kingdom (where he had vast business interests), as no other ambassador had been appointed in his absence. After being dismissed from the post of ambassador in 2000, he remained in the United Kingdom and founded a non-profit institution, Eurasia House International, as well as carried on with business activities, expanding his interests to Armenia, Georgia, Kazakhstan and Russia (Mediamax.am, January 18). In 2013, he was again appointed ambassador to the UK by Serzh Sargsyan, whose interests he had lobbied using his contacts in Europe, particularly after the contested elections in 2008.
While Armen Sargsyan requested some time to think about the prospect of becoming president, there is little doubt that his formal agreement will be followed by election by the RPA majority in the parliament. Though he will have no executive power, his contacts may be used to promote a positive image of the government abroad. According to some analysts, Armen Sargsyan, generally considered a Westernized person, is expected to partly repair the negative international image of the Armenian elite as mostly leaning toward Russia (Aravot.am, January 20).
Meanwhile, on January 16, a group of civil activists petitioned the government to gradually restore Armenia's control over its own borders. The petition mentions that while Russian border guards have been stationed on the borders with Iran and Turkey according to an agreement signed in 1992, Russia's Federal Security Service de facto usurped control of the border checkpoint in Yerevan's international airport. The petitioners demanded the restoration of Armenian control at the airport by March 2018, negotiations with the Russian side, as well as budgetary disbursements to take control of the border with Iran by January 2019, and the border with Turkey—by January 2020 (Lragir.am, January 16).
While state officials avoided commenting on the petition, Russian media reacted in a rather predictable way. Russian propaganda outlet Sputnik Armenia exploited the old, familiar, and domestically already not so impressive theme of the "Turkish threat" and Armenia's inability to protect itself from it (Sputnik Armenia, January 23). Some other reactions were more creative. The online newspaper Vzglyad, known for its "patriotic" (in the contemporary Russian parlance) attitude, speculated that the petition could have been inspired by the United States as part of an "information and psychological war against Russia." The paper also openly stated that, from the Russian point of view, the official classification of both Armenia and Azerbaijan means that those countries are a zone of Russia's vital interests; that the Karabakh conflict may be ultimately solved only if Armenia and Azerbaijan become parts of a united state, "which may be called the Eurasian Union rather than the Russian Empire or the USSR"; that Russia should not choose between "two of its future republics"; and that the Russian military presence already makes Armenia "kind of a part of Russia" (Vzglyad, January 18).
Officials in Yerevan have been trying to avoid blunt pro-Russian statements since signing a framework agreement with the European Union (see EDM, December 4, 2017), perhaps to sustain the narrative about a "complimentary" policy of balancing between Russia and the West. Instead, such a statement was made by David Babayan, the press secretary of the president of the non-recognized NKR (recently renamed the Republic of Artsakh). Babayan made the familiar argument that Russia's deepening relations with Azerbaijan, including new arms supplies a few days earlier, were part of a "balancing" process. Moreover, he dismissed the demand to withdraw Russian border guards as untimely (Tert.am, January 21). In contrast, a week earlier, Babayan criticized Ukraine for selling a few anti-tank missiles to Azerbaijan (Aravot.am, January 14).
President Serzh Sargsyan may be expected to continue maneuvering until assuming the post of prime minister in April. His future policies will probably be shaped mainly by political settlements with local oligarchs and incumbent Prime Minister Karen Karapetyan, who is likely to become a deputy prime minister in the next cabinet. That said, the possible outcomes of the coming US financial sanctions against several people in Vladimir Putin's entourage and their consequences for the Russian economy could also play an important role.