Armenia's Kocharian Signals Comeback Plans
Publication: Eurasia Daily Monitor Volume: 8 Issue: 199
By: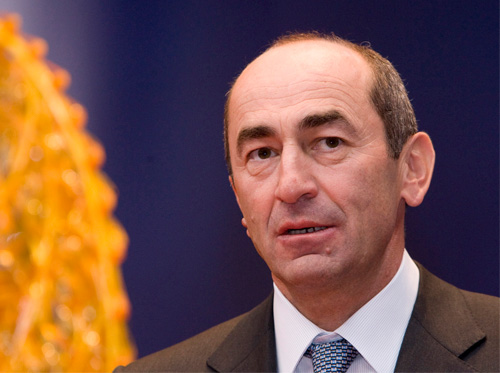 Former President Robert Kocharian appears to have reopened potentially serious cracks in Armenia's governing coalition by offering more indications of his desire to return to active politics. He has also signaled his dissatisfaction with the track record of President Serzh Sargsyan, his successor and longtime ally.
The development could have profound implications for Armenian politics currently dominated by two key players: Sargsyan and Levon Ter-Petrosian, another former president leading the country's largest opposition force. The current Armenian president has so far managed to essentially neutralize his formidable political opponent. Warding off a possible challenge from Kocharian could be a no less daunting task. In a sign of their nervousness, Sargsyan and his Republican Party of Armenia (HHK) are reportedly turning up the heat on the Prosperous Armenia Party, their most important coalition partner led by a wealthy businessman close to Kocharian.
Kocharian and Sargsyan are both natives of Karabakh who led the mostly Armenian-populated territory during its 1991-1994 secessionist war with Azerbaijan. Ter-Petrosian promoted them to high-ranking government positions in Yerevan later in the 1990's. They were instrumental in the subsequent resignation of Armenia's first president. The two shrewd individuals continued to work in tandem after Kocharian took over as president in 1998. They agreed on the transfer of power to Sargsyan that was formalized by the disputed presidential election of February 2008 in which Ter-Petrosian was the main opposition candidate.
Kocharian has since kept a rather low profile, rarely making public statements or appearances. But he has spoken out (mainly through a loyal news agency) somewhat more frequently this year. This, coupled with the content of his messages, is widely construed in Armenia as a sign of the former president's discontent with his successor and his wish to return to government. In a May 10 interview with the Mediamax news agency, Kocharian claimed that Armenians are starting to become nostalgic about his decade-long rule because their living standards "have significantly deteriorated" during Sargsyan's presidency blighted by the 2009 global recession and its lingering effects on the Armenian economy (Mediamax, May 10).
Kocharian, 57, openly spoke about the possibility of his comeback in another Mediamax interview on September 30. Kocharian said he could return to the political arena in case of "the absence of a tangible and steady improvement of the economic situation and the people's welfare" and strong demand from "various strata of the society." Kocharian also dismissed speculation that he is greatly encouraged by the official announcement earlier in September of Russian Prime Minister Vladimir Putin's intention to return to the Kremlin in 2012 (it is generally assumed by Armenian pundits that Putin has had a better personal rapport with Kocharian than Sargsyan).
Just three days later Prosperous Armenia leader Gagik Tsarukian, a longtime Kocharian protégé, said that the former president has "every moral and political right" to come out of political retirement. More importantly, Tsarukian declined to specify whom his party will support in the next presidential election due in 2013 (www.tert.am, October 3). This clearly contradicted his February 2011 joint declaration with Sargsyan and Artur Baghdasarian of Orinats Yerkir, the third party represented in the Armenian government. It explicitly commits Prosperous Armenia to supporting Sargsyan's re-election plans and not seeking to undercut his party, the HHK, in parliamentary elections scheduled for May 2012 (www.news.am, February 17).
Tsarukian signed the declaration under strong pressure from the presidential administration. That pressure followed a bitter verbal exchange between Tsarukian and his aides and senior HHK figures over some aspects of Kocharian's presidency. Kocharian strongly backed Prosperous Armenia in that spat accusing HHK leaders of having an "extremely short memory" (www.armenialiberty.org, February 8). By rushing to persuade Tsarukian to formally pledge support for the incumbent president's re-election bid the Sargsyan administration exposed its fears of a possible Kocharian comeback.
The former president would hardly stand a chance of unseating Sargsyan or even gaining another major role in government without Prosperous Armenia's backing. Tsarukian's well-funded party has the second largest faction in parliament and controls a fairly large number of central and local government positions, including four ministerial portfolios. It also boasts a nationwide network of wealthy and government-linked loyalists that are vital for making a strong showing in the less than free and fair elections held in Armenia. Prosperous Armenia is thus in a position to complicate the success of Sargsyan's plans to win a second term in office and retain control of the Armenian parliament.
Tsarukian's remarks earlier this month were followed by media reports that the tycoon is facing renewed pressure from the Sargsyan camp. Citing anonymous HHK sources, some Yerevan newspapers have claimed in recent weeks that Prosperous Armenia has been issued with an ultimatum to reaffirm support for Sargsyan or leave the ruling coalition. Speaking on the record, HHK representatives deny these reports.
The prospect of a Kocharian comeback also seems to be causing unease within the main opposition Armenian National Congress (HAK) led by Ter-Petrosian. As much as it is at loggerheads with the government, Kocharian remains the HAK's number one hate figure because of his decisive role in the deadly suppression of Ter-Petrosian's 2008 post-election demonstrations. The HAK until recently considered Tsarukian's party to be an integral part of the ruling "kleptocracy," but is now not averse to wooing it.
Addressing a rally in Yerevan on October 1, witnessed by the author, Ter-Petrosian said that unlike the presidential HHK, Prosperous Armenia is a "real" political party and it therefore cannot serve as Kocharian's support base. His chief lieutenant, Levon Zurabian, went as far as to declare that the opposition alliance is ready to cooperate with Prosperous Armenia if it "severs its ties with the past" and "joins the fight against the regime" (www.armenialiberty.org, October 21).
With Tsarukian having extensive business interests and thus being vulnerable to government pressure, the latter scenario is extremely unlikely. If the Prosperous Armenia leader does choose to leave the government, he will, it seems, rather join Kocharian, the person who nurtured him and his political force in the first place.