Armenia's Revolutionary Government Wins Snap Elections
Publication: Eurasia Daily Monitor Volume: 15 Issue: 173
By: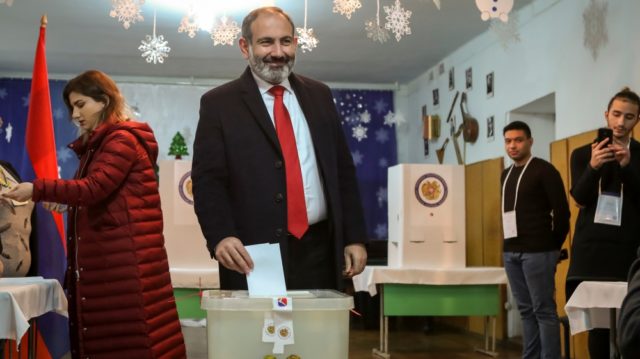 The bloc led by the leader of the "Velvet Revolution," acting prime minister of Armenia Nikol Pashinyan, quite predictably won a comfortable majority, obtaining 70.4 percent of votes in the snap parliamentary elections on December 9. The first session of the newly elected National Assembly, giving Pashinyan a mandate to form a new cabinet, will probably take place between Christmas and New Year's Eve. Remarkably, for the first time in more than 20 years, a national election was conducted in Armenia without evident fraud, such as vote buying, bussing of voters, attempts to cast several ballots, or widespread intimidation of opposition proxies and observers.
While Pashinyan was overwhelmingly favored to win, the voting system stipulated by the electoral code and adopted by the previous government was nevertheless expected to advantage the formerly ruling Republican Party of Armenia (RPA) and its allies. An earlier attempt by the RPA and Armenian Revolutionary Federation (ARF, or Dashnaktsutyun) to prevent snap elections failed (see EDM, October 11); but they still managed to block key electoral code amendments drafted by the government to reduce the threshold for entering the parliament from 5 percent to 4 percent as well as the adoption of a simple proportional system. So, the current system, combining national party lists with regional constituencies, which had helped the RPA win in a landslide in 2017, remain in place (Azatutyun.am, October 29). The regional lists component, in particular, aids local wealthy candidates in vote buying and reduces smaller parties' chances. According to the head of the European Union Delegation to Armenia, Ambassador Piotr Switalski, the failure to amend the election code was quite disappointing since the mixed system had previously led to fraud. However, former president Serzh Sargsyan's administration had insisted on it despite warnings about the potential consequences (Aravot.am, November 5).
The election campaigning was not particularly remarkable. Perhaps the only significant part was the RPA's attempt to undermine Pashinyan's rating by focusing on the latter's more scandalous statements. Familiar allegations about the "betrayal of traditional values" were reiterated after the government rejected the RPA's proposal to adopt a law providing the Patriarch of the Armenian Church with special protection by the state security agencies, on par with top state officials (Aravot.am, November 15). Other well-known accusations, concerning possible unilateral concessions on the Karabakh issue, led to a rather bizarre statement from the RPA that "[Armenia's] current government is a much more dangerous threat for Nagorno-Karabakh than Azerbaijan" (Tert.am, November 27). The ongoing dispute between Armenia, Belarus and Kazakhstan concerning the issue of appointing a new secretary general of the Russia-led Collective Security Treaty Organization (see EDM, November 29) was presented as proof of the failure of Pashinyan's foreign policy. In turn, Pashinyan's regional rallies mostly focused on the RPA's former and present behavior.
Yet, considering Pashinyan's still-high popular support, his victory hardly depended on actual campaigning. The prime minister's electoral support may have also been slightly boosted thanks to a court decision overturning the earlier judicial directive to release former president Robert Kocharyan from pre-trial detention (see EDM, October 11; Azatutyun.am, December 7). Moreover, the Czech police apprehended former president Serzh Sargsyan's nephew, Narek Sargsyan, who had been wanted since July on several charges, including weapons and drug possession (Armtimes.com, December 7).
Election turnout was 48.67 percent—the lowest to date, since Armenia's independence. While below expectations, this phenomenon actually reflects the absence of voter bussing and illegal voting on behalf of registered but absent voters, such as numerous guest workers in Russia. At the same time, absenteeism of some voters who expected Pashinyan's bloc to win anyway may have further reduced the number of votes. Regardless of Pashinyan's overwhelming victory, the election code stipulates that a single party cannot obtain more than two-thirds of the seats in the parliament; excessive votes must be redistributed in favor of other parties that pass the threshold.
The RPA's refusal to reduce the threshold backfired, resulting in its marginalization as it only received 4.7 percent of votes and, consequently, no seats in the new parliament. Its political ally, Dashnaktsutyun, won only 3.89 percent of the vote. Besides Pashinyan's bloc, only two parties passed the threshold: Prosperous Armenia (8.27 percent) and Bright Armenia (6.34 percent) (Lragir.am, December 10). Bright Armenia was Pashinyan's partner in the National Assembly elected in 2017; and although it did not support Pashinyan's radical agenda during the April 2018 revolution, one of its members received a ministerial post in Pashinyan's cabinet. Prosperous Armenia participated in the attempt to prevent snap elections but swiftly changed sides as the unpopularity of that attempt emerged (see EDM, October 11). The strict policy against vote buying prevented Prosperous Armenia's leader and principal financier, Gagik Tsarukyan, from assuming his previous role of benefactor, sponsoring kindergartens, providing scholarships for students and so forth. Instead, he repeated outlandish promises to use his personal connections to bring in investments worth billions of dollars and create jobs. Before the 2017 elections, Tsarukyan claimed that his friend, Kuwaiti sheikh Ahmed al-Fahad al-Ahmed al-Sabah, was so impressed by his business success that he was ready to invest $15 billion in Armenia (Armlur.am, March 31, 2017). The sheikh's story was repeated this time as well (A1plus.am, November 6). Furthermore, Tsarukyan also alleged the existence of other potential investors—British lords and "lordesses" (YouTube, December 1). Prosperous Armenia obtained the largest number of votes in Kotayk region, where Tsarukyan lives and owns a number of businesses, providing most of the available jobs.
The future composition of the cabinet remains to be seen, although the majority of ministries will likely be headed by appointees from Pashinyan's Civil Contract party, with the possible addition of some technocrats. The pool of deputy ministers and heads of departments will also likely be more technocratic. As some bandwagoning tendencies could already be observed in the weeks before the elections, it is unclear whether Civil Contract will withstand the temptation to incorporate some possibly corrupt and compromised oligarchs and former officials.
Many essential reforms will probably be unpopular and damage the government's approval rating. And the incoming cabinet may soon also have to deal with additional economic pressures resulting from a decline in remittances from guest workers—the largest source of hard currency—because of the likely economic recession in Russia driven by declining oil prices and looming sanctions (RBC, December 7). Additionally, the government has to clearly define a number of policies, ranging from foreign policy issues, including the Karabakh conflict resolution, to domestic issues such as governance and judicial reforms, economic policy, poverty reduction, education, and so forth. Post-revolution euphoria will be fleeting, so the "window of opportunity" for reforms will not stay open for long.