As Kremlin Boosts Soft Power, Will Georgia 'Fly' to Moscow or Brussels?
Publication: Eurasia Daily Monitor Volume: 20 Issue: 76
By: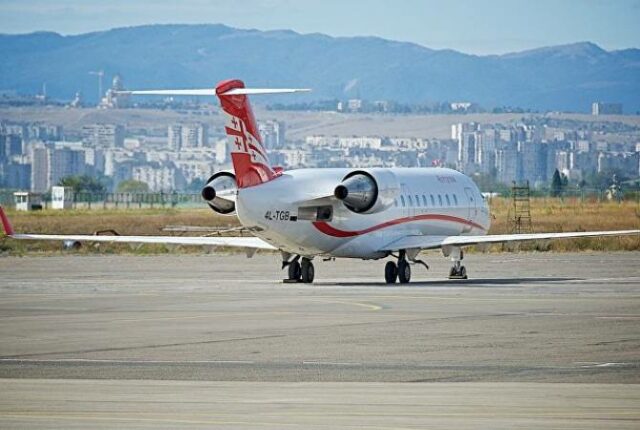 According to the decree on May 10, Russian President Vladimir Putin announced that, from May 15 on, the visa regime for citizens of Georgia visiting Russia (which was introduced back in 2001 under the rule of President Eduard Shevardnadze) has been canceled (BBC News Russian, May 10). Now, Georgian tourists staying in the Russian Federation for up to 90 days will no longer have to apply for visas. The need to obtain an entry permit still remains for Georgians who come to Russia to study or for work, as well as for those who plan to stay in the country for more than 90 days.
Yet, what does this mean, and how will it affect regional geopolitics? The Kremlin, by this step, announced to the world once again that it considers Georgia within its so-called "near abroad." While much of the world is opposed to Russia's invasion of Ukraine, Georgia represents a country that, on the one hand, seeks to integrate into the North Atlantic Treaty Organization and the European Union; but on the other, it plays a double game and collaborates with Russia, which still occupies 20 percent of Georgian territory.
In addition to canceling the visa regime, the Kremlin has abolished a recommendation adopted in 2019 that advised Russian citizens not to visit Georgia. In truth, even under the conditions of such a recommendation, more than a million Russian citizens still visited Georgia over the past year. Furthermore, according to the latest data (which changes daily), the number of money transfers from Russia to Georgia is progressively growing, and, according to the National Bank of Georgia, 37 percent of the 6.55 billion Georgian lari that foreign citizens hold in deposits in Georgian banks belong to Russian citizens (Bm.ge, May 9). According to statistics released by the National Bank, out of $438 million in remittances received from abroad in Georgia, in March 2023, Russia's share was $224 million, which is a 728-percent increase from the previous year (Bm.ge, April 18).
Moreover, as a result of this, air travel will resume between Russia and Georgia. Yet, while Russia can decide the introduction of a visa-free regime unilaterally, the resumption of air traffic with Georgia requires Tbilisi's consent, which is where the intrigue lies. Georgian President Salome Zourabichvili, who is currently in conflict with the Georgian Dream ruling party, called this development a "Russian provocation" and demanded a principled position from her fellow government employees. In this, Zourabichvili asserted, "Resuming direct flights and lifting the visa ban with Georgia is unacceptable as long as Russia continues its aggression against Ukraine and occupies our territory" (Twitter.com/Zourabichvili, May 10).
For its part, the Georgian opposition again demanded that the country's authorities unilaterally introduce a visa regime for Russian citizens and declare a temporary moratorium on the purchase of real estate by Russian citizens. Notably, according to the latest survey, Georgians are growing weary of the Russian presence in their country, as 79 percent oppose visa-free travel for Russians, Russian citizens registering businesses in Georgia or Russians buying property in country (Iri.org, April 25). The opposition also demanded the prevention of resuming direct flights with Russia. Recently, the United States and the EU had already warned Georgia that, if air traffic is resumed, this could create problems for Georgia. Moreover, if the Georgian authorities agree to resume air travel with Russia, Georgia may say goodbye to the dream of obtaining official EU candidate status, which is already in doubt due to the recent dubious steps of the Georgian authorities.
On May 10, regarding the possible resumption of air traffic with Russia, an indistinct statement has already been made by Georgian Deputy Minister of Economy and Sustainable Development Mariam Kvrivishvili, which apparently demonstrates that Georgia is ready to resume such travel: "Direct flights will help Georgian citizens living in Russia to connect with their homeland" (Bm.ge, May 10). The Georgian authorities hope to win over the country with an alleged desire to protect the interests of the one million Georgians who reportedly live in Russia and cannot move freely between the two countries, though not one official Russian source confirms the presence of one million Georgians in the Russian Federation.
This statement by the Georgian deputy minister is nothing more than a move to sabotage Georgia's European aspirations and a successful move for the Kremlin. Before that, Moscow had unsuccessfully tried to impose a law on foreign agents in Georgia, which created a direct threat to Georgia's prospects for EU membership. The Kremlin was quite irked when, due to mass protests, the Georgian authorities failed to legalize the anti-Western legislation.
A high-ranking leader in Ukraine of Georgian origin, David Arakhamia, who is already hinting at his interest in actively participating in Georgian politics, wrote on a newly created Facebook page: "Today, no self-respecting country cooperates with Russia. While the whole world imposes sanctions, Putin announces a visa-free regime for [Irakli] Garibashvili" (Facebook.com/DavidArakhamia, May 10).
Ultimately, this situation has implications that reach far beyond merely easing travel restrictions for Russian and Georgian citizens. This decision by the Kremlin represents a clear challenge to Georgia's transatlantic aspirations. The pro-Russian authorities in Georgia, in flirting with Moscow, went too far: Before these most recent moves, they purposefully increased anti-Western hysteria in Georgia and tried to discredit the West and the EU in the eyes of Georgian society. Yet, this approach did not result in the desired result for the Georgian Dream–led government, as for many Georgian citizens, there is no such debate on whether to "fly" toward Moscow or Brussels. According to a recent poll, the number of Georgian citizens who support the country's accession to the EU is steadily growing: 89 percent of Georgians (matching an all-time high.) either "fully support" or "somewhat support" joining the EU (Iri.org, April 25). Meanwhile, 87 percent perceive Russia as the main threat to their country.
However, this proportion apparently leaves out Georgia's ruling elite. Immediately after the announcement of Moscow's decision on the visa regime and air travel, the well-known Kremlin propagandist, Margarita Simonyan, ironically responded to the obedient policy of the Georgian authorities with, "So, you see, next year they will arrive on May 9" (Twitter.com/M_Simonyan, May 10).
Yet, it seems the ruling elite in Georgia have not taken notice of such Russian irony and cynicism as they continue to actively attack US and European politicians, accusing them of trying to overthrow the current government in Georgia. Thus, at the international airfield in Tbilisi, two "planes" are now departing—one to Brussels and the other to Moscow—and it is up to the population of Georgia where it will decide to "fly."