As Russia Tries to Dismember Ukraine, Georgia's Fate Hangs in Balance, Too
Publication: Eurasia Daily Monitor Volume: 11 Issue: 44
By: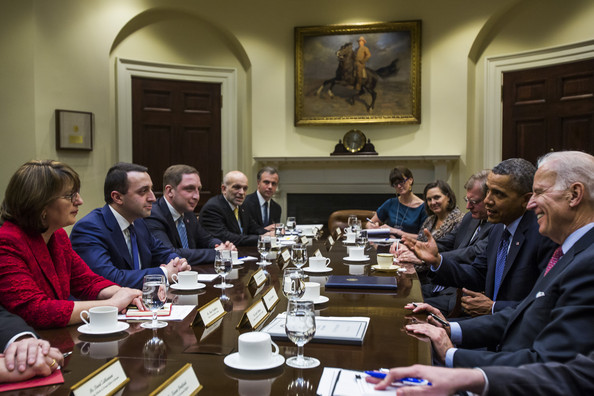 On March 4, Stefan Fule, the European Union's Commissioner for Enlargement and European Neighborhood Policy, came to Georgia on an official visit. He held high-level meetings with Georgian President Giorgi Margvelashvili, Prime Minister Irakli Garibashvili, and Foreign Minister Maia Panjikidze (Channel 1 TV, Rustavi 2, March 4). Moreover, on February 24, during an official visit to the United States, Prime Minister Garibashvili met with US President Barack Obama and Vice President Joe Biden. Although both meetings with the top White House officials were preplanned, the meeting with the US president was not publicized beforehand. In fact, President Obama joined the Georgian prime minister's talks with Vice President Biden later on, for about 20 minutes, giving the occasion a more semi-formal flavor (civil.ge, February 25).
The goal of both visits—Fule's to Tbilisi, and Garibashvili's to Washington—was unequivocal: With Georgia preparing to sign an EU Association Agreement (AA) this August, the US and EU are verbally and symbolically underscoring their continuing support for Georgia's Euro-Atlantic aspirations in the face of Russia's military and political onslaught on Ukraine. As the West is scrambling to come up with some kind of coherent response to Russia's apparent step-by-step annexation of Ukraine's Crimea region, Washington and Brussels are trying to emphasize that Tbilisi is not alone. But the question remains as to how strong this Western support will be should Russia attempt to directly intervene—whether economically, politically or even militarily—to prevent Georgia from signing the AA.
And Georgia may find that it needs such meaningful Western support sooner rather than later. The very next day after the Sochi Winter Olympics were over, Russian occupation forces in the Tskhinvali Region (South Ossetia) resumed erecting barbed wire fences along the de facto boundary line, which cuts across several Georgian villages (netgaeti.ge, February 26). These actions are meant as a clear reminder that Moscow will apply strong pressure to derail Georgia from signing the AA, just as it derailed Ukraine last November.
So where does the Ukrainian crisis leave Georgia? And how will the final outcome of the Ukrainian crisis affect the Georgian government's rapprochement course with Russia?
Russia's annexation of Crimea would clearly be a major geopolitical turning point for the post-Soviet space and Europe in general and a major challenge to the existing global geopolitical order. Therefore, no matter how the Ukrainian crisis is resolved, its consequences will change the status quo in Eurasia and the world forever. No other country, besides Ukraine, will be more affected by the outcome of this crisis than Georgia.
If it succeeds in annexing Crimea and suffers no consequences for these actions, Moscow will come to believe that it can act with absolute impunity in the post-Soviet space, without any meaningful challenge from the West. And should Russia consolidate its position as an unchallenged regional hegemon at the expense of the West's diminishing influence, Georgia—as well as other former Soviet republics—will find themselves under Moscow's crushing pressure to submit to Russia's political and economic demands, whatever they might be.
On the other hand, if Vladimir Putin's adventure in Crimea fails, it will be a major geopolitical defeat for his regime. Subsequently, such an outcome will fundamentally weaken the current Russian regime and strengthen Georgia's position vis-à-vis Moscow. In such an event, pursuing a Georgian-Russian rapprochement could then actually yield meaningful results, especially if Putin's regime does not survive the possible fiasco in Crimea.
Apparently emboldened by his visit to Washington, the Georgian prime minister's usually timid tone with Russia became a bit more audacious. Although Garibashvili fell short of condemning Russia's de-facto ongoing annexation of Crimea, on March 2 he expressed concern about the violation of Ukraine's sovereignty and territorial integrity by Russia and urged the US and the EU to use all means necessary to help Ukraine protect its independence (medianews.ge, March 2). Earlier, on February 26, Garibashvili stated that the North Atlantic Treaty Organization (NATO) should grant a Membership Action Plan (MAP) to Georgia and provide increased support to the country in its run up to signing the AA with Europe (tabula.ge, February 26). Other members of the top Georgian leadership also changed their tone. For instance, on February 26, President Giorgi Margvelashvili condemned the resumption of erecting barbed wire fences by Russian forces across the occupation zone in South Ossetia (topnews.mediamall.ge, February 26).
This sudden boldness may not last, however. The Georgian leadership could again resort to a timid tone of communication with Moscow, if Russia emerges victorious from its Crimea gambit. In the following weeks and perhaps months, Georgia's fate—nearly as much as Ukraine's—is being decided. Much depends on the West's resolve and unity to protect Ukraine's sovereignty and territorial integrity; and for as long as these remain in doubt, Georgia's own Euro-Atlantic future will itself stay an open question.