Assessing the Sino-Russian Baltic Sea Drill
Publication: China Brief Volume: 17 Issue: 12
By: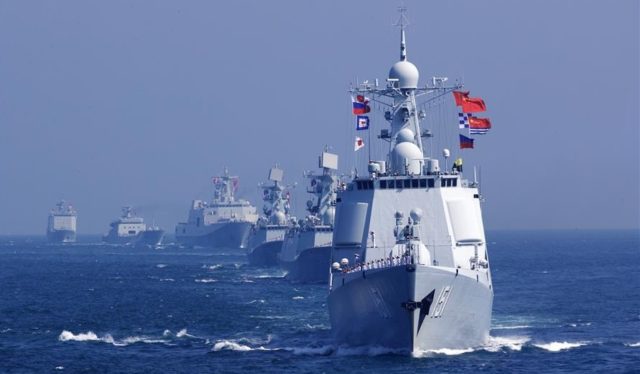 From July 21 to July 28, 2017, the Chinese and Russian navies conducted a week of joint drills in the Baltic Sea, the first of their planned two-phase bilateral maritime exercises for 2017. This was the latest iteration of what the Chinese call "Joint Sea" and the Russians their "Maritime Cooperation" exercises. The Russians and the Chinese have conducted these naval exercises regularly since 2012. The Chinese and Russian contingents in the Baltic maneuvers featured some of their newest warships, as well as several fixed-wing aircraft, helicopters, and marine units. The symbolic aspects of these drills are important for both countries. Moscow wants to underscore its relationship with its most important security partner and counter Western efforts at isolation. Beijing's status also benefits from a display of global military potential, though China also makes more concrete operational gains since its fleet is less experienced deploying so far from its mainland. While the People's Liberation Army Navy (PLAN) is not going to engage in combat in the Baltic, a theater of secondary importance for China and a location where PLAN warships could hardly survive against NATO, the expanding foreign presence of the Chinese Navy has implications far beyond the Sino-Russian relationship.
The PLAN's Participation
On June 18, 2017, the three participating Chinese People's Liberation Army Navy PLAN vessels from the South Sea Fleet departed their home port of Sanya, in the Southern Chinese province of Hainan (China Daily, July 24). After a month-long, 10,000-mile voyage through the Indian Ocean, Red Sea, Mediterranean, British Channel, and the Danish Straits, the Chinese destroyer, frigate, and support ship arrived at the Russian harbor of Baltiysk for a welcoming ceremony on July 21. This exercise marked the first occasion that a PLAN flotilla entered the Baltic Sea (Sputnik, July 25). After the military maneuvers, the Chinese ships docked at the Lieutenant Schmidt Quay in St. Petersburg, opening the ship to visitors (New China, July 28). They also participated in Russia's July 30 Navy Day celebrations and maritime parade (Xinhua, July 28).
The PLAN contingent of three warships was led by the Hefei, a Type 052D Luyang III-class guided-missile destroyer, one of China's most advanced warships. The PLAN flotilla also included a Type 054A Jiangkai II-class missile frigate, the FFG-546 Yuncheng, which already participated in a multinational anti-piracy mission in the Gulf of Aden (Sputnik, July 24). The last ship was the type 903A Quiandaohu-class supply replenishment ship, the Luomahu. The PLAN vessels brought several ship-borne helicopters and a contingent of marines to the drills. Participating Russian vessels included two newly-launched Project 20380 class corvettes, the Stereguschy and Boiky, the Admiral Tributs, an anti-submarine ship a Project 02980 rescue support tug. Russia's largest submarine, the Project 941 Akula class (Typhoon) nuclear-powered ballistic missile submarine, a contingent of marines, shipborne Kamov Ka-27 multipurpose military helicopters, Antonov An-26 military transport aircraft, and land-based Su-24 tactical bombers also participated (Eurasia Expert, June 25).
The forces were commanded by Russian Vice Admiral Alexander Fedotenkov and PLAN Vice Admiral Tian Zhong, who issued guidance through a joint headquarters and binational tactical command post, with Russian as the operational language (Xinhua, July 24; and TASS, July 21). As in previous bilateral exercises, Joint Sea 2017 had two stages. From July 21-24, they engaged in ceremonial, planning, and tabletop activities inland and on the Kaliningrad coast. From July 24-July 27, they divided into two tactical groups and conducted mixed tactical drills at sea. Their tasks during this "active phase" consisted of inspecting suspicious ships, liberating vessels seized by pirates, defending cargo ships, maritime search and rescue of sailors, rendering assistance to distressed vessels, and joint air defense, anti-submarine warfare (ASW),and surface maneuvers in which some 1,500 shells were fired (TASS, July 21; and Sputnik, July 26; and Xinhua, July 28).
ASW has been a recurring activity in these joint naval drills. Both China and Russia worry about protecting their littorals from US attack submarines armed with cruise missiles, torpedoes, and other land-attack and anti-ship weaponry. China's developing strategic submarine fleet means that PLA planners increasingly share the concern of their Russian counterparts about how to defend their boomers from US ASW. Russia has readily sold ships and submarines to China optimized for ASW. The two militaries likely find the other a willing exercise partner when it comes to enhancing their ASW skills—the PLAN in particular can benefit from Russia's superior experience in tracking US submarines.
Partnership and Presence
The Chinese Ministry of Defense said that the exercises aim to enhance their "capability to jointly cope with threats to maritime security by ensuring joint rescue and joint protection of maritime economic activities" (People's Daily Online, July 21). China and Russia depend on maritime trade and participated in joint counter-piracy missions in the Gulf of Aden. The two governments routinely insist that their military partnership is not directed against third parties. True to form, the Chinese Ministry of National Defense said that the Baltic drill is not aimed at anyone but was merely the latest routine Russian-Chinese exercise (TASS, June 22). Some Chinese media commentators argued that Western observers were overreacting to these innocent exercises (People's Daily Online, July 21).
Others were less circumspect. Writing in Global Times, Cui Heng, a scholar at the Center for Russian Studies at East China Normal University, said that the exercises "demonstrate to the West the determination of China-Russia strategic coordination" and "the determination of their joint efforts to maintain regional balance and strategic stability." He urged that "China should not back down from its current stance in the face of criticism from NATO countries," which he considered "inevitable in the growth of a great power." In his view, "China is enhancing its presence in oceans around the world. An appropriate entry into the NATO countries' 'backyard' like the Atlantic, the Mediterranean, and the Baltic Sea will reflect China's confidence and strength" (Global Times, July 20). Yang Mian, a scholar at the Chinese Institute of Communications, said that, while the exercises were "not directed against any third country…they act as a strategic deterrent against any potential aggression. The current drills in the Baltic Sea show the world that such drills could be held anywhere when the security interests of the two countries are affected" (Sputnik, July 25). Ma Bin, a professor at Fudan University, perceived Beijing's decision to hold military maneuvers in the Baltic Sea "as China's support of Russia in its confrontation with NATO" (Sputnik, July 25). Ni Lexiong, a military expert at the University of Politics and Law in Shanghai, described Sino-Russian security cooperation as natural since "China and Russia have their backs against each other now…They need to lean on each other for support to deal with hostilities from different fronts" (Sputnik, July 21).
Besides its operational contribution, these drills affirm that Sino-Russian military cooperation constitutes a significant element of their partnership despite their lack of a formal bilateral military alliance. Navy expert Li Jie observed that "By sending its most advanced guided-missile destroyers, China is expressing its sincerity to Russia" (Global Times, June 19). Although this summer's Sino-Russian drill was smaller in size than prior exercises, limiting the two sides' ability to learn skills or enhance operational interoperability, Moscow needed Beijing to dispatch only a few advanced ships to such a critical region to demonstrate the symbolic importance China attaches to cooperation with Russia, as well as provide tangible evidence of the maritime might of both states. Similar to the various Moscow military parades that for decades have shown off Russia's newest military hardware, that Beijing sent a flotilla halfway around the world to some of the globe's most sensitive waters demonstrated how important China sees its defense ties with Moscow.
Furthermore, engaging in military maneuvers in a region so far from the Chinese mainland underscores the developing global reach of the PLAN's new "blue-water" fleet. The PLA Navy has been making a sustained effort to improve its long-range deployment capabilities. In recent years, the Chinese government has been boosting its spending on the Navy and elevating the service's importance in the PRC national security hierarchy traditionally been dominated by the ground force. According to the U.S. Department of Defense, "China's expanding international economic interests are increasing demands for the PLAN to operate in more distant maritime environments to protect Chinese citizens, investments, and critical sea lines of communication (SLOC)." [1] In recent years, the PLAN has been expanding access to foreign ports and logistical networks to sustain longer deployments. In 2015, it took part in joint maneuvers with Russia in the Mediterranean Sea and the Black Sea. China's recently launched first overseas military base in Djibouti, a key strategic area in the Horn of Africa proximate to critical international sea routines, further enhances its global maritime capabilities. The establishment of this base and China's participation in joint exercises far from its territorial waters confirms Beijing's quest for a more expeditionary military capable of enhancing China's international power and prestige. Although there are no indications that the PLAN aims to establish a permanent presence in the Baltics, Chinese officials have justified developing a blue-water Navy by citing the need to protect shipping lanes and Chinese trade interests. Beijing's massive One Belt One Road (OBOR) initiative, which is building land-based roads, rail lines, and other trade and transportation conduits, complements its growing maritime presence.
Looking Ahead
China's compensation for undertaking exercises in waters contested by Russia adversaries will occur in September, when Phase II of Joint Sea 2017 takes place in the Sea of Japan near territorial waters Beijing disputes with other Pacific states as well as in the Sea of Okhotsk, in northeast Asia near the Korean Peninsula (People's Daily Online, July 23). At an August 5 meeting in Vladivostok, Chinese and Russian representatives decided that this second stage would practice joint protection of maritime communications (Economika Segodna, August 5).
Sino-Russian military will expand further in coming years. At a meeting on the sidelines of the Shanghai Cooperation Organization summit in June, Defense Minister Chang Wanquan remarked that, "The sphere of our cooperation is constantly expanding, there is a positive trend in the development of military cooperation" (Sputnik, June 7). At this session, Russia and China adopted a new roadmap for bilateral defense cooperation for 2017–2020, with regular bilateral exercises and other defense activities projected throughout the period. China's Defense Ministry spokesperson in a regular press briefing, said that the signed roadmap "shows high-level mutual trust and cooperation" and helps "both sides to face new threats and challenges in the security field and to jointly safeguard regional peace and stability" (China News, June 29).
Although Sino-Russian defense ties are mutually important, both countries engage in important military drills with other countries. A week before Joint Sea 2017, a PLAN flotilla conducted live-fire drills in the Mediterranean in a joint exercise with Italy. At the time of the Baltic drills, another PLAN patrol, led by Changchun, a Type 052C guided-missile destroyer, was also in the Mediterranean Sea, on what the PRC Defense Ministry called "a goodwill voyage to more than 20 countries in Asia, Europe, Africa and Oceania" (PRC MOD, July 12). Both China and Russia had modest military drills with Iran in July. The Chinese and, until recently, Russian navies also engage in bilateral and multilateral exercises with the U.S. Navy. Following Joint Sea 2017, the three PLAN ships visited Helsinki, the capital of Finland, perhaps to reassure the Scandinavians of Beijing's friendly intentions. China and Russia also engage in large unilateral maneuvers and military shows of force that are arguably more significant than their join drills. For example, shortly after Joint Sea 2017, China conducted naval exercises in the waters between the coast of Qingdao and Lianyungang to highlight its capabilities for Korean contingencies (South China Morning Post, August 8).
Interestingly, that the United States and European navies have regularly operated in waters near China, despite Beijing's objections. During Joint Sea 2017, the UK government announced it would send its two new carriers on freedom of navigation operations (FONOPS) into the South China Sea when then enter service (The Guardian, July 27). Now the Chinese Navy is developing an enduring international presence, as seen by its recent sending of an "intelligence" ship near Alaska to monitor a concurrent THAAD test (CNBC, July 14). Perhaps the Chinese objections to U.S. FONOPS near China may decline as the PLAN develops the capacity and practice to engage in such blue-water patrols itself.
Richard Weitz, Ph.D., is a Senior Fellow and Director of the Center for Political-Military Analysis at the Hudson Institute in Washington, DC.
Notes
Annual Report to Congress: Military and Security Developments Involving the People's Republic of China 2017, U.S. Department of Defense, June 6, 2017. p. 5. https://www.defense.gov/Portals/1/Documents/pubs/2017_China_Military_Power_Report.PDF?ver=2017-06-06-141328-770