Astana Backs Wider SCO Regional Role
Publication: Eurasia Daily Monitor Volume: 9 Issue: 120
By: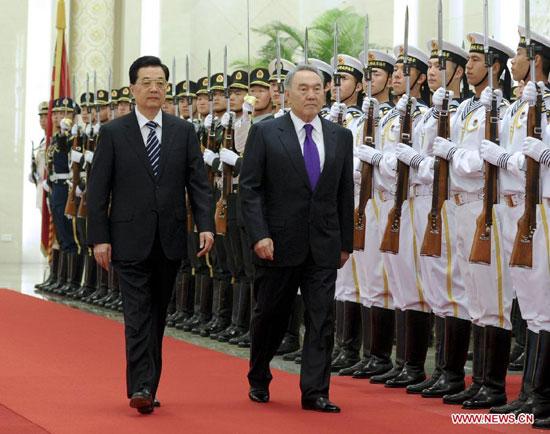 On June 6-7, 2012, the Shanghai Cooperation Organization (SCO) held its 12th annual summit in Beijing. The meeting's major outputs included granting Afghanistan observer status, designating Turkey as an SCO "dialogue partner," and adopting several declarations and agreements.
President Nursultan Nazarbayev of Kazakhstan joined Presidents Hu Jintao of China, Almazbek Atambayev of the Kyrgyz Republic, Vladimir Putin of the Russian Federation, Emomali Rahmon of Tajikistan and Islam Karimov of Uzbekistan at this session of the Council of the Heads of the SCO Member States.
Nazarbayev endorsed the acceptance of Afghanistan as the SCO's fifth formal observer country – joining Iran, India, Pakistan and Mongolia – as helping address the security challenges that the Afghanistan conflict presents to SCO members. He declared, "Granting SCO observer status to Kabul creates conditions for working closely with Afghan partners to combat transnational threats and challenges" (CaspioNet, June 8).
President Nazarbayev also applauded the decision to draw Turkey closer into the organization, hoping that the involvement of Turkey as well as Afghanistan in SCO activities would "contribute to the beginning of a new stage in the Organization's development" (Kazinform, June 6).
Kazakhstan has worked closely with Turkey in the so-called Istanbul Process and the Conference on Interaction and Confidence Building Measures in Asia to establish a benign regional security environment that would contribute to a peaceful and stable Afghanistan as well as security and prosperity within the greater Central Asian region.
The SCO summit did not admit any new full members, despite the desire of observers Iran, India and Pakistan to gain that status. Kazakhstan is probably unenthusiastic about SCO enlargement since promoting India, Iran or Pakistan to full membership could dilute Astana's influence by incorporating other middle powers – with larger populations and stronger militaries than Kazakhstan – into the organization.
At the summit, the Kazakhstani delegation joined other SCO members in adopting statements critical of outside military involvement in Syria, supporting a peaceful resolution of the Iranian nuclear crisis, and warning of the destabilizing effects of unilateral missile defense programs.
Kazakhstan has generally been satisfied with the SCO's contribution to regional security – especially counter-terrorism through information-sharing and joint exercises. Foreign Minister Yerzhan Kazykhanov noted, "In the past 11 years, the SCO members have developed a coordination mechanism, which enables member states to work together on joint anti-terrorism military exercises and to provide security for the major political and sports events in fellow member states" (Astana Calling, June 8).
The Kazakhstani Foreign Ministry has credited information sharing within the SCO framework with averting almost one hundred terrorist attacks in 2009 (Interfax, October 19, 2010). In December 2010, Kazakhstan's parliament ratified the SCO Antiterrorism Convention, which aims to strengthen multinational cooperation against terrorism.
But the Kazakhstani government shares the concerns of other SCO members that the organization has failed to make a major contribution to regional economic integration or development. According to Kazykhanov, "With a successful track record in promoting cooperation between the member states, the SCO should bring its status as a leading regional body into full play and help member states ensure their further economic growth" (Astana Calling, June 8). Kazakhstani representatives have cited developing regional transit – particularly a Europe-China transportation corridor – as an especially promising area for cooperation (CaspioNet, June 8).
Kazakhstani security experts value the SCO's contribution to countering regional terrorism, narcotics trafficking and other illegal transnational activities that would prove difficult to manage on a national level (https://www.kisi.kz/site.html?id=5369). But they note the limitations on the organization's potential due to disagreements between China and Russia regarding how the SCO should develop, with China emphasizing its economic role while Russia promotes its security potential (centrasia.ru, April 5, 2011). The experts also point to confusion over the SCO's precise nature as an international organization, since it is not a traditional security alliance or multinational economic institution (Murat T. Laumulin, The Geopolitics of the XXI Century in Central Asia, 2007). Nazarbayev himself observed at the summit that many agreements that nominally occur within a SCO framework are actually just bilateral deals given a multilateral gloss through the SCO label (exclusive.kz/news, June 7).
Nazarbayev called for adopting additional measures to overcome these problems and strengthen the SCO. For example, he proposed creating a cyber police agency within the organization, a forecasting center that would help anticipate and avert conflicts, and a consultative committee to resolve regional and territorial conflicts (tengrinews.kz, June 6). Nazarbayev offered some of these same recommendations last year, when Kazakhstan held the rotating SCO presidency (Kommersant, June 16, 2011). The Kyrgyz Republic is now assuming the one-year chairmanship until the next SCO heads-of-state summit, which typically occurs in the summer.
In the past, some Kazakhstani experts have supported creating an "energy club" within the SCO. In August 2007, Nazarbayev himself proposed creating an SCO energy agency to maintain an oil-and-gas database, as well as another SCO body to manage energy transactions among member countries (RIA Novosti, August 16, 2007). Within this framework, oil and gas exporters such as Kazakhstan, as well as Iran, Russia and Uzbekistan, would provide reliable energy supplies to China, India, Kyrgyzstan, Pakistan, Mongolia and Tajikistan. But these proposals, like so many recommendations offered at the annual summits, never seem to be implemented.