Attacks and Shootouts Reported in Ingushetia, North Ossetia, Dagestan and Chechnya
Publication: Eurasia Daily Monitor Volume: 6 Issue: 205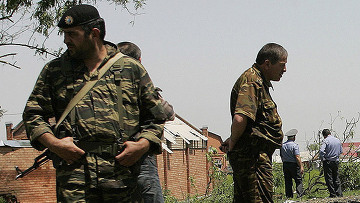 Violence has continued in the North Caucasus this week, with police, military personnel, suspected militants and civilians reportedly killed and wounded in attacks in Ingushetia, North Ossetia, Dagestan and Chechnya. Alexei Samborsky, an employee of Ingushneftegazprom, an oil and gas company in Ingushetia, was shot dead yesterday (October 5) near an apartment building in the city of Karabulak. Police said the gunman escaped the scene in a VAZ car (RIA Novosti, November 6).
The Kavkazsky Uzel website reported that in August 2005, Samborsky, a native of Kazakhstan, was detained by police in Ingushetia, who during a search of his home had found instructions on how to make home-made bombs; schedules for buses in the republic; books on counterfeiting money, sniper and pistol shooting, martial arts, and how to make wigs; and a Russian-Chechen phrasebook (www.kavkaz-uzel.ru, November 6).
On November 4, an Ingush policeman, Ilez Yandiev, was severely wounded when unidentified attackers opened fire on his car in Nazran. The attackers were driving a VAZ-21112 without license plates (ITAR-TASS, November 4).
On November 1, a police officer was injured when gunmen fired rocket-propelled grenades and automatic weapons at a regional police department in the village of Ekazhevo in Ingushetia's Nazran district. The wounded officer was a member of a temporary interior ministry task force (RIA Novosti, Interfax, November 1).
On October 30, a group of armed raiders blew up a gas reservoir at a gas-filling station in the village of Troitskaya in Ingushetia's Sunzha district. Around the same time, an explosive device destroyed another gas reservoir in Ingushetia's Nazran district. No one was hurt in either incident (www.kavkazky-uzel.ru, October 30).
On October 29, two servicemen were slightly wounded when an explosive device went off as a column of military vehicles was driving passed in Karabulak (www.kavkaz-uzel.ru, October 29).
In Dagestan, three militants, including a young woman, were killed on November 2 in a special operation in the city of Khasavyurt. An official with the republic's branch of the Federal Security Service (FSB) identified the three slain rebels as Arslan Egizbaev –the leader of a militant group operating in Khasavyurt– Amir Salimgereyev and Ashura Magomedova. The FSB official said the militants had been surrounded by FSB personnel in an apartment building and were killed in a shootout after they refused to surrender and tried to escape the building. The official said two Kalashnikov assault rifles, three grenades and ammunition were found in the apartment where the militants were hiding (RIA Novosti, November 2).
The imam of a village mosque in Dagestan was killed on November 1. A police spokesman said Tinamagomed Ramazanov was shot dead by unidentified people in the village of Bavtugai in Dagestan's Kizilyurt district (RIA Novosti, November 2).
Four suspected militants were killed in a shootout with police in Dagestan's Sergokalinsky district on October 31. According to Dagestan's interior ministry, the incident took place in wooded area near the village of Katyrkent, when police stopped a car for a document check and the people inside refused to show their ID's, instead opening fire (www.kavkaz-uzel.ru, October 31).
On October 31, a police inspector was killed when four gunmen in a Volga taxicab arrived from Chechnya at a police checkpoint on the outskirts of the village of Oktyabrskoye on the North Ossetian side of the North Ossetia-Chechnya administrative border, shooting the policeman as he approached the vehicle to search it. Another policeman and a civilian were wounded in the incident.
Three of the gunmen were killed in a shootout after they fled into a nearby wooded area. A police source in North Ossetia's Mozdok district identified the three slain militants as Adam Shakhbiev, who was wanted for terrorist activities and forming a "bandit group," and his two brothers, who were not named (Interfax, November 2).
Chechnya's interior ministry reported on November 5 that police in the capital Grozny had shot and killed Artur Duzgaev, a 21-year-old local resident they said had recently returned from Baku with the intention of joining the ranks of Chechnya's rebels. A Chechen police source told Kavkazsky Uzel that Duzgaev had opened fire when they stopped him for a document check. Chechen security officials said they had also captured two suspected rebels the previous day (November 4) –one in Grozny and the other in Chechnya's Groznensky district (www.kavkaz-uzel.ru, November 5).
Earlier this week, Chechen Interior Minister Ruslan Alkhanov said that a senior militant was killed in a shootout during a special police operation in Grozny's Leninksy district on October 31. The militant, identified as 27-year-old Ali Khasanov, aka Iban, was reportedly the "emir" of Chechnya's plains region and close to rebel leader Dokka Umarov. According to Alkhanov, Iban had organized an attack in the city of Argun in which two policemen were killed and trained suicide bombers (www.kavkaz-uzel.ru, November 1; Interfax, November 2).