Aushev: Moscow Should Talk to Rebels in the North Caucasus
Publication: North Caucasus Weekly Volume: 9 Issue: 46
By: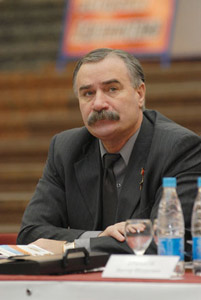 RIA Novosti reported on December 3 that a police colonel, Isa Yevloyev, was wounded when unidentified attackers opened fire on the car he was driving in Nazran, Ingushetia. The news agency quoted an unnamed officer in the Investigations Committee of the Prosecutor General's Office for Ingushetia as saying that Yevloyev was hospitalized and that his life was not in danger.
Interfax reported that a hand grenade was thrown into the yard of a house belonging to relatives of a former prosecutor in Nazran on December 1. No one was hurt but the house was damaged. The prosecutor, Girikhan Khazbiyev, now works outside Ingushetia. Unidentified gunmen attacked a private hotel in Nazran, late on November 30. Interfax quoted a military source as saying that no one was hurt in the drive-by shooting. A short time later, unidentified gunmen in a VAZ-2114 car fired on a food store in the village of Ordzhonikidzevskaya. A Sunzha district police source told Interfax that no one was hurt in the attack, but that the building was seriously damaged.
The Associated Press reported on November 30 that police in the town of Karabulak said two men had firebombed a store that was selling liquor. The Regnum News Agency reported that on the morning of November 30, a 76-year-old cleric, Sultan Yalkharoyev, an aide to the imam of a mosque in the town of Malgobek, was shot outside the mosque and died on the way to the hospital.
Unidentified attackers fired on a convoy of Interior Ministry troops as it was moving between the village of Troitskaya and the town of Karabulak on November 29, Interfax reported. Two servicemen were hospitalized with minor wounds.
Newsru.com reported on November 29 that an explosion had damaged four gambling machines at a gaming hall in Ordzhonikidzevskaya. No one was hurt in the blast.
Itar-Tass reported that an explosive device detonated in a Karabulak market on November 28 as bomb disposal experts were trying to defuse another bomb there. No one was hurt, but the explosion slightly damaged buildings in the marketplace.
Meanwhile, former Ingush President Ruslan Aushev reiterated in an interview published in Kommersant-Vlast on December 1 his view that the choice of Yunus-Bek Yevkurov to replace Murat Zyazikov as Ingushetia's president was a good one. Aushev, however, also said that despite the fact that nearly a hundred thousand residents of Ingushetia had signed a petition calling for his return as the republic's president, his return to the Ingush presidency was not possible given his differences with the Kremlin. Among other things, Aushev stressed his opposition to then Russian President Vladimir Putin's September 2004 decision to end the popular election of governors and confirmed he had signed a petition calling on the Kremlin to pardon Svetlana Bakhmina, the former lawyer for the Yukos oil company who was jailed and recently gave birth in prison and has two other young children.
Yet Aushev, who personally negotiated with the hostage-takers during the September 2004 Beslan school siege and won the release of 26 hostages—11 women and 15 children—suggested his biggest difference with the Kremlin was his insistence that it needs to talk with armed rebels in the North Caucasus.
On the one hand, Aushev conceded that there are "many Islamic radicals" among the rebels fighting in the North Caucasus. "They say: we are not interested in independence for the republics; we want to build an emirate in the North Caucasus," he said. "These are Caucasian Taliban, like in Afghanistan."
Still, Aushev added: "One must understand why these militants exist. They are supported by part of the population, otherwise they would not survive. And why does the population support the militants? Because they are angry at the authorities. The population has two misfortunes—the corruption of officials and the impunity of the security structures. In order to solve the problem, it is necessary to rely on the people. And in order to rely on the people, one has to do what is necessary in order for the people to do well."