Autumn Pause Follows Donbas August Fighting
Publication: Eurasia Daily Monitor Volume: 12 Issue: 158
By: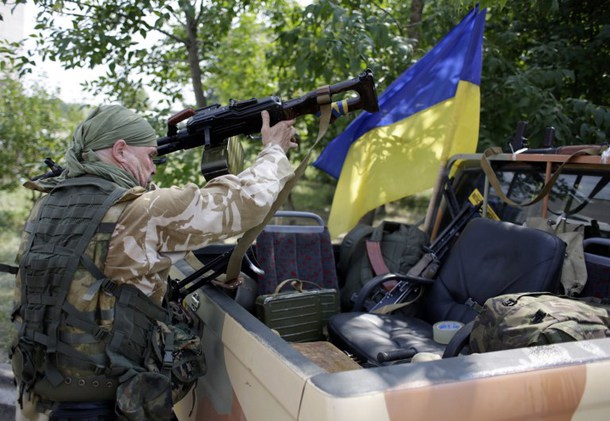 Fighting has dramatically subsided in eastern Ukraine by September 1. A couple of weeks ago, in mid-August, the situation was different and the guns were blazing. Russian Foreign Minister Sergei Lavrov told journalists: "It is now possible to call the 'separation line' [in Donbas] a 'front line.' " Lavrov accused the Ukrainian military of massing forces and preparing a new offensive "like in August 2014 and in January 2015," in an attempt to crush the Donbas "rebellion" (Interfax, August 17). The secretary of the Ukrainian National Security Council, Alexander Turchynov, in turn also accused Russia of "massing troops" and preparing an offensive. If Russia-backed forces were to attack, according to Turchynov, Ukraine could declare martial law and begin mass mobilization (Newsru.ua, August 14). This worst-case scenario seems to have been averted: Both sides in Donbas currently report the ceasefire is holding, interrupted only by sporadic small-arms fire (Interfax, September 2).
Previously, an eyewitness reported from Luhansk, on August 14, that pro-Russia forces were moving into position to assault Schastye—a town north of Luhansk and controlled by the Ukrainian military. Schastye is a voluble strategic point on the "line of separation" or "front line" north of Luhansk that mostly follows the Severtsky Donets river. A large electric power plant located in Schastye is the main supplier of electricity for the city of Luhansk. The coal for the Schastye power plant is supplied from rebel-controlled territory. The population of Luhansk feared a power blackout and water shortages if a "storming of Schastye" were to occur, but ultimately this scare did not materialize and war has been "postponed"(Rosbalt, August 14).
The separatists' spokesman Eduard Basurin produced intelligence information describing the strength and possible intentions of the Ukrainian armed forces: The Ukrainians have some 76,000 soldiers facing the rebels in Donbas, armed with some 370 tanks, 2,000 armored vehicles, 875 guns and mortars and 170 multiple rocket launch systems (MRLS). Over 14,000 Ukrainian soldiers with 70 tanks are in reserve. These forces, according to Basurin, were poised to begin a surprise offensive to cut the pro-Russia forces to shreds, surround the two major rebel-controlled cities—Donetsk and Luhansk—and cut off the rebel forces from the Russian border to the east, effectively ending the rebellion (Komsomolskaya Pravda, August 22).
Indeed, a year ago, in August 2014, the Ukrainian military was on the offensive, according to a report recently published by the Ukrainian military command (the General Staff). The Ukrainian military and volunteer battalions were closing in to surround Donetsk and Luhansk, while hoping to secure the Russian border to stop the supply of men and weapons to the Moscow-backed rebels. But on August 24, 2014, according to the Ukrainian General Staff, Russian regular military forces—including elite army and paratrooper (VDV) units—with tanks and artillery crossed the border and attacked the Ukrainian forces. The Ukrainian military was apparently caught fully unaware and government-controlled forces were defeated in bloody battles south of Luhansk and southeast of Donetsk. By early September 2014, the fighting was over, the Ukrainians fell back, and the invading Russian troops stopped their advance; a ceasefire agreement (so-called Minsk One) was soon thereafter signed in Minsk, Belarus (Mil.gov.ua, August 13).
Today, the Ukrainian military and political leaders have no more illusions that Russia might sit by if some new Ukrainian offensive threatened to rout the rebels. During the winter fighting in Donbas—which began last January and ended in mid-February with the signing of the Minsk Two accord—the rebels, supported by Russian troops, were on the offensive, while the Ukrainians were only fighting to hold their ground, not always successfully. Last February, the Ukrainian military suffered a bloody and humiliating defeat in Debaltseve, northeast of Donetsk (Dzerkalo Tnzhnya, August 28).
While fully disagreeing with the rebel spokesman Basurin on who is the aggressor in the Donbas fighting, the Ukrainian General Staff, surprisingly, more or less confirmed his assessment of the numbers of Ukrainian military forces deployed for action. According to the Ukrainian General Staff report published this week on its official Facebook account, the Ukrainian forces are made up of some 73,000 service personnel (25 brigades and regiments; 150 battalions and artillery "divisions" or batteries) with some 360 tanks, 1,400 armored vehicles, 800 guns and mortars, and some 230 MRLSs. These forces are more than twice as strong as they were a year ago, in August 2014 (Facebook.com/GeneralStaff.ua, September 2).
The Ukrainian National Security Council has also published an assessment of Russian regular and proxy forces allegedly deployed for action in Donbas. According to the report, the rebel proxy forces are divided into two army corps with headquarters in Donetsk and in Luhansk. Some 40 percent of the service personnel are alleged to be local and the rest—Russian volunteers and contractors. Russian generals take tours of 3–6 months in command of rebel troops in Donbas. The Russian Sothern Military district (Strategic Command), with its main headquarters in Rostov-on-Don, has allegedly formed a special staff to command the troops in Donbas, based in Novocherkassk north east of Rostov. There are allegedly over 34,000 soldiers in the two rebel army corps in Donbas, armed with some 450 tanks, 600 armored vehicles, 260 guns and 130 MRLSs. Moreover, some 9,000 Russian regular soldiers are apparently deployed in Donbas to support the rebel forces, armed with 240 tanks, 300 armored vehicles, 110 guns and 40 MRLSs. The Ukrainian National Security Council reports there are over 50,000 additional Russian soldiers deployed on the Russian side of the border (Ukrainska Pravda, August 28).
The Ukrainian forces deployed in Donbas outnumber the separatists two to one, but the pro-Russia side has more tanks and seems to be organized into a typical Soviet-style attack tank army formation. The proxy forces may be backed up by additional tens of thousands of regular troops that could be swiftly moved up to the front from deep inside Russia. Apparently, the Russian command was trying to lure the Ukrainians to attack the seemingly outnumbered separatist rebels to create a good pretext for a massive intervention. The ploy did not work, and now both sides seem to be settling down for an autumn pause. Most likely, Moscow hopes the need to maintain and arm a large standing force in Donbas could sufficiently diminish Ukraine's already scarce resources that the present regime in Kyiv may collapse under economic and financial stress, social unrest and internal political strife. If this calculation fails, the armed forces will be standing by: The next seasonal occasion for massive offensive action comes next January.