Azerbaijani Foreign Minister's Visit to Israel Sparks New Wave of Tensions with Iran
Publication: Eurasia Daily Monitor Volume: 10 Issue: 99
By: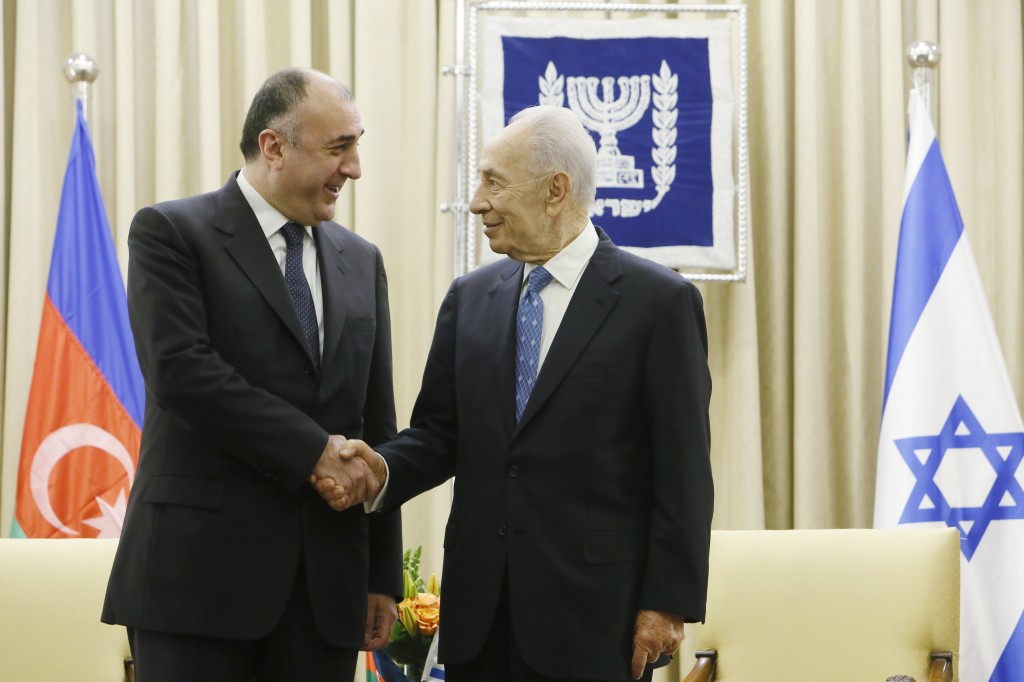 On April 21–24, Azerbaijani Minister of Foreign Affairs Elmar Mammadyarov visited Israel. This was the first visit of a high-ranking official of Azerbaijan to this country since Baku became independent. During his trip, Mammadyarov held several meetings with the Israeli leadership, including President Shimon Peres, the Prime Minister and Minister of Foreign Affairs Benjamin Netanyahu, the President of the Knesset Yuli Edelstein and several others. During their meeting, President Peres said Foreign Minister Mammadyarov's visit was "historic" and promoted "good relations" between Azerbaijan and the Israeli regime. Referring to Azerbaijan's "unique geographic location," Peres said Israel considered Azerbaijan an important ally (Zerkalo, April 23).
Bilateral cooperation is developing fast. Israel continues to purchase Azerbaijani oil, which constitutes around 30 percent of its consumption, while Azerbaijan buys Israeli military technologies. In 2012, information was leaked to the press that Azerbaijan and Israel concluded an agreement on a $1.6 billion arms deal (see EDM, March 7, 2012). Azerbaijan, however, does not have an embassy in Israel, and Mammadyarov was cautious about commenting on the sensitive issue of opening one there. "Everything has its time. Negotiations are going on; we will see how they will end," he simply said (News.az, April 26).
He also could not avoid the Palestinian topic, stressing that Azerbaijan has always supported and will continue to support Palestine. Foreign Minister Mammadyarov said that Baku would host a conference on assistance to the Palestinian people in June (News.az, April 26). The Palestinian issue was important and crucial for the minister's visit since ignoring it would have deteriorated Azerbaijan's ties with the Muslim world and with the Organization of Islamic Cooperation (OIC), specifically.
Ahead of Mammadyarov's visit to Israel, Elman Abdullayev, a spokesperson for the Azerbaijani Ministry of Foreign Affairs, tried to present the foreign minister's trip as routine. "Being a member of the [United Nations] Security Council, Azerbaijan closely observes and cannot stay indifferent to the processes ongoing in the Middle East. We are interested in the reduction of tension in the region. It is too early to say whether the Iran issue will be discussed during the visit or not. Azerbaijan has always supported the Palestinian people and provided humanitarian aid to them. We want the Middle East conflict to be solved by taking into account the interests of both sides," Abdullayev concluded (APA, April 19).
But some political analysts in Baku evaluated Mammadyarov's Israeli visit differently. Vafa Guluzade, a former advisor on foreign policy to the government, stated that the visit to Israel was to pursue domestic policy goals, rather than to achieve any major foreign policy breakthroughs. In his view, on the eve of the presidential election, Azerbaijani authorities want to obtain support from Israel and its powerful lobby in the United States and the European Union. Furthermore, he stressed that close cooperation with Israel will not help Azerbaijan to solve the Karabakh conflict (Turan, April 24).
Iran nervously watches the development of Azerbaijani-Israeli cooperation. In order to pacify Tehran, one week after Mammadyarov's trip to Israel, the head of the Azerbaijani presidential administration, Ramiz Mekhtiyev, visited Iran where he met with Saeed Jalili, the secretary of Iran's Supreme National Security Council. The sides discussed bilateral cooperation between the two countries (Zerkalo, April 29). Finally, Mekhtiyev met with Iranian President Mahmoud Ahmadinejad and the two sides discussed issues of mutual interest.
Nevertheless, the gesture failed to completely mollify and reassure Iran. Right after Mekhtiyev's visit, Iranian authorities arrested Azerbaijani writer Khalida Khalid, who had been visiting the country, along with two Iranian human rights activist of Azerbaijani origin. Of those taken into custody, the individuals who held Iranian citizenship were eventually released while the case of the two Azerbaijani citizens—Khalid and her driver Shamhal Huseynov—will be considered by an Iranian court. Iranian foreign ministry spokesman Ramin Mehmanparast confirmed that Khalid and Huseynov are under the supervision of Iranian secret services, and their cases are being investigated. According to the Iranian official, Khalid and Huseynov had been monitored by the security forces for committing "unusual activities" and took action against them (Contact, May 7). The top Iranian diplomat in Baku, Ambassador Mohsen Pak Ayeen, echoed this explanation, arguing that the arrested Azerbaijani citizens had traveled to the country as tourists and were detained after breaking Iranian law. "Nobody is arrested in Iran without a reason. [Khalid] was a tourist and [broke] our laws," he said (APA, May 8).
In an effort to smooth over the continued tensions between the two countries, the head of the Caucasus Muslims Board, Sheikh-ul-Islam Haji Allahshukur Pashazade, visited Iran on May 18–20. He was accompanied by a large delegation of parliamentary members and religious leaders. Analysts expected that during his meetings with Iranian officials, Pashazade, a native Azerbaijani, would discuss the fate of the arrested writer (Echo, May 17). The religious leader met with top Iranian authorities, including President Ahmadinejad; the speaker of Iran's parliament, Ali Larijani; as well as Iran's supreme religious figure, Ayatollah Sayed Ali Khamenei. During his meetings, Sheikh Pashazade stressed the brotherly ties between Iran and Azerbaijan (APA, May 19, 20; News.az, May 20). As of May 23, Khalid and Huseynov had not yet been handed over to Azerbaijan, but the Iranian authorities have softened their stance somewhat by explaining that the two are no longer being held under arrest and that their tourist visas had simply "expired" (APA, May 23).
Despite these modest steps toward resolving their bilateral tensions, it is hard to expect that Iranian authorities will easily "forgive" Azerbaijan for Foreign Minister Mammadyarov's visit to Israel last month. However, at this point, Tehran lacks the diplomatic tools to effectively pressure Baku from within. All pro-Iranian forces in Azerbaijan have been marginalized and hardly play any political role anymore. Thus, Iran will be forced to resort to outside pressure and will continue its provocations, such as the arrest of Khalida Khalid.