Baitullah Mehsud: Scapegoat or Perpetrator in Benazir Bhutto's Assassination?
Publication: Terrorism Monitor Volume: 6 Issue: 5
By: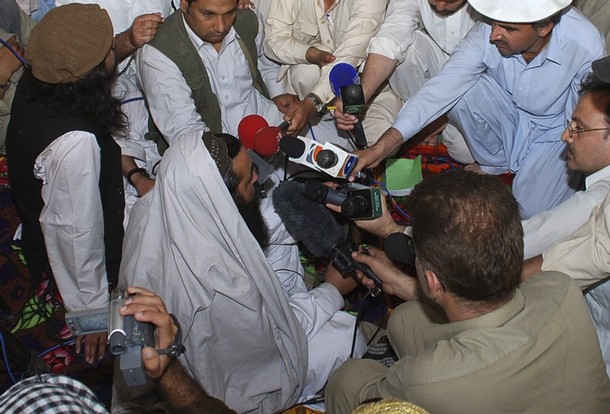 Baitullah Mehsud, chief of Pakistan's Tehrek-e-Taliban (Movement of the Taliban), was declared a "proclaimed offender" on March 1 with a warrant of arrest issued for him by an anti-terrorist court in Rawalpindi for allegedly masterminding the assassination of Benazir Bhutto in that city on December 27, 2007. Four others still at large have had warrants issued for their arrest, while another four suspects remain in custody after their arrests in January and February. Those in custody have allegedly confessed their links to the plot and the leading role of Baitullah (Dawn [Karachi], March 1).
Despite this, there are signs that Baitullah may not have been directly involved in the operational aspects of the assassination plot. As an unrelenting foe to the Pakistani military in the hard battleground of South Waziristan, he may have already had his hands full. In addition, he is reported to be leading his Pakistani Taliban to aid the Afghan Taliban under Jalaluddin Haqqani and his sons in neighboring Afghanistan during various forays against U.S.-NATO forces there (Newsline [Karachi], February).
Making the Links to Baitullah
In the first place, days after Bhutto's assassination, retired Brigadier Javed Iqbal Cheema, a spokesman for Pakistan's Interior Ministry, became the laughingstock of the Pakistani nation when he appeared on television and claimed that Bhutto died from neither a bullet wound nor the explosion that followed. He claimed Bhutto was the victim of a freak accident that fractured her skull against a metal lever as she climbed down from the roof of the armored van and stumbled when the van was rocked by the explosion. This contradicted widely viewed television footage that clearly showed a gunman firing at her from almost point-blank range just before the explosion that killed 21 other people (Weekly Pulse [Islamabad], January 3).
To add to the controversy, Brigadier Cheema played an audio tape that purported to have captured a conversation between Baitullah and one of his religious leaders in which Baitullah congratulated those who carried out the assassination. The original tape was not shown and there was no proof that the voice was that of Baitullah (Dawn, December 28; Newsline, January).
Earlier, Pakistani media had widely reported that the medical doctors who tried to revive Bhutto in the hospital had noticed possible bullet entry and exit wounds in the neck and head. But no autopsy was allowed by security forces and the body was hurriedly flown to her ancestral home in Sind province for burial. Thereafter, more than one medical report surfaced that pointed to a shrapnel wound from the bombing or fracture of the skull from a blunt object. Bhutto's aides, who cradled her body in the armored van after the explosion, also claimed to have seen bullet entry and exit wounds in her neck and head (Newsline, January).
A subsequent and belated Scotland Yard investigation conducted without an autopsy—denied by Bhutto's husband Asif Zardari—left the cause of her death in a murky area, citing a blunt force injury to the right side of her head and the appearance of a neck wound from an undetermined source in the final report (Dawn, February 9).
Baitullah, through his spokesman, denied his involvement in the killing, saying that it was not in the Pashtun tribal tradition to kill women. But there were earlier reports of threats against her life from Baitullah and other Pakistani Taliban leaders in the context of her unwelcome return to Pakistan as a perceived "stooge of America." President Musharraf is, of course, seen by Baitullah as the main collaborator in the United States' terrorism war in Waziristan, Swat and other areas in the tribal borderland abutting Afghanistan.
Involvement of the Lashkar-i-Jhangvi?
As the elected leader of the Pakistani Taliban, Baitullah has become fair game for various accusations, especially since his movement has attracted al-Qaeda members, Kashmiri jihadis and criminal elements. Among these is the banned Lashkar-i-Jhangvi (Army of Jhangvi), a group whose leaders took refuge among the Taliban in Afghanistan during the 1990s when Punjab police were after them. This fundamentalist Sunni group centered in southern Punjab province became notorious for assassinations of rival Shiite leaders, politicians and professionals.
Indeed, a telephone call to the Asia Times Online Bureau Chief in Karachi from an al-Qaeda commander in Afghanistan claimed that they assassinated Bhutto to "terminate an American asset which vowed to defeat the mujahideen." The commander said the "death squad" consisted of Punjabi associates of the underground anti-Shiite militant group Lashkar-i-Jhangvi, operating under al-Qaeda orders (Asia Times Online, December 29, 2007). The Bhuttos are Shiite.
But according to a poll conducted by GlobeScan for BBC Urdu before the release of the Scotland Yard report on February 8, the largest number of respondents at 39 percent believed that "Pakistan's security agencies or people linked to them" were responsible for Bhutto's assassination. Other responses were 24 percent blaming "some other party," and 21 percent saying that they did not know. Only 16 percent believed the government's contention that Pakistani Taliban leader Baitullah and his al-Qaeda network carried out the assassination (Dawn, February 14).
Pakistan's Interior Ministry had previously linked Baitullah to the October 18, 2007 suicide attacks on Bhutto as she traveled from the airport to her residence in Karachi. In that connection, police on February 26 arrested Qari Saifullah Akhtar, a well-known Kashmir jihadi leader who had previously gone underground for other crimes. But some days later, Interior Ministry spokesman Brigadier Cheema told newsmen that there was no record of Qari Akhtar's arrest (Dawn, March 4).
Tehrek-e-Taliban Operations in the Tribal Areas
On the eve of the formation of a new civilian government, Pakistan's interim government and new military chief appear to be keen on pursuing Baitullah. The military went into action again in South Waziristan after Baitullah brazenly captured the Sararogha Fort in a night attack on January 15 that overwhelmed the skeleton force of Frontier Corps troops manning it. After other forts were attacked, regular army troops backed by aircraft and artillery moved in a three-pronged attack on the Mehsud tribal territory in central South Waziristan. Supply roads to many Mehsud villages in the snowy mountains that rise to 11,000 feet were cut off and there was an effective blockade. In the ensuing stalemate and harsh weather conditions, both sides were ready for another ceasefire. Baitullah was reported to have first made the move on February 6, ordering his Taliban forces to stop attacking the Pakistani military not only in Waziristan but also in Swat and other tribal areas (Geo TV, February 6).
But there is speculation that apart from the pressure of the impending parliamentary elections on February 18, the indefinite ceasefire appeared to have been quickly accepted by the military because that same day, on February 6, a military helicopter crashed soon after it took off from Wana, the agency's headquarters. Among the eight killed was Major General Javed Sultan, the commander of the Kohat garrison, who was also in charge of military operations in South Waziristan. Two brigadier-generals were included among the dead. A military spokesman ruled out hostile action and blamed the crash of the U.S.-made Bell 412 helicopter on a technical fault (Daily Times [Lahore], February 7). However, Indian security officials tracking developments inside Pakistan believe that the helicopter may have been shot down (Times of India, February 7). Helicopters have been known to be vulnerable to rocket-propelled grenades fired from mountainsides in previous conflicts in Afghanistan.
A Coming Offensive Against Baitullah's Command
There is more ominous news ahead for Baitullah. Pakistan's military appears to be preparing for a new offensive against him and there is speculation that it may be done in coordination with U.S.-NATO forces attacking the Taliban in a spring offensive from the Afghan side of the border. U.S. officials say that the Pakistani tribal region has become a growing threat because it provides a safe haven to al-Qaeda, which is believed to be deepening its ties to the Afghan Taliban, Baitullah's Pakistani Taliban and other militant groups. Top U.S. defense officials have already publicly offered help to Pakistan against these militants (The News [Karachi], March 1).
Already the Special Operations Command (SOCOM) has agreed to send a limited number of its officers to train the Frontier Corps in counter-insurgency. Besides providing help with their high-tech equipment, these Special Forces may also accompany Pakistani troops for purposes of surveillance and coordination (Asia Times Online, February 21).
In a possibly life-threatening development for Baitullah, targeted missile strikes from across the Afghan border and U.S. Predator drone attacks appear to be on the rise. An unmanned Predator killed al-Qaeda leader Abu Laith al-Libbi near Mirali in North Waziristan on January 28, while a further eight suspected militants were killed by a missile attack in the Kalosha area of South Waziristan on February 28. The militants reportedly included four Arabs, two Turkmen and two Punjabis. Local tribesmen reported seeing a pilotless drone over the area (AFP, February 28).
Conclusion
It increasingly appears that Baitullah may have been more of a scapegoat rather than a perpetrator in the assassination of Bhutto. In the shadowy world of the many Islamist groups, renegade elements of the Inter-Services Intelligence (ISI) and rival politicians who have hated Benazir Bhutto, Baitullah registered more clearly in the public eye. The proscribed Lashkar-i-Jhangvi (Army of Jhangvi) could very well be the real culprit. But in the tradition of blaming all terrorist acts on Osama bin Laden, Pakistan's military and the U.S. government have found it convenient to lay the blame squarely on Baitullah, especially since he has become such a public figure in the global war on terrorism. The elimination of Baitullah would now meet with greater public approval.