Bakiyev Regime Suspected in Political Assassination
Publication: Eurasia Daily Monitor Volume: 6 Issue: 50
By: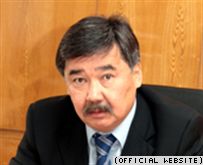 On March 13 Medet Sadyrkulov, the former head of the presidential administration, died in a suspicious car accident. Sadyrkulov's car was hit by another vehicle in the early morning on a rural highway. The car burned entirely, suggesting that the "accident" was pre-planned. Sadyrkulov's death follows a chronicle of political assassinations, kidnappings, arrests, and disappearances in Kyrgyzstan that began after President Kurmanbek Bakiyev seized power in March 2005.
Several of Sadyrkulov's supporters, among them his former deputy Elmira Ibraimova and a number of opposition leaders, point to the regime for involvement in masterminding Sadyrkulov's death. Ibraimova in particular has been a fierce critic of the Bakiyev regime since Sadyrkulov's death (www.24.kg, www.akipress.kg, March 13-15).
Sadyrkulov played an important role in Bakiyev's regime. He helped the president to construct corrupt schemes and had a significant influence over cadre politics. Sadyrkulov had a strong influence in parliament and in several ministries. Although he was not able to dictate appointments to ministries, he still took charge of nominating deputy ministers. As Temir Sariyev, a member of the United Opposition Movement (UOM), told Jamestown, Sadyrkulov had access to information that could potentially destabilize the regime.
According to Ravshan Jeenbekov, a member of the Ata Meken opposition party, Sadyrkulov, often working as an intermediary between the regime and the opposition, helped Bakiyev sustain power during the November 2006 mass demonstrations, when opposition forces pressured the regime into adopting a new constitution (interview with Jamestown, March 15). Sadyrkulov further protected Bakiyev during the riots in April 2007 when the opposition led by former Prime Minister Felix Kulov was set to oust the regime.
Sadyrkulov's views, however, often clashed with those of Zhanysh Bakiyev, the president's brother and an influential security official. Shortly before his death, Sadyrkulov said publicly that he was being spied on everywhere he went and had received several death threats. In December 2007 a finger and an ear (taken from a dead homeless person) were sent to him as a warning that his cadre politics were not welcomed by the regime. The personality conflict between Sadyrkulov and Zhanysh forced the former to resign. After losing his position, Sadyrkulov threatened to join the opposition camp led by Omurbek Tekebayev, head of the UOM.
Sadyrkulov's death has very important implications for Kyrgyzstan. According to Edil Baisalov, an opposition leader in exile, if the Bakiyev regime remains unscathed by Sadyrkulov's death and is not held accountable, this will quiet both the opposition and civil society in Kyrgyzstan. "The opposition will be forced to immigrate or remain silent as in Uzbekistan, Tajikistan, and even Kazakhstan. And we've seen that this silence can last decades," Baisalov said. Bakiyev has shown that even his closest allies are not immune to persecution.
If, however, opposition forces are supported by Sadyrkulov's followers in the parliament and government, Bakiyev's regime could be weakened significantly from the inside. As Sariyev said, the regime probably intended to demonstrate to the rest of its opponents that it would not tolerate any dissent. Instead, however, it has spread panic among public employees who are now more likely to condemn the president. The most alarming feature about Bakiyev's regime, Baisalov thinks, is that Sadyrkulov's death was not a result of cold calculations, but was likely a matter of personal revenge.
After the failed negotiations between the president and opposition forces, the UOM declared that it would stage mass demonstrations across the country on March 27. The UOM is aware that the Bakiyev regime will rely on the support of the security and military forces, including the Ministry of Defense. But the UOM is hoping to prevent the regime's use of military force by collecting "a critical mass of more than 10,000 to 15,000 people," said Jeenbekov who believes that neither the military nor police organizations would be able to deal with such large crowds.
In the meantime, UOM members are currently under a ruthless attack by the regime. From the top leaders down to village activists, the UOM is under intense surveillance by the police, financial, and administrative agencies. The UOM's demonstrations on March 27 will test how far Bakiyev will go to suppress crowds by force.
In effect, Sadyrkulov's death has demonstrated that Bakiyev is losing control over the activities of his brother Zhanysh, who has a personal agenda and interest in retaining a strong regime. Zhanysh reportedly has been suspected by many in Kyrgyzstan of staging numerous criminal intrigues against political opponents and journalists. He is infamous for his brutality and is also at odds with the president's son Maksim Bakiyev. Whether this personality conflict will work out in Bakiyev's benefit will soon be clearer.