Baku and Tbilisi Reassert Their Strategic Partnership After Election of New Georgian President
Publication: Eurasia Daily Monitor Volume: 16 Issue: 32
By: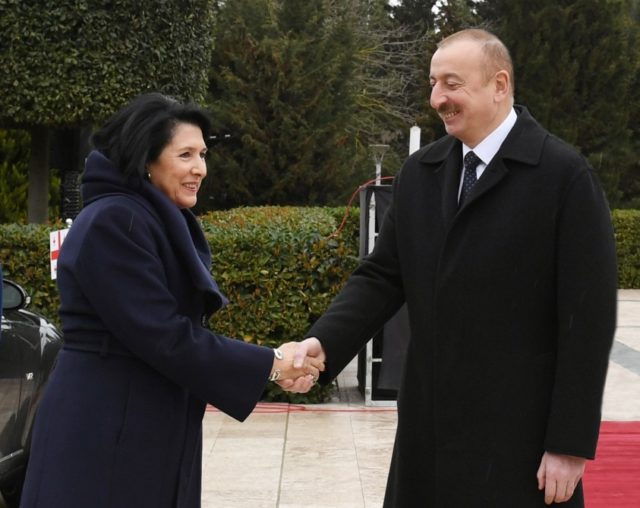 Newly elected Georgian President Salome Zourabichvili made her first regional visit to the neighboring country of Azerbaijan. Her trip was of critical importance in terms of both bilateral relations and wider geopolitical developments in the South Caucasus. Specifically, Zourabichvili's arrival in Baku, on February 27, signaled that the new Georgian administration fully intends to continue its strategic partnership with Azerbaijan. In an interview with Azerbaijani state television channel AzTV, she defined the bilateral relations as "excellent, excellent, excellent" and shared these words via her official Twitter account. Azerbaijani President Ilham Aliyev called her visit evidence of the two countries' relations proceeding at the highest level (AZERTAC, February 27). Apart from President Aliyev, Zourabichvili also met other high-level Azerbaijani officials such as First Vice President (and First Lady) Mehriban Aliyeva, Prime Minister Novruz Mammadov and the speaker of the parliament (Milli Mejlis), Ogtay Asadov. As a sign of trust, she also paid a visit to several Georgian monuments located in Azerbaijan and met with local Azerbaijani-Georgians.
The visit attested to the Zourabichvili administration's firm commitment to preserve Georgia's alignment with Azerbaijan against the background of current regional geopolitical developments. After the change in power in Armenia, brought about last spring by the so-called "Velvet Revolution," Prime Minister Nikol Pashinyan has been trying to reverse his country's regional isolation by adopting a proactive policy to improve relations with two key neighbors—Georgia and Iran. In fact, at the same time as Zourabichvili's visit to Baku, Pashinyan traveled to Iran, where the Armenian delegation signed two economic memorandums of understanding with the host government (Armenpress.am, February 27). Prior to this, the Pashinyan government had been conducting shuttle diplomacy in a bid to improve Armenia's overland transit connections with Russia via Georgia; Yerevan hopes to soon see the commissioning of a rebuilt north-south Georgian-Russian railway (see EDM, February 8, 2018; February 22, 2019).
That said, Georgia's recent relations with Azerbaijan have not been without controversy. Earlier this year, Baku protested against the unveiling of a monument to a Karabakh separatist in an ethnic-Armenian village in Georgia. Several ethnic-Armenian parliamentary deputies from the ruling Georgia Dream party were in attendance, and Azerbaijan asserted that the event implied the Georgian authorities' implicit support for Armenia's Karabakh policy (see EDM, February 7). But Zurabishvili's remarks in Baku confirmed that her country stands together with Azerbaijan on the issue, declaring, "Conflicts and violation of territorial integrity are tragedies for both countries. We still fight together to restore and recognize our territorial integrity in international organizations" (President.gov.ge, February 28). Her statement about restoring the territorial integrity of Azerbaijan and Georgia incited a negative reaction from Armenian experts with close ties to Pashinyan (Lragir.am, February 28).
While in Azerbaijan, Zourabichvili also broached the subject of regional transportation and energy projects, highlighting the two strategic partners' common approach toward them. In particular, she emphasized, "Our countries are located on the road connecting Asia to Europe, China to the West, and the Caspian Sea to the Black Sea. Interest in these transport corridors gradually increases" (Civil.ge, February 27). Armenia, meanwhile, has tried to position itself as a bridge for Iranian energy resources bound for Europe, via Georgia. Moreover, Armenia provides an entryway for Iran to the Russia-led Eurasian Economic Union (EEU), of which it is a member but is itself physically separated from by Georgian territory. Thus, Armenia seeks to escape regional isolation by expanding its north-south geopolitical opportunities. But with her statements in Baku, the president of Georgia declared that her country's priorities are developing east-west transportation and energy links.
Georgia and Azerbaijan's joint action in regional politics stems from several strategic considerations. First, they share a common destiny in many security and political domains. Second, relations between the two states are interdependent when it comes to transportation, energy and the economy. According to Georgian state statistics, in 2018 Azerbaijan was the country's third-largest direct foreign investor, after the Netherlands and South Korea, with $33 million (Geostat.ge, accessed March 7). When it comes to the destination of Georgian exports, Azerbaijan comes in second place (14.4 percent), after only Russia (16.4 percent). Additionally, Azerbaijan is third (10.7 percent) in terms of total Georgian imports, after Turkey (15.4 percent) and China (12.7 percent) (Geostat.ge, accessed March 7).
Azerbaijan has long been a reliable and important energy supplier to Georgia. At present, Azerbaijan's state oil company SOCAR is the main supplier of natural gas to Georgia, through the Kazimammed–Gazakh pipeline and via the South Caucasus Pipeline (from the Shah-Deniz field). Last year, Azerbaijan transported 2.5 billion cubic meters of natural gas to Georgia, an increase of 14 percent, or 306.9 million cubic meters, compared to 2017 (Azernews.az, January 18). The gas agreement signed between Tbilisi and Moscow in 2017 did not alter Azerbaijan's position on the Georgian gas market. Although some Georgian experts have expressed concerns that the country's high dependence on Azerbaijani gas has become a national security issue (see EDM, February 12, 2018), Azerbaijan never used gas shipments as a foreign policy tool against Georgia. In fact, gas imports from Azerbaijan have helped Georgia to resolve energy shortages during difficult times.
Both countries have overlapping political and security interests. The security domain comprises three main aspects: sovereignty and independence, concerns over separatism and threats to their territorial integrity, and cooperation against threats to their joint energy and transportation projects. According to Azerbaijan's "National Security Concept" (2007), "Azerbaijan, Georgia and Turkey have developed into a factor of stability in the region" (Ethz.ch, May 23, 2007). And the Georgian National Security Concept (2011) declares, "Georgia's relationship with Azerbaijan has developed into a strategic partnership" (Mod.gov.ge, accessed March 7).
Bilateral military and political relations expanded into a triangular format with the addition of Turkey (see EDM, March 11, 2014; June 7, 2017). Since 2012, the three countries' foreign and defense ministries have repeatedly met jointly. Baku, Tbilisi and Ankara initiated tripartite exercises to enhance their militaries' combat capabilities as well as agreed to organize joint defense seminars and conferences, cooperate in military education, develop military technology, and run trilateral exercises focused on protecting oil and gas pipelines.
Azerbaijani-Georgian relations today can genuinely be described as having reached the level of a strategic partnership. And Zourabichvili's recent visit to Baku clearly illustrated the Georgian government's intent to preserve this condition of the relationship. As such, her remarks specifically sought to underscore Baku and Tbilisi's common position regarding regional security as well as transportation and energy projects.