Before the Summit, the U.S. Forgives Russia for Invading Georgia
Publication: Eurasia Daily Monitor Volume: 6 Issue: 127
By: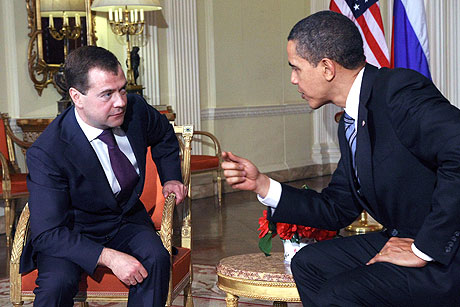 On Monday July 6, President Barack Obama is expected in Moscow for a summit to discuss nuclear arms control, Iran, Afghanistan the post-Soviet space and other issues. It has been announced that Obama will spend most of July 6 in formal as well as informal talks with his Russian counterpart Dmitry Medvedev. There will be a joint press conference and a late night dinner with spouses (RIA Novosti, July 1). The two presidents will concentrate on discussing a progress report from the Russian and American negotiating teams that are working on preparing a new Strategic Arms Reduction Treaty (START) (Interfax, July 1).
Deputy Foreign Minister Sergei Ryabkov told RIA Novosti that progress in the START negotiations "was more significant than our expectations." Ryabkov expressed optimism that a comprehensive new START treaty with solid verification measures that will "guarantee both sides equal security and a real strategic nuclear arms reduction" will be ready for signing by the end of the year, when in December the present 1991 START-1 expires. According to Ryabkov, the best way to improve U.S.-Russian relations is to build mutual trust that "was lacking over the last several years." He added that it was mainly the task of the U.S. "to work to rebuild mutual trust by concrete actions," since in Russia the U.S. is deeply distrusted (RIA Novosti, July 1).
The understanding that Washington must offer important concessions is widespread in Moscow. It was the Obama administration's idea to "reset" relations with Russia, so if the Americans want that to happen, they must deliver and change their foreign policy significantly to achieve anything. A pro-Kremlin Moscow think-tank – The Council on Foreign and Defense Policy – produced a report "Retuning instead of resetting – Russian interests and relations with the U.S." which argues that Russia might begin to cooperate with the U.S. and NATO on Iran, North Korea and Afghanistan. The U.S. in turn must drastically change its policies in the post-Soviet space by not supporting the anti-Russian regimes in Georgia and Ukraine, stopping any effort to incorporate these or any other former Soviet states into NATO and refraining from developing bilateral military-political partnerships with the former Soviet states. The report calls such a possible U.S.-Russian arrangement a "grand deal" and points out that Georgia or Ukraine are highly important to Russia, but of marginal interest to the U.S., unlike Iran, Afghanistan or North Korea. This fact could make the proposed "grand deal" possible, since Moscow and Washington will each be trading unimportant items for important ones (RIA Novosti, July 1).
U.S. officials insist they are not ready to trade horses on important issues with Russia or throw Georgia under the bus. But it seems that in the run up to the summit the U.S. has already effectively forgiven Russia for invading Georgia, and not withdrawing its military forces from Abkhazia and South Ossetia as it appeared to have promised under a ceasefire agreement in August last year. According to Russian officials, a ministerial meeting last week of the Russia-NATO council decreed a full resumption of military and political cooperation that was suspended after the war with Georgia (ITAR TASS, June 28).
After talks last week with the Chairman of the U.S. Joint Chiefs of Staff Admiral Mike Mullen the top Russian military commander, the Chief of the General Staff and First Deputy Defense Minister Army-General Nikolai Makarov told reporters that it was decided that during the Moscow summit a resumption will be announced of U.S.-Russian bilateral military cooperation, broken off as a result of the August war with Georgia (VPK, July 1). After meeting Mullen, Makarov is now commanding the Kavkaz-2009 major military exercises in the North Caucasus as well as in Abkhazia and South Ossetia (EDM, June 18, 25).
Officially, Kavkaz-2009 is in essence, "antiterrorist," but the use of the air force, hundreds of tanks and a Black Sea naval task force with its top general in command does not seem to imply "terrorism" as the main target. It has also been announced that Kavkaz-2009 is to prepare the troops to fight a regional armed conflict with Georgia, which is accused of preparing a new attack on South Ossetia and Abkhazia. The Russian foreign ministry has accused the Georgians of massing troops and of acting deliberately with the West to remove the U.N. and the OSCE observer missions from Abkhazia, South Ossetia and Georgia in order to destabilize the situation (RIA Novosti, June 29). Of course, Moscow in fact used its veto power in the U.N. and the OSCE to remove these observers (EDM, July 1).
Indeed, Moscow claims that the massive deployment of Russian military might on Georgia's borders during Kavkaz-2009 is intended "to deter the aggressor" (Interfax, June 29; Izvestia June 30). But the Georgian military that suffered a humiliating defeat last August is not "massing forces" or capable of attacking the Russian armed forces in Abkhazia or South Ossetia. As tensions grew, this week another round of security consultations in Geneva between Russia and Georgia organized by the E.U., U.N. and the U.S. ended without any significant progress (RIA Novosti, July 1).
On July 7, Obama plans to have a working breakfast with Prime Minister Vladimir Putin. Obama will later meet the former Soviet president Mikhail Gorbachev (RIA Novosti, July 1). If the U.S. administration is indeed planning to seriously discuss important issues at a time of heightened international tensions, it is unclear why the Obama team has planned to spend most of the Moscow summit talking to the figurehead president Medvedev, instead of concentrating his efforts on talks with Putin who is Russia's true ruler -and the only one capable of making any things happen.