Beijing Purges Wuhan: The CCP Central Authorities Tighten Political Control Over Hubei Province
Publication: China Brief Volume: 20 Issue: 4
By: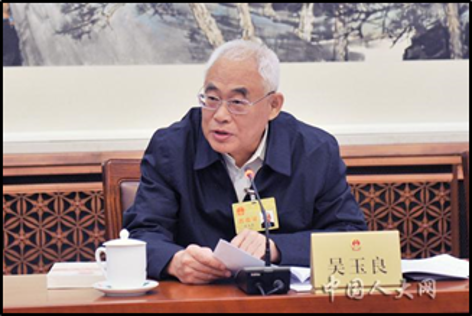 Introduction: The CCP Center Presses a Positive Narrative About Its Response to COVID-19
Following a slow reaction to the initial outbreak of the COVID-19 virus, since late January the zhongyang (中央), or central authorities, of the Chinese Communist Party (CCP) have conducted a concerted public relations effort to present themselves as actively engaged in directing efforts to combat the epidemic. This has included the creation of a new senior-level CCP "leading small group" focused on the epidemic (China Brief, February 5), and a messaging campaign to assert that CCP General Secretary Xi Jinping has been personally "commanding China's fight" against the outbreak (Xinhua, February 2). Senior officials have also made a range of recent public appearances intended to demonstrate zhongyang concern for, and control over, the campaign against the epidemic.
These actions have been accompanied by a host of positive news stories in state media about the response to the outbreak. The CCP Politburo Standing Committee (PBSC) reportedly held a meeting on February 3 focused on this issue; directives emerging from the meeting stressed that party organs must "perform well in propaganda education and strengthen work to guide public opinion" (做好宣传教育和舆论引导工作, zuo hao xuanchuan jiaoyu he yilun yindao gongzuo) about the epidemic response. To this end, media should emphasize not only inspirational stories about the efforts of local workers, but also "deepen propaganda on the major decisions and deployments of the party center" (深入宣传党中央重大決策部署, shenru xuanchuan dang zhongyang zhongda juece bushu) (HK01, February 5).
The CCP "Central Guidance Group" for Relief Efforts in Hubei Province
PRC Vice-Premier and CCP Politburo Member Sun Chunlan (孙春兰) has made seven visits to the Wuhan area between January 22 and February 21. Beginning with a trip on February 3, Sun was identified in official media as the leader of a "central [authorities] guidance group" (中央指导组, zhongyang zhidao zu) charged with reviewing relief efforts and communicating national leadership directives to local officials (China Brief, February 5; Xinhua, February 15; Xinhua, February 21). The exact membership of this central guidance team is unclear, but it appears to be an ad hoc grouping of national-level officials rather than a formal organization. Nevertheless, it is making its presence known in asserting centralized direction over medical relief efforts in Hubei Province.
Authoritative CCP media organs have vowed that the government will take "strict measures to deal with unqualified and derelict officials during the prevention and control of the novel coronavirus" (Xinhua, February 5). National media has also actively supported a narrative of inept local officials in Hubei being read the riot act by members of the central leadership guidance team. For example, the official CCP mouthpiece People's Daily provided an account of a meeting on February 10, in which central guidance team member Gao Yu [高雨], Deputy Secretary of the State Council and Director of the State Council Office Supervision and Investigation Bureau, excoriated local officials for their performance. Per this account, Gao gave a severe dressing down to an official from the Wuchang (武昌) District of Wuhan City, stating that "work has been sluggish, coordination has been disordered, [and] organization has been confused… as a result, seriously ill people have waited a long time for treatment and have lost morale… this way of doing things is completely unacceptable." Summing up the performance of local officials overall, Gao asserted that "Wuhan is currently in a state of war, and the actions of these people are completely unsatisfactory" (People's Daily, February 10).
Another sign of central CCP leadership intent to tighten the reins on Hubei Province was seen in the dispatch of Chen Yixin (陈一新), who arrived in Wuhan on February 8 to act as the designated deputy head of the zhongyang guidance team (China Daily, February 10; SCMP, February 12). Chen is a former Party Secretary in Wuhan; more importantly, Chen has served since March 2018 as Secretary-General of the CCP Central Political and Legal Commission (中央政法委员会, Zhongyang Zhengfa Weiyuanhui), which places him in authority over the PRC's police and courts systems. The appointment of such a figure is a possible indication of Beijing's concern over social unrest resulting from the epidemic—and of the need for a zhongyang point man to ensure that not only the party's civil apparatus, but also the domestic security apparatus, are kept in line with central direction.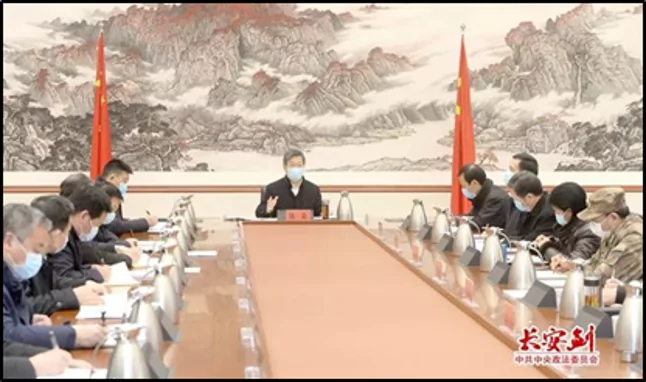 The Sacking of Senior CCP Cadres in Hubei Province
Despite such efforts, public anger has grown regarding the government's earlier efforts to suppress information about the initial stages of the COVID-19 outbreak in the Wuhan area (China Brief, January 17; China Brief, January 29). As a result, the reputation of the CCP and the prestige of its "core" leader Xi Jinping have been damaged (China Brief, February 13). As has often been the case with past crises, local and provincial-level officials are now being made the subject of blame for poor response and information suppression in the early stages of the crisis—and personnel shake-ups are providing a mechanism for the Xi-dominated zhongyang to assert firmer control over the party hierarchy in Hubei Province.
Hints of potential cleavages between local and national CCP authorities first surfaced into public view in late January, when Wuhan Mayor and Deputy CCP Secretary Zhou Xianwang (周先旺) made an admission that warnings to the public "were not sufficient" (SCMP, January 23). Zhou followed this with startling public comments on January 27 in which he offered to resign his post, but also asserted that national-level restrictions on the promulgation of information about infectious disease outbreaks had tied the hands of local officials (Caixin, January 27; China Daily HK, January 28). Despite these injudicious (and likely true) comments, Zhou has thus far held on to his positions.
Senior CCP officials in Hubei have clearly been concerned that they might be sacked, and have sought to "signal loyalty" (表态, biaotai) to the party center: for example, Hubei Party Secretary Jiang Chaoliang (蒋超良) pointedly made comments early in February that he would loyally implement Chairman Xi's guidance, as well as directives communicated by Sun Chunlan (China Brief, February 13). However, this was not enough to save his job, or that of other prominent local officials.
The first significant sackings occurred on February 11, when Zhang Jin, the CCP Secretary of the Hubei Public Health Commission, and Liu Yingzi, director of the same body, were removed from their posts (SCMP, February 11). Then, on February 13, state agencies and media issued this announcement:
On February 13, Hubei Province convened a meeting of leading cadres; at the meeting, [CCP] Central Organization Department Deputy Director Comrade Wu Yuliang (吴玉良) announced the decision of the central authorities… on the basis of the need for epidemic prevention and control work, and the reality of the Hubei Province leadership [personnel], and conducting consideration from every angle… the central authorities decided to make adjustments to the major responsibilities of comrades in the Hubei Party Committee (CCDI, February 13).
As a result, it was announced that Jiang Chaoliang had been removed from his positions as Hubei Province Party Secretary and member of the provincial party committee. Jiang was replaced by Ying Yong (应勇), who had previously served since 2017 as Mayor and Deputy CCP Secretary in Shanghai. In a parallel move, Ma Guoqiang (马国强) was stripped of his posts as Wuhan City CCP Secretary and Hubei Province Deputy CCP Secretary. Ma was replaced by Wang Zhonglin (王忠林), who left his former position as CCP Secretary of Jinan City in Shandong Province (Xinhua, February 13; China Vitae, undated; China Daily, February 13).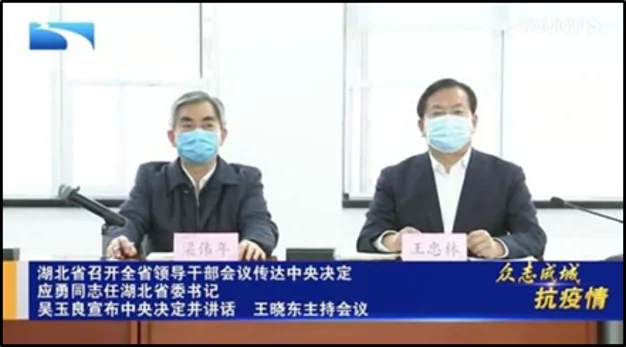 The CCP Central Discipline and Inspection Commission in Hubei
In addition to the personnel replacements in the top posts of the Hubei Province CCP hierarchy, other central CCP agencies have been dispatched to the region to ensure compliance with central directives—as well as to identify scapegoats for missteps in the early stages of the viral outbreak. To this end, teams of agents from the CCP Central Discipline and Inspection Commission (中共中央纪律检查委员会, Zhonggong Zhongyang Jilu Jiancha Weiyuanhui), or CDIC, have been sent to monitor local officials and local conditions in affected areas. Tasks assigned to the CDIC have included: monitoring the production, pricing, and availability of medical supplies and foodstuffs; monitoring local-level party cadres for compliance with higher-level directives about preventing spread of the virus (e.g., wearing masks, and registering persons who have traveled to Wuhan); and inspecting facilities for travelers such as hotels (CCP Watch, February 6).
At least one senior-level Wuhan CCP official has been taken down by the CDIC amid the ongoing central government crackdown. The CDIC announced on February 22 that Cai Jie (蔡杰), a member of the Wuhan City CCP Standing Committee, had been relieved of all duties and expelled from party membership. Cai had slowly worked his way up the Wuhan City CCP hierarchy since the mid-1990s, rising ultimately in 2016 to become Secretary-General of the Wuhan CCP Committee. The announcement of Cai's expulsion accused him of "violating political discipline" and "violating regulations on morality" by impeding investigations, accepting bribes, and abusing his official positions (CDIC, February 22).
The CDIC has also become involved in efforts by the CCP center to address one of the thorniest points of the epidemic in public relations terms. Li Wenliang (李文亮), a 34 year-old ophthalmologist in Wuhan, had run afoul of local authorities after he posted in late December to a WeChat account, informing medical colleagues about the appearance of a SARS-like virus in the city. Li was subsequently summoned by local police and threatened for "spreading false rumors on the internet," at a time when both local and national officials were suppressing information about the disease (BBC Chinese Service, February 4). Li himself subsequently contracted the COVID-19 virus, and died on February 7; his death prompted a massive outpouring of sympathy on the Chinese internet, and produced a severe embarrassment for the government. In response, the CCP has announced that the CDIC will investigate the treatment of Dr. Li (China Daily, February 7). CCP propaganda organs have also attempted to co-opt the legacy of Li Wenliang, invoking his name in calls to "win the battle" against the virus (People's Daily, February 7).
Conclusion
Following an initial period of several weeks in which information about the COVID-19 epidemic and its seriousness were suppressed, since January the national CCP authorities have undertaken a comprehensive public relations campaign to present themselves as actively involved in directing efforts to manage the crisis. This has involved a series of highly-publicized leadership appearances, as well as a concerted propaganda campaign stressing both the capable leadership of the zhongyang and the need to adhere loyally to all its directives. In February, a new element was added to this campaign: an effort to channel public anger towards city and provincial-level CCP officials, while presenting an image of the party center as energetic, highly competent, and concerned for the welfare of the people.
To this end, it was almost inevitable that senior figures in the Hubei party hierarchy would be sacked. While there were certainly severe shortcomings with the initial response made by Hubei officials, part of this was due to problems that proceeded from Beijing: in particular, information restrictions relating to any matters that might impact "social stability," and a top-down model that inhibits lower-echelon initiative while waiting for direction from Xi's zhongyang on any major sensitive issue. Local and provincial-level officials are now being made scapegoats for flaws in the CCP's governance model. Xi Jinping has consistently demonstrated that he believes the solution to any problem is always the further centralization of power, and that process is likely to further play itself out as the COVID-19 crisis continues to unfold.
John Dotson is the editor of China Brief. For any comments, queries, or submissions, feel free to reach out to him at: cbeditor@jamestown.org.