Beijing's Stance on North Korea Challenged by Yeonpyeong Island Incident
Publication: China Brief Volume: 10 Issue: 24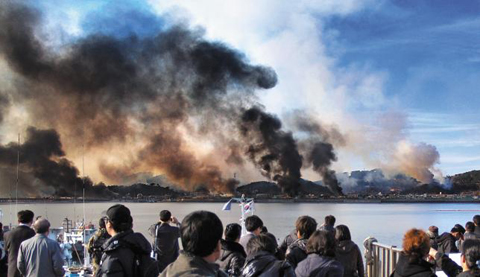 Beijing has suffered serious collateral damage in the wake of Pyongyang's attack on South Korea last week. Despite the Chinese Communist Party (CCP) administration's generous material and moral support, the Kim Jong-Il regime has refused to mend its roguish ways. North Korea's shelling of Yeonpyeong Island—which came on the heels of Pyongyang's admission that it had built a new uranium enrichment facility equipped with 2,000 centrifuges—has exacerbated Beijing's nightmare scenario, that is, the consolidation of the military alliance between the United States and Asian allies such as South Korea and Japan. Hawkish elements in South Korea and Japan are also expected to redouble their calls for boosting their countries' arsenal against the growing threat from the DPRK.
Last Sunday, the Hu Jintao administration sought to salvage its reputation as an honest broker in the Korean crisis by calling for an emergency meeting of the senior representatives of the six countries—China, the two Koreas, the United States, Japan and Russia—that had taken part in the stalled Six Party Talks on denuclearization of the Korean Peninsula. Yet, the lukewarm responses of the United States, South Korea and Japan has cast doubt on the efficacy of the Chinese initiative (Global Times, November 28; The Associated Press, November 28; Los Angeles Times, November 29). What is certain is that lapses in Beijing's North Korean policy have called into question China's qualifications as a "responsible stakeholder" in the global community. Despite the fact that China is the primary provider of economic, fuel and technological aid to the impoverished Stalinist state, the CCP leadership has repeatedly failed to rein in the Kim regime's increasingly reckless brinksmanship (Wall Street Journal, November 23; Ming Pao [Hong Kong] November 28).
Beijing's perceived connivance of Pyongyang's excesses was evidenced last March by its refusal to criticize Pyongyang for the sinking of the South Korean corvette Cheonan, which killed 46 South Korean sailors. On the contrary, Beijing has deepened its "lips-and-teeth" relations with the pariah state during Dear Leader Kim's two visits to China this year. Chinese authorities have continued to flout United Nations sanctions imposed on the DPRK as punishment for its nuclear tests last year. According to American diplomatic cables leaked by Wikileaks, senior American officials had as early as 2007 repeatedly urged Beijing not to allow Pyongyang to ship missile parts to Iran via commercial flights originating out of China (The Guardian, November 28; AFP, November 28). President Hu and his colleagues have also given their blessings to the elevation of Kim's third son, Kim Jong-un, as the successor of the ailing 68-year-old dictator. Ironically, last week's artillery bombardment of South Korea was widely believed to be an effort by Dear Leader Kim to bolster the North Korean army's support for his inexperienced successor (Sydney Morning Herald, November 24; Apple Daily [Hong Kong] November 24).
Beijing's reaction to the Yeonpyeong Island mishap was predictable: not a word of censure on the DPRK. The day of the shelling, Beijing merely appealed to all sides for calm. Foreign Ministry spokesman Hong Lei said, "China hopes that the relevant parties will do more to contribute to peace and stability in the region." Foreign Minister Yang Jiechi indicated that the two Koreas should "solve problems through negotiations and dialogue." "The pressing task now is to prevent a recurrence of similar incidents," he said. Yang also called upon countries with a stake in regional stability to "actively work for peace and facilitate talks, jointly safeguard peace and stability of the Korean Peninsula while adopting responsible attitudes" (Xinhua News Agency, November 23; People's Daily, November 26).
Senior Chinese academics have tried to defend the leadership's stance on the DPRK. Yu Yingli, a Korean expert at the Shanghai Research Institute on International Relations, said pinning the blame on China was unfair since it was U.S.-South Korean war games that triggered the North Korean attack on South Korea. "Beijing is right to insist that all sides remain calm before the facts [behind the shelling] are ascertained," Yu said. Renmin University Professor Shi Yinhong noted that owing to North Korea's proximity to China and the traditional China-DPRK friendship, "there are limits as to what Beijing can do" (Ming Pao, November 26; Yonhap News Agency [Seoul], November 26).
Equally problematic is the fact that instead of scolding Pyongyang, Chinese officials have laid into Washington and Seoul, who decided to hold a four-day-long war game in the Yellow Sea this week. Reacting to the U.S.-South Korea naval drills, Premier Wen Jiabao said Beijing opposed "any provocative military behavior" on the Korean peninsula. Added Foreign Ministry spokesman Hong, "We oppose any party to take any military acts in our exclusive economic zone without permission." Popular military commentator Luo Yuan went so far as to say that the Yellow Sea maneuvers were like "pouring oil on flames." "The U.S.-South Korean action will heighten tension in the Korean Peninsula," Major-General Luo told the foreign media (Yonhap News Agency, November 25; Xinhua News Agency, November 26).
The major reason why Beijing was so disturbed by the Yellow Sea exercises was that the Kim regime's shenanigans had significantly bolstered America's military alliance with South Korea and Japan. The Yeonpyeong Island incident provided the Obama administration with a good justification for finally sending the nuclear-driven USS George Washington to the Yellow Sea. This was despite the fact that owing to Chinese protests, the Pentagon had for four months desisted from dispatching the state-of-the-art aircraft carrier to the sensitive region (Global Times, November 24; China News Service, November 26; Chongqing Evening Post, November 28). Moreover, ties between Beijing and Seoul, which had grown substantially due to South Korea's trade dependence on China, have been hard hit by the Cheonan and Yeonpyeong Island mishaps. Sino-Japanese relations, which had been badly frayed by sovereignty disputes over the Senkaku/Diaoyu islands, could also be adversely affected by widespread Japanese perception that Beijing is supporting an anti-Japanese dictatorial regime (Arirang News [Seoul] November 28; Asahi Shimbun, November 25).
Both South Korea and Japan—which is also exposed to North Korean missiles—are set to expand their military spending, much of which will be used to purchase American weapons. The Lee Myung-Bak administration has already announced a 5.8 percent boost in defense outlay for the purpose of procuring U.S.-made F-16 jetfighters and other hardware. Support is also growing for the redeployment of U.S. nuclear weapons, which had been withdrawn from South Korea in 1991 as a peace gesture to the North (Yonhap News Agency, November 23; Reuters, November 27). At the same time, the administration of Prime Minister Naoto Kan, which has been criticized for its "weak" response to Chinese territorial claims, is under pressure to bolster Japan's defense capacity in view of tangible threats from the DPRK (Yomiuri Shimbun, November 24; Mainichi Shimbun, November 25).
The Korean crisis has also exposed a considerable degree of disarray in Beijing's diplomatic policymaking. In an apparent demonstration of China's unhappiness with Seoul's reactions to Pyongyang's provocations, Foreign Minister Yang last Thursday abruptly cancelled a visit to South Korea that had originally been scheduled for Friday. State Councilor Dai Bingguo, however, suddenly visited Seoul on Saturday with a view to persuading President Lee to restart the Six Party Talks (AFP, November 25; New York Times, November 27). Diplomats in the United States, South Korea and Japan have indicated that the talks will not be meaningful unless Pyongyang were to show sincerity in winding down its nuclear program—and in abiding by global diplomatic norms. "The Six-party Talks cannot substitute for action by North Korea to comply with its obligations," a State Department spokesman said over the weekend (Reuters, November 29; Ming Pao, November 29).
The Hu Jintao leadership's well-nigh unconditional support of the Kim dynasty also seems to go against the views of a growing number of Chinese opinion-makers and Netizens. Peking University international affairs professor Zhu Feng blasted Pyongyang for "wanting to make a big bang [so as to] force the negotiations back into their favor." He noted that if the DPRK was responsible for the Yeonpyeong Island bombardment, Beijing should condemn its close ally. A commentary in the Global Times characterized Pyongyang's provocative acts as a "public humiliation of the surrounding big countries' painstaking diplomatic efforts." More significantly, the majority of Netizens who discussed the Korean crisis in the chat rooms of Chinese websites gravitated to the view that China should not be "dragged into the water" by the Kim clan's irrational strategies (People's Daily website, November 28; Wall Street Journal, November 23; Reuters, November 23).
Indeed, diplomatic cables revealed by Wikileaks cited senior Chinese officials as expressing frustration over the DPRK's irresponsible brinksmanship. For example, former vice-foreign minister Hu Yafei reportedly told a senior American diplomat in 2009 that the Kim regime was acting like a "spoiled child" by blasting a rocket over Japan into the Pacific (CNN, November 29; Bloomberg News, November 29). After the Yeonpyeong incident, respected Korean expert in the CCP Central Party School Zhang Liangui deplored the fact that Pyongyang was "playing the China card" against South Korea, Japan and the United States. "The DPRK has never followed suggestions from Beijing" despite China's economic aid, Professor Zhang said (Ming Pao, November 26; Washington Post, November 25). The scholar's remarks, however, begged the question of why the Hu leadership should have risked its diplomatic reputation by giving unreserved support to an apparently ungrateful pariah state.
Meanwhile, there is no evidence that the show of force by the American and South Korean navies has deterred Pyongyang from persevering with its diplomatic poker game. The legitimacy of Dear Leader Kim and his son now appears to rest on its ability to blackmail its Asia-Pacific neighbors—and to become a member of the "nuclear club." While Kim had during his China visit last August reassured the CCP leadership of Pyongyang's commitment to upholding peace and stability in the region, the wily dictator seems only interested in the perpetuation of the Kim dynasty. How to defuse the time-bomb ticking away in the Korean Peninsula has become the toughest foreign-policy challenge of the last two years of the Hu Jintao administration.