Belarus Aims to Rebuild Its Ties with the West
Publication: Eurasia Daily Monitor Volume: 9 Issue: 161
By: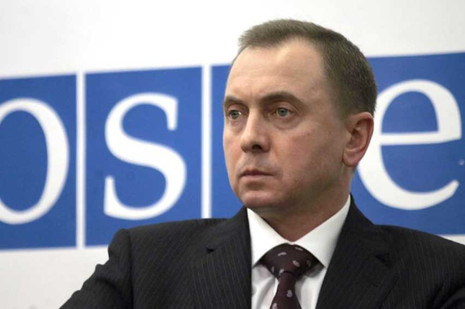 Two top personnel changes have taken place in Minsk. The longest-serving Belarusian foreign minister, Sergei Martynov (in charge from March 2003 to August 20, 2012) was replaced by Vladimir Makei, President Alyaksandr Lukashenka's now ex-chief of staff, whose position was assigned to Andrei Kobiakov, until recently Belarus's ambassador to Russia. Both Martynov and Kobiakov are ethnic Russians, and Kobiakov was born in Moscow. Makei is an ethnic Belarusian from Grodno Oblast. Most commentators agree that Makei's principal task is to repair the Belarus-West relationship, which was badly damaged on December 19, 2010 (when a post-election rally in downtown Minsk was dispersed by riot police). From January 2007 to December 2010, Makei was frequently rumored to be integral to the putative West-leaning group in Mr. Lukashenka's entourage, a group that reportedly also included Martynov and Pavel Yakubovich, editor-in-chief of the major Belarusian daily Belarus Today.
The EU travel sanction policy, resumed in January 2011, is still in place. Martynov, however, was never on the EU list of personae non-grata, apparently to enable some face-to-face contacts with Mr. Lukashenka's government. Curiously, Makei is on that list and it remains to be seen how the Western governments will handle this issue. When, on August 22, President Lukashenka introduced Mr. Makei to the foreign ministry staff, he underscored Makei's experience gained on the Western geopolitical flank of Belarus. It could be that some brewing scandals like that about the alleged re-export by Belarus of Russian oil disguised as solvents (see EDM, June 7) have begun to cloud Minsk's relationships with Russia. Thus, in this light, a lack of progress on the Western flank may be viewed as a problem requiring a renewed effort at its resolution. During his speech introducing Makei, Lukashenka resorted to his signature dig at Russia saying, "we do not have the luxury to thrive as a raw material appendage of the global economy" (https://naviny.by/rubrics/eu/2012/08/23/ic_articles_627_178934/).
Lately, three themes engaged public attention as far as Belarusian-Western relations are concerned. First, the former director of Pinskdrev, a wood-processing plant in Pinsk, Brest Oblast, Loran Arinich, 76, was in late August arrested by the Polish police at his rented home in Radom, Poland. He was in charge of Pinskdrev when on October 25, 2010, an explosion at the chipboards workshop killed 11 and wounded three. A criminal case against Arinich was initiated in the spring of 2011, but no restraint order was issued, and in July 2011 Arinich informed the authorities that he was leaving for Poland for medical treatment. But in late August 2011, Arinich was put on the Interpol's wanted persons list, and it took more than a year to apprehend him although his whereabouts in Poland had been known all along. Arinich may now hire Polish attorneys to prevent his extradition to Belarus.
A much bigger news story has to do with the aid that German federal police and regional governments in Germany rendered to Belarus's police and border control units from 2008 to 2011. The corresponding aid program was not terminated after December 19, 2010. It included visits to Germany by 100 Belarusian policemen and 400 border guards who received training in three German regions. Training included drills in maintaining order at public events; observing the work of the elite GSG 9 division of the German Federal Police, a division designed to fight terrorists and other dangerous criminals; and accompanying (in November 2010) a cargo train transporting nuclear waste. The passing of that train through Lower Saxony provoked a mass demonstration of ecologists and civic activists. The German police force used pepper spray that injured more than 500 demonstrators while Belarusian trainees observed the clash. German aid also included a donation of €41,200-worth ($52,000) of computers, video equipment, printers and three VW vans. A political scandal in Germany caused by the public disclosure of this information by some Green party activists is still underway (https://lenta.ru/articles/2012/08/29/hilfe/).
The third Belarus-West theme of note is the so-called European Dialogue on Modernization with Belarus, an initiative launched by EU Commissioner Stefan Fule in March 2012. Four working groups—on political dialogue and reform, law and domestic affairs, economic and social reforms, and trade and market—have been set up and have already conducted two rounds of meetings. However, little clarity has been achieved in regard to the final products of the Dialogue and it is not clear who is going to implement its suggestions.
Denis Melyantsov, an associate of the Belarusian Institute for Strategic Studies, a Minsk-based think tank funded by the West, has published a critique of the initiative in question and of the entire attitude of the EU toward its eastern partners. As for the Dialogue, its major weakness, according to Melyantsov, is a lack of participation by the Belarusian government. Without that participation, it does not make sense to expect any implementable outcomes of the Dialogue. Brussels sent mixed signals, asking Minsk to send representative to three out of four working groups, but no positive response was received due to travel sanctions. Under current conditions whereby the participants from Belarus are just the members of the opposition, the only positive effect of the Dialogue is maintaining some attention on Belarus on the part of the EU. Considering the more general issue of the EU policy in regard to its eastern neighbors Melyantsov believes that the entire Eastern Partnership initiative (of which the aforementioned Dialogue is a part) is a failure (https://naviny.by/rubrics/eu/2012/08/31/ic_articles_627_179028/).
In addition to the EU's frustration over undemocratic trends not just in Belarus but in the other member countries of the Eastern Partnership, Melyantsov lists the following four reasons for its fiasco. First, the European Union continues to experience its own financial and political problems which marginalize external relations. Second, the entire region of Europe's East, including Russia, does not present equally massive challenges to the EU on par with the Arab countries south of Europe. Third, Western geopolitical projects ran into active resistance of Russia, which appears to have more leverage in that region than the EU and does not hesitate to demonstrate that leverage. As a result, the EU tacitly agreed to Russia's leading role and responsibility in that region. Fourth, neither political elites nor societies of Belarus and Ukraine (and those of Armenia and Azerbaijan as well) reveal an unquestionable willingness to accept European norms, values and practices (https://naviny.by/rubrics/eu/2012/08/31/ic_articles_627_179028/).
It could well be that Samuel Huntington's "fault line" that separates the West from what he called the Byzantine Orthodox civilization is more alive and well than it is given credit for by liberal and well-meaning Westerners. Nevertheless, the above-cited issues illustrate that despite the years of Western sanctions leveled on Belarus following the December 2010 post-election crackdown, efforts continue by both sides to maintain and resurrect withering ties between Minsk and the West.