Belarus and Its Powerful Neighbors: A Master Class of Raw Geopolitics
Publication: Eurasia Daily Monitor Volume: 13 Issue: 25
By: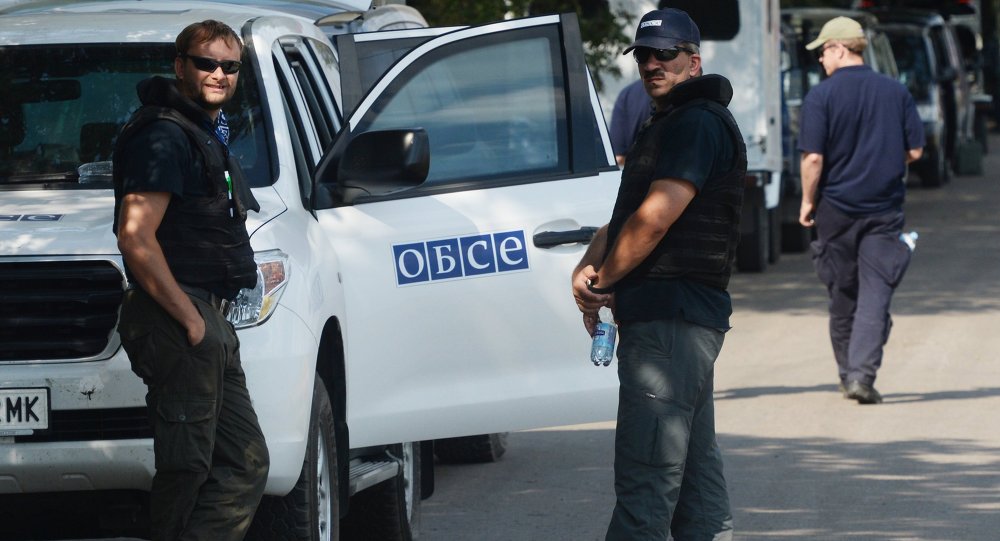 As January 2016 drew to a close, news pertaining to Belarus's relations with its two large neighbors—Russia and Europe—again overshadowed any developments emanating from the Eastern European country itself. First, the Organization for Security and Cooperation in Europe (OSCE) issued its report on Belarus's recent presidential elections, and every outlet of the Belarusian media has responded. Second, Russia's attention to Belarus's rapprochement with the West and problems within the Eurasian Economic Union commanded attention in Belarus itself.
The OSCE's document assessing the October 11, 2015, presidential elections contains critical remarks as well as thirteen high-priority and seventeen additional recommendations. Among some of the criticisms of Belarus's elections, the report lists no changes in the electoral legislation that would follow OSCE recommendations over the past five years, a lack of transparency in selecting the members of local electoral commissions, the possibility of multiple voting registration for one person, the fact that observers cannot witness the verification of voters' signatures, the fact that institutions receiving funds from the state budget provide contributions to the incumbent president's electoral budget, limits on freedom of assembly and association, and many others (Tut.by, January 28).
More suggestive than the document itself, however, is that the official communication between the OSCE and the Belarusian government about the document resembled an elaborate ritual dance whereby the utmost intention of both partners was not to step on each other's toes. Thus, Michael Georg Link, the director of the OSCE's Bureau of Democracy, Human Rights, and Labor, and Kent Harstedt, the deputy chief of the OSCE's Parliamentary Assembly, went out of their way to underscore they are not judges, lecturers or, especially, enemies of Belarus; they just want to make sure the head of the Belarusian Central Electoral Commission (CEL) understands the international electoral standards, which elections in Belarus do not always match. They underscored that they were able to work across the country "without obstacles," and emphasized a positive atmosphere and "concrete small steps ahead in several directions" undertaken by the election organizers (Tut.by, January 29). In her turn, the CEL's chief, Lidia Ermoshina, stated that the OSCE's report was "constructive enough and took heed of positive trends" (Tut.by, January 28).
A blissful atmosphere of mutual contacts contrasted with the actual critical content of the OSCE's report, and that juxtaposition illustrated how Belarus has been handled by the West over the years as international realities changed. When Belarus was perceived as being too close to Russia, this country was treated as Europe's last dictatorship and a kind of European North Korea. Indeed, that image of Belarus still possesses some residual popularity across global media (e.g.: Aljazeera, January 21). But following notable recent setbacks of democracy promotion throughout the world, and after Russia's invasion of Ukraine and Belarus's constructive contributions to peacemaking, the attitude toward Minsk has now noticeably changed. And this shift was entirely divorced from any political reforms or democratization inside Belarus that have yet to occur. Even if the European Union does not ultimately remove the (now suspended) sanctions on Belarus during its upcoming ministerial summit, on February 15 (Tut.by, February 1), geopolitics will nevertheless retain its notable key role in foreign relations.
In the meantime, verbal attacks on Belarus by members of the Russian national patriotic camp have become frenetic, and accusations are flying about Belarus purportedly leaving Russia for the West. To that group of commentators, Belarus is almost an enemy—this is how Russian liberal pundit Dmitry Oreshkin characterized the phenomenon in his interview with the Belarusian Service of Radio Liberty. In his opinion, Belarus is on target to develop its own identity and is showing a friendly face toward the EU because Russia has fewer and fewer possibilities to retain its position as Belarus's major donor (Svaboda.ru, January 21).
In Russia, flames of anti-Belarusian hysteria are frequently fanned by Regnum, a "patriotic" news agency. Thus, one Regnum publication, authored by Anatoly Shlykov, accuses not only the Belarusian opposition but also mainly Belarusian officials and analysts loyal to the government of harboring anti-Russian sentiment. For example, Dr. Igor Marsalyuk, a Belarusian historian and a parliamentarian who authored programmatic documents and publications for the presidential administration of Alyaksandr Lukashenka, stands accused of "amnesia"—more specifically, of apparently having "forgotten" that "Russians liberated Belarusians from the Polish-Lithuanian yoke that lasted six hundred years" (Regnum, January 26). This charge is an erroneous fabrication of the past rather than a genuine attempt at interpreting factual history. The same author also claims that pro-Russian Belarusians are blacklisted and threatened domestically.
Yet, not every Russian publication on Belarus defies common sense. For example, Kirill Koktysh, an associate professor at the prestigious Moscow Institute for International Relations, suggests that the Eurasian Economic Union—a Russian-led bloc that includes Russia, Belarus, Kazakhstan, Armenia and Kyrgyzstan—does not ensure a reasonable level of economic integration for all its member countries. For example, Belarus's air carrier Belavia is charged $95.20 per 100 kilometers when its planes crisscross Russian territory. For comparison, a Russian carrier conducting an international flight is charged $40.10 in Russian airspace; and when it conducts a domestic flight, the charge is only $8.90 per 100 km. As a result, Belavia has had to cancel its popular flights from Minsk to Novosibirsk and Ekaterinburg (Izvestia, January 31). So Russian agencies should not be surprised if and when their Belarusian counterparts prefer dealing with the West, Koktysh concludes.
In this peculiar West-East tug of war for Belarus, this country's powerful neighbors are clearly not always aware of the consequences of their actions.