Belarus: Economic Hardships and Diplomacy
Publication: Eurasia Daily Monitor Volume: 12 Issue: 53
By: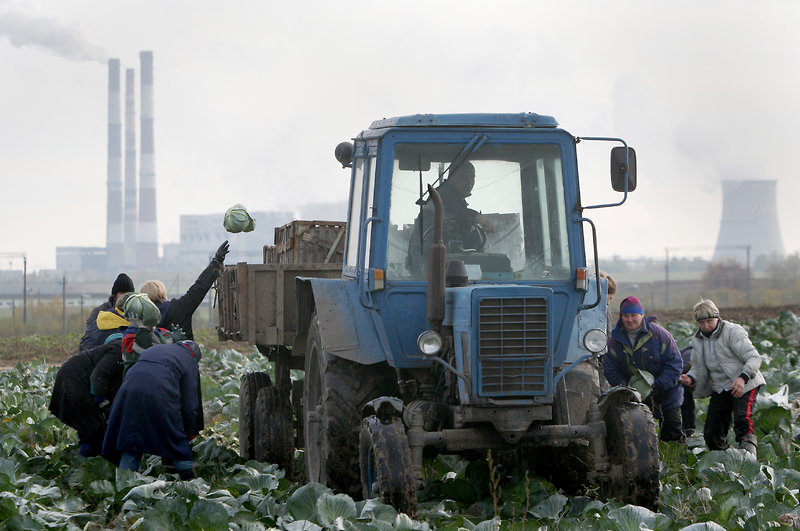 Belarus has once again entered rough economic waters. In 2015, economic growth will likely be absent (Naviny.by, February 5). In January 2015, industrial output equaled just 93.8 percent of that in January 2014. All processing industries shrank except for chemicals, oil refining, potassium and pharmaceuticals. Inflation this year will likely reach 18 percent (Infofocus, IISEPS, February 2015). Average personal income in real terms (i.e., adjusted for inflation) has declined by 2.1 percent. Due to the devaluation of the Belarusian ruble, in January 2015, the average monthly salary was 32.7 percent lower than one year ago, having declined from $621 to $419, and is likely to sink to $400 by the end of the year (Naviny.by, March 19).
The major causes of these economic problems are Russia's shrinking demand for industrial goods from Belarus as well as low oil prices. Under $100–110 per barrel, the state budget could count on close to $2.5 billion revenue from refined oil export duties; but at $50–60 per barrel, the respective revenue is about $1 billion less (Naviny.by, March 19). Moreover, in 2015, Russia may reduce its purchases of Belarusian goods by as much as 30 percent; thus, the slogan for the moment is diversification of Belarus's export destinations. Some experts, however, believe that diversification will be difficult to achieve as most Belarusian products routinely sold in Russia would be difficult to sell elsewhere. Only privately owned firms could meet that goal, as only they can succeed in producing competitive industrial items (Naviny.by, March 20). But Belarus's private sector is limited in scope. Additionally, shuttle traders, who make up a part of this private sector, are now alarmed by the government's decision to make them register their products—mostly Chinese-made clothing—by purchasing so-called "certificates of quality." These would boost retail prices and shrink the traders' profits. Having met with a large group of individual traders on March 17, on the second floor of the Expobel mall in Minsk, President Alyaksandr Lukashenka promised to postpone demanding those certificates until January 1, 2016—delaying the problem, but not resolving it. In his exchange with traders, Lukashenka revealed that among other things, the certificate requirement helps the state to keep the state-run domestic textile industry afloat (Tut.by, March 17).
Yet, not all present economic trends have been negative. Indeed, by the end of March 2015, the last remaining limitations that Russia imposed on Belarusian agricultural imports are going to be removed and Belarusian production units will now be able to participate in tenders set up by Russian federal institutions, including municipal services, law enforcement and defense, to determine their suppliers. Moreover, in March, Belarus suspended, without consequences, the export of refined oil products to Russia, and Moscow did not even threaten to limit its oil exports to Belarus. It appears that such a suspension was integral to a little-known agreement signed in May 2014, according to which Belarus can halt supplies if prices in Russia dip below those on other markets (Deutsche Welle–Russian service, March 19). Also, progress on further Belarusian-Russian joint ventures has apparently stalled, and Moscow has not pushed for their continuation (Nezavisimaya Gazeta, March 20).
Although overall bilateral trade exchange with Ukraine declined from $7.9 billion in 2012 to $6.25 billion in 2013 and $5.77 billion in 2014 (Citadel , March 19), Belarus made a serious effort to forestall any subsequent decline. Thus, in January 2015, the two countries agreed that from now on Ukraine can pay for Belarusian non-petroleum exports in hryvnas. This was a risky decision on Minsk's part as the hryvna is extremely unstable. However, in that way, Belarus is able to retain much of the market share for its products in Ukraine—Belarus's second-largest trading partner, with which it enjoys a trade surplus. Until recently, Ukraine had sold electricity to Belarus. But now their roles have reversed, and Ukraine will be purchasing electricity from its northern neighbor. Moreover, as some Ukrainian thermal stations switch from coal to fuel oil, the latter will be imported from Belarus. Due to deficiencies in Ukraine's oil refining capacity, part of the oil extracted in Ukraine may soon be processed at the Mozyr refinery in Belarus. And should the Ukrainian initiative of inviting international peacekeeping detachments find international support, the Belarusian military may become a key part of those peacekeeping units. Needless to say, despite close ties with Russia, Belarus is still committed to the territorial integrity of Ukraine (Tut.by, March 18). This, among other things, gave a reason to Alexander Shpakovsky, an analyst from the government-friendly think tank Citadel, to claim that Belarus is more independent from Moscow than the Baltic and Balkan members of the European Union are from Brussels (Citadel, March 19).
In part, due to Belarus's balanced position on Ukraine, the intensity of Belarus's contacts with the West remains undiminished. Thus, on March 19, Deputy Foreign Minister Elena Kupchina met jointly with foreign ministry department chairs and ambassadors-at-large from eight member countries of the European Union. They discussed Belarusian-EU relations and preparations for the Riga summit of the EU's Eastern Partnership (EaP) (Tut.by, March 19). It is not out of the question that Lukashenka himself will head Belarus's delegation to that summit. No personal invitations will be mailed; instead EaP members will be given an opportunity to decide who will represent them. According to Yury Drakakhrust of Radio Liberty, Lukashenka is in a precarious situation. On the one hand, he is probably willing to pursue stronger relations with the West. On the other hand, he has to tread carefully to avoid Moscow's anger. Drakakhrust recalls that from 2008 to 2010, Lukashenka was able to extract benefits from a rapprochement with the West, and also from Russia in exchange for that rapprochement not going too far (Svoboda.org, March 21).
While it is not certain how Belarus will resolve its economic difficulties this time around, it is likely that Lukashenka's ability to capitalize on the peculiarities and the potential of Belarus's geopolitical niche will once again come to the country's rescue.