Belarus Is Asserting Its Own Voice
Publication: Eurasia Daily Monitor Volume: 11 Issue: 189
By: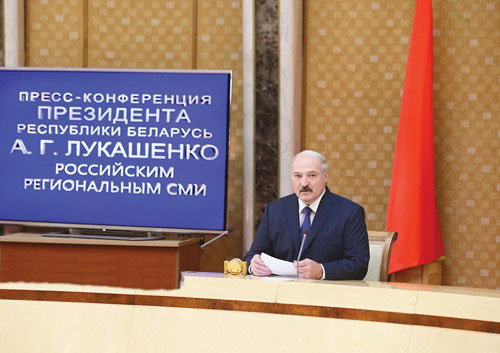 On October 17, President Alyaksandr Lukashenka conducted a 5.5-hour-long press conference for Russian provincial journalists. This was the 12th event of its kind. The first one occurred in 2002, when Lukashenka realized that neither he nor Belarus is a darling of the Moscow media. An organized press tour routinely precedes these press conferences. This time, more than 100 journalists from 50 Russian regions spent five days in Vitebsk Oblast (president.gov.by, October 17).
Lukashenka's contacts with the media are genuine performances, in which he regularly is able to charm his audience and strike a chord with it—even if his opinions are not always entirely palatable for the listeners. In this regard, the importance of a press tour cannot be understated. Even most Westerners change their preconceived opinion about Belarus to a more favorable one after they actually visit the country (Postimees, October 19). Arguably, the respective percentage of Russians who end up positively reevaluating their notion of Belarus is probably even higher. While visiting Belarus, they are routinely impressed by local roads, the upkeep of Belarusian towns, the general orderliness of everyday life, and the fact that people of average means enjoy socio-economic security. Along with Lukashenka's oratory skills, such impressions help the listeners to swallow what would otherwise be perceived as unfriendly pronouncements—for example, remarks about Russia's "imperial ambitions" (Belarus Segodnya, October 17). While speaking to Russian journalists, this is exactly how Lukashenka interpreted Moscow's unilateral tax maneuver that would suddenly make oil more expensive for Belarus (see EDM, October 15).
In other statements likely to unsettle patriotic Russian ears, Lukashenka raised issues of Belarus allegedly living at Russia's expense, Minsk's non-recognition of the annexation of Crimea, Russia's support for separatists in eastern Ukraine, the North Atlantic Treaty Organization's (NATO) enlargement, and the alleged Belarusian fear of losing statehood. Regarding his country's dependency on Russia, Lukashenka claimed that Belarus's manufacturing sector is still an assembly line of semi-finished products from Russia, and in that capacity Belarus effectively sustains the livelihoods of at least seven million Russians.
As for Crimea, Lukashenka cautioned Russians not to pressure him on accepting Russia's annexation of this Ukrainian peninsula, just as Russia used to pressure him on the recognition of Abkhazia (as an independent state). Lukashenka reportedly explained to the then-president of Russia, Dmitry Medvedev, that Western sanctions on Belarus, in the event it recognizes Abkhazia, would be damaging and he asked if Russia would help to neutralize their effect. There was no positive response. The same happened on Crimea. This time, however, Lukashenka reaffirmed his support for the territorial integrity of Ukraine, and he also reaffirmed his earlier suggestion that the Ukrainian side provided a pretext for Russia's actions and did not actually fight for Crimea (see EDM, April 2).
In response to the question of why Russia and Belarus have not presented a united front over Ukraine, Lukashenka replied that Ukraine is no Nazi Germany to present a united front against. As for the Donetsk and Luhansk "People's Republics," Lukashenka opined that "without Russia, their days would have long been numbered" (Tut.by, October 17).
As for the issue of NATO expanding toward the borders of Russia, Lukashenka averred that he has always been opposed to that—not so much to the borders of Russia, but rather to the borders of Belarus, which, he affirmed, "do not forget, is not part of Russia yet." Moreover, he suggested that he had been branded a dictator 17 years ago precisely when he made a firm statement against NATO's enlargement and that in those days it was "you [Russia] who were ready to lay down under NATO" (Nasha Niva, October 17).
Lukashenka confessed no fear about a hypothetical putative incorporation of some parts of Belarus into Russia and jokingly suggested that it is Russia who needs to fear for its Smolensk, Pskov, and Bryansk regions—"parts of which used to be within Belarus." In response, Russia's most nationalist news agency explained that "the territories of the three aforementioned Russian oblasts had never had anything to do with Belarus and that prior to the formation of the Belarusian Soviet Socialist republic, such a polity as Belorussia [sic]" had never existed (Regnum, October 17). Psychologically, this rejoinder reveals far more vulnerability on the side of those responders than on the side of Lukashenka. The same goes for other recent Russian reactions to the expressions of Belarus's sovereignty. For example, Yegor Kholmogorov's October 16 article in Izvestia railed against the allegedly Russophobic glorification of the Grand Duchy of Lithuania in Belarus and of its battles with Russia (Izvestia, October 16). And in a Nasha Niva interview with Zakhar Prilepin, the Russian writer expressed his indignation over Belarusian fans chanting limericks insulting to President Vladimir Putin of Russia at a soccer match between Belarus and Ukraine in the city of Borisov (Censor Net, October 10).
At the same time, Lukashenka made it clear that while he is asserting Belarus's independence in every way possible, he is wholeheartedly on the side of Russia in its tug of war with the West. "I responded to the Westerners using their own example. After all, you, Europeans, knew exactly […] what you were up against in Iraq; you knew there were no nuclear arms there, but Americans were eager to destroy that country anyway and then hang its incumbent leader. So why did you support America? Because you and them are allies. So are we and Russia, and we will faithfully abide by our commitments (Belarus Segodnya, October 17).
In Russia and Belarus, not a single media outlet omitted Lukashenka's press conference. For the local media sphere, this event may have even eclipsed somewhat the Asia Europe Meeting summit in Milan. It seems that political analyst Alexander Klaskovsky's verdict on Tut.by hit the mark when he said in a televised interview that Belarus is not against Russia. Rather, it insists on having its own voice: Belarus is no Russia—it is Russia's ally; and Belarus is trying to play the role of the Grand Duchy of Lithuania, a medieval kingdom, in the Eurasian integration project and it also pursues a pragmatic relationship with the West and has its own trump cards to reckon with, he argued (YouTube, October 20). It remains to be seen how Belarus's grand eastern neighbor responds to Belarus's ever-increasing and ever more noticeable attempts at self-assertion.