Belarus: Modernization amid Two Integration Projects
Publication: Eurasia Daily Monitor Volume: 10 Issue: 76
By: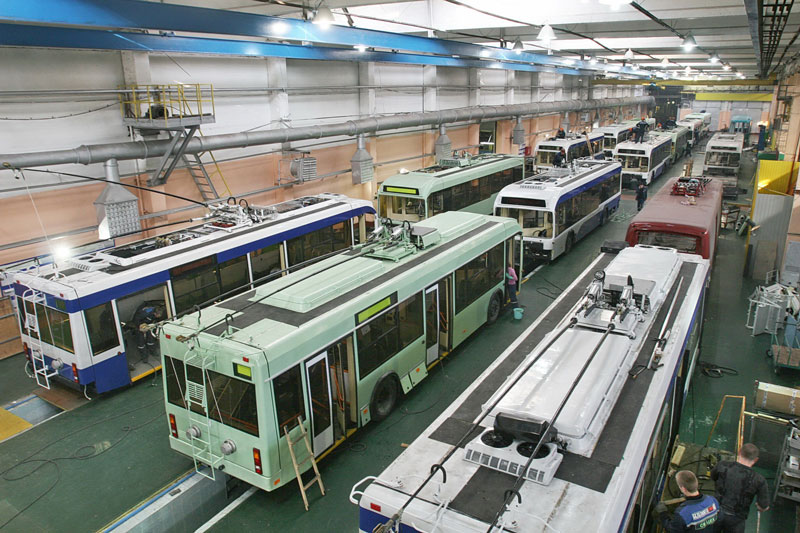 The latest stream of news from Belarus has three refrains—modernization, integration into the Eurasian Economic Community (EEC), and reinvigoration of ties with the European Union. All three are contained in President Alyaksandr Lukashenka's annual report to the National Assembly delivered on April 19 (https://www.sb.by/post/146628/). Lukashenka opined that during periods of utmost uncertainty, nations' abilities to meet their needs in such basic necessities as food, clothing and shelter gain stature. He assured his audience that Belarus has a good margin of safety in all of these areas because "rather than inflating the financial bubble, Belarus has been developing the real sector of the economy." Lukashenka elaborated on the country's successes and failures of technological modernization. The reported success stories included oil and wood processing, production of heavy trucks, and biotechnology. The reported failings consisted of financial waste in energy and in agriculture. Once again, Lukashenka stressed that "Russian and Belarusian people are a single whole," and there is no alternative to Belarus's integration into the EEC.
Ironically, the Belarusian president then used caustic remarks to describe Russia's schemes of privatizing the Minsk Automobile Factory (known as MAZ) and the Wheel Tractor Plant under the guise of joint ventures and even assured that he would not allow such "bandit takeovers." In contrast, he praised examples of Western investments into Belarus's industry—in particular, referring to the Swiss Stadler Rail Group. Near Dzierzhinsk, in Minsk Oblast, Stadler has created a joint venture with the Belarusian firm Belkommunmash (BKM) that will soon begin to produce new trains, trolleybuses and trams. Stadler's lone stockholder is Peter Spuhler. In his conversation with President Lukashenka, Spuhler revealed how awkward he feels that the new plant is luring workers from the old BKM facility and offered to help connect it with another Swiss firm, suggesting yet another joint venture to produce some "special equipment for communal services." Spuhler's idea impressed the Belarusian head of state who, along with rewarding technological leaders, is always concerned about those who have economically fallen behind—which his critics describe as "supporting paternalistic pants" (https://naviny.by/rubrics/economic/2013/04/16/ic_articles_113_181488/).
In light of Minsk repeatedly throwing a wrench into already-agreed joint ventures with Russian firms, the Moscow daily Izvestia described the Kremlin's pending retaliation. Reportedly, Russia plans to curb oil exports to Belarus in the third and fourth quarters of 2013 so the overall export will end up being well below the 23 million tons requested by Minsk (see EDM, March 29). According to Izvestia, a letter with an ultimatum to Minsk has already been written in the Kremlin (izvestia.ru/news/549079).
It exceedingly looks, however, that talk about Eurasian integration does not discourage Minsk from agreeing to deals with Western partners that Minsk invariably prefers when it comes to ventures outside the military industrial complex and energy. The Belarusian-Lithuanian Economic Forum (see EDM April 19) has generated a great deal of relevant news stories. For example, VMG, a Lithuanian wood-processing and furniture-making corporate group, invested into three enterprises employing 900 people in the Mogilev free economic zone in Belarus. The same group purchased a factory in Borisov employing 180 workers. Moreover, Belaruskalii, a potash-producing company, purchased 30 percent of the shares in one of the largest seaport terminals in Klaipeda, Lithuania, for $30 million. This became the first Belarusian investment into Klaipeda port—a vital link in the Northern Distribution Network, along which International Security Assistance Force (ISAF) countries transport non-lethal supplies to, and increasingly from, Afghanistan. Moreover, it represents the largest Belarusian investment in the EU to date. Finally, the Grodno-based ammonia-producing plant Azot is negotiating a joint venture with the Lithuanian stevedoring firm Bega (https://www.sb.by/post/146729/).
While a politically correct discourse seeks to stay away from casting the two integration projects, the EU and the EEC, as mutually exclusive, it is apparently hard to stick to it. Thus, in Belarus Segodnya, Minsk's major official daily, political analyst Vsevolod Shimov, who sees Belarus as predestined to be part of a Russia-centered bloc, writes about the EEC as the more "natural" of the two alliances because of its members' lengthy experience in one polity. He also describes as illusory the hopes of Ukraine to partake in both the EU and the EEC at the same time. In Shimov's opinion, the EU has succumbed to enlargement fatigue and cannot possibly digest Ukraine, which runs the risk of becoming a "no-man's land" and a "grey space" if it continues to resist its potential full membership in the EEC (https://www.sb.by/post/146728/). In turn, Rodger Potocki of the National Endowment for Democracy, who for many years has been overseeing the financial support of the Belarusian opposition, expresses his deep-seated belief that "Belarus has to be and will be part of the West" (https://www.svaboda.org/content/article/24953684.html?page=1#relatedInfoContainer).
Apparently sharing Potocki's geopolitical imagination but not exactly his hopes for the foreseeable future, politician Alyaksandr Milinkevich bemoans the sorry state of the Belarusian opposition, which used to enjoy the support of between one-fourth and one-third of Belarusians, and now is supported by just one-eighth of them. Milinkevich's message to intransigent opposition figures like Andrei Sannikov is: "Love Belarus more than you hate Lukashenka!" By that he means their overtures to outsiders to provide aid based on an unbending, unmitigated rejection of the current regime ("Please make life good for us, for we hate our regime!"). And Milinkevich also maintains that the opposition needs to be active not only in Brussels and Washington, but also campaign in places like Mstislavl and Navagrudak in the first place. He claims that no European politician he met in Brussels during his recent trip (see EDM, April 19) invokes ultimatums and sanctions anymore. In Milinkevich's opinion, this is related to Moscow's revanche in the post-Soviet space, and specifically to its successful "privatization of power in Georgia and Moldova." Just like after the Russian-Georgian war of 2008, today—amidst the counter-revolutions occurring in all six countries of the EU's Eastern Partnership (Belarus, Ukraine, Moldova, Georgia, Armenia and Azerbaijan)—Brussels now advises dialogue as an instrument to preserve a chance for democracy and independence in these states (https://naviny.by/rubrics/opinion/2013/04/16/ic_articles_410_181483/).
In the end, it looks like financial resources from the East, technological modernization from the West, and an impasse in the externally funded domestic fight for democracy will shape Belarus's fate for the foreseeable future.