Belarus: National Cohesion and Political Culture
Publication: Eurasia Daily Monitor Volume: 15 Issue: 30
By: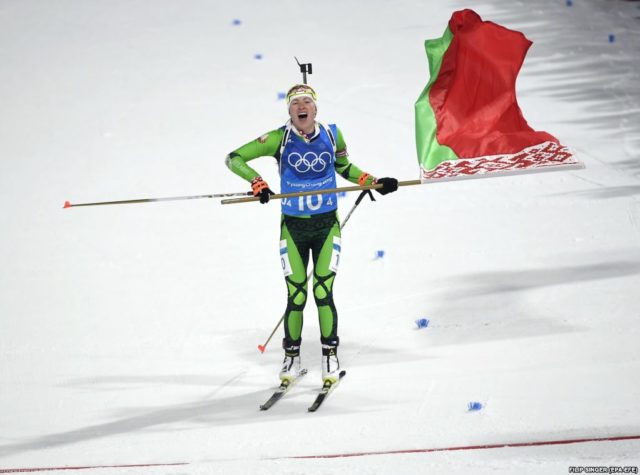 If there is a common refrain to be found in the continual stream of ostensibly disparate but newsworthy developments related to Belarus, it is the country's lingering quest for national unity. Lately, this overarching narrative has been entangled in Belarus's Olympic triumphs in PyeongChang. First, Hanna Huskova won gold in women's aerials. It marked the second-straight Winter Olympics in which Belarus has won the event. Even the popular Russian news site Lenta.ru pointed out that Belarus won its first gold medal ahead of Russia (Lenta.ru, February 16). Second, Darya Domracheva won her fourth career Olympic gold medal in the biathlon, solidifying her reputation as a legend in the sport. Belarusians of all political persuasions rejoiced after these glorious events, which have effectively delivered national consolidation in the face of divisive domestic politics.
Unintentionally, the Western media also ended up boosting Belarusian national cohesion when first The Guardian erroneously described Domracheva as a "former KGB agent" and then Fox News, AOL.com, and YahooSports parroted the British daily. The opposition-minded Belarusian outlet Naviny rebuked The Guardian by stating that "Domracheva was just a member of the [Belarusian] KGB's sports team, as that institution used to sponsor this specific kind of sport; but she has never been a KGB agent and has nothing to do with political repression" (Naviny, February 22). On his Facebook page, Artyom Shraibman, a political commentator for Tut.by, yet another independent and privately owned news outlet, called the label affixed to Domracheva by The Guardian "utterly shameful" (Facebook.com/artyom.shraibman, February 22). In fact, government agencies in Belarus and across the post-Soviet space have a long tradition of sponsoring various spectator sports, which stems from the long-time absence of private business donors in this region. Domracheva herself had also taken it upon herself to explain this reality in the past (Tut.by, May 7, 2016)
In recent days, Belarusian President Alyaksandr Lukashenka's sharp rhetoric also served to unify domestic opinion behind him. Specifically, Lukashenka lodged a complaint with the International Olympic Committee (IOC), accusing the judges of unfairly "throwing out" the Belarusian skier and former Olympic gold medalist Anton Kushnir from the final. The longtime Belarusian leader pledged to "stir up this sleepy politicized kingdom," by which he meant the IOC (Belta, February 18). Most Belarusians were positively impressed (Naviny, February 22).
Also conducive to national cohesion has been the demarche of the Belarusian foreign ministry against the third march of Polish Right Radicals (Narodowcy) in Hajnówka, a small (21,000 residents) Polish town on the border with Belarus (Tut.by, February 22). The march, on February 24, was to commemorate Romuald Rajs under whose guidance, on February 1, 1946, seventy-nine ethnic Belarusians were brutally murdered. Rajs was a member of the Polish Home Army, which fought both Germans and Soviets (Newsweek.pl, February 22).
Importantly for a narrow but influential circle of politically minded Minsk-based residents, Victar Martinovich, one of two living Belarusian authors who have been translated into English, issued a call to bridge the gap between supporters and detractors of the Lukashenka "regime." On the one hand, the division line between "us" and "them" is becoming blurred in Belarus, Martinovich notes. The authorities are currently attempting "soft Belarusianization" (see EDM, July 20, 2017). This process has, so far, involved a slow, gradual and inconsistent introduction of the Belarusian language into the public domain; the use of nationally-ornamented t-shirts, formerly a sign of belonging to the opposition; and even official acquiescence to celebrate the 100th anniversary of the Belarusian People's Republic (BPR) (see EDM, January 25, 2018). Yet, on the other hand, emotionally charged subjects like the war in Ukraine or the recent death of Russian military mercenaries in Syria continue to spark bitter quarrels bearing an imprint of cross-cultural situations—i.e., involve mutual misunderstandings between different Belarusian communities. In Martinovich's opinion, it is those willing and able to mix with both of those camps that will become true national heroes. To one side, these intermediaries would make it a point that not all those worshiping the BPR are the kin of Stepan Bandera, the infamous Ukrainian nationalist whose image scares many citizens of the countries surrounding Ukraine. To the other side, these same intermediaries would explain that not all people listening to the renowned Russian bard Vladimir Vysotsky are emissaries of the "Russian world." This thankless work of bringing "us" and "them" together needs to be done because without it Belarusians "are not going to become a people," Martinovich believes (Budzma, February 22).
A similar attempt to soften the divide was recently made by Vadzim Mazheika, from the Minsk-based Liberal Club. In the news outlet Nasha Niva, he writes that some nationalists decry "soft Belarusianization" in the spirit of the biblical Nathanael: "Can anything good come out of Nazareth?" (John 1:46). In other words, approving even timid steps at Belarusianization by the government can pass for approval of the "regime," and many opposition critics view such an attitude as apostasy (Nasha Niva, February 22). Mazheika criticizes this all-or-nothing approach.
These and other appeals to national reconciliation are themselves timid but promising. What does not further these causes, at least on the face of it, is the outcome of local elections that took place on February 18. Eighteen thousands members of locals Soviets (administrations) were elected; 400 candidates represented the opposition, including 169 from the Speak the Truth civic campaign (ZaPraudu, February 19), but none won their races. For example, Tatyana Korotkevich, the co-chair of the campaign and a 2015 presidential hopeful, received only 9 percent of the vote at a precinct in downtown Minsk. The businessman Vladimir Kheifets, who owns a chain of department stores, won with 42 percent of that constituency's vote (Minsk.gov.by, February 19). The abundance of business owners among the candidates this year was a peculiarity of those elections. The opposition has cried foul; but although voter fraud was possible, it so far is not self-evident. After all, the opposition is unpopular (Naviny, February 20), and the dominant political culture leads people to believe that those opposed to the ruling elite would not be able to get things done. Besides, the sitting government can genuinely point to certain successes. For instance, Belarus has just become one of ten countries with the world's lowest infant mortality: 1.5 deaths per 1,000 live births, on the same level with Luxembourg, Norway and South Korea (Intex, February 21). An indicator routinely associated with development, such a low infant mortality is unattainable without major government-led efforts.