Belarus Navigates a Multipolar World
Publication: Eurasia Daily Monitor Volume: 12 Issue: 215
By: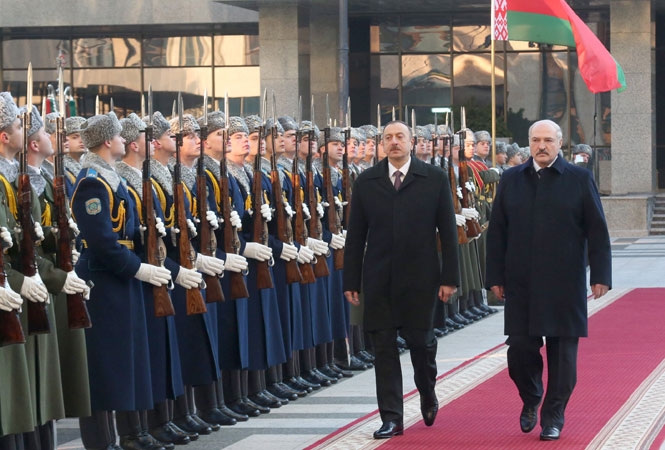 The bombshell of late November was the postponement of Belarusian President Alyaksandr Lukashenka's visit to Moscow, where he was supposed to have met with his Russian counterpart, Vladimir Putin. The official reason given—that both sides were too busy to meet—is rather dubious. Indeed, Putin's schedule did not prevent him from going to Yekaterinburg and ushering in the Yeltsin Center or from accepting the newly appointed foreign ambassadors' credentials in Moscow (Tut.by, November 26). Likewise, a busy schedule did not preclude Azerbaijani President Ilham Aliyev's trip to Minsk. Notably, Aliyev's country refers to Turkey as "our closest ally" and to Russia as "also a very close and friendly country"—a characterization that is noticeably a notch below Turkey. In that sense, Belarus's own ranking order is different. In the Belarusian foreign ministry's statement about the November 24 downing of the Russian warplane that had violated Turkish airspace, Russia was referred to as "a brotherly" and Turkey as "a friendly" country. But even raising Turkey to that level, admittedly below Russia, caused an angry uproar in the Russian media (Tut.by, November 30), where Belarus's position was repeatedly labeled "treasonous." It, then, comes as no surprise that one of the hypotheses regarding the true motive behind the postponement of Lukashenka's visit was a conspicuous absence of a decisively pro-Russian position on the part of Belarus.
Notably, not just Belarus but also Kazakhstan and even Armenia dodged that sort of clarity; and a recent article on the popular Russian news portal Lenta.ru, entitled "A friendly silence," reflected this evasiveness by Russia's closest allies (Lenta.ru, November 26). According to Denis Melyantsov of the Belarusian Institute for Strategic Studies, Belarus will try its best to avoid unequivocal appraisals of the Russian-Turkish conflict. However, if Moscow's pressure, including a promise of financial retaliation, reaches a fever pitch, Belarus will have to side with Russia—as the precedent of the March 27, 2014, vote in the United Nations General Assembly, regarding the territorial integrity of Ukraine, had shown. It is noteworthy that a meeting of the representative of Belarusian and Turkish tourist firms took place on November 27. And it is likely that after Russian tourist firms stop selling vacation packages to Turkey, Russians may be able to take advantage of Belarusian tourist operators. Along the same lines, Belarus has been able to take advantage of the canceled flights between Russia and Ukraine by providing the much needed transit through its national carrier, Belavia. Moreover, Russians now consume such foods as "Belarusian" mussels (and not only) after Russia imposed an embargo on food imports from the West (Tut.by, November 30).
One other hypothesis regarding the postponement of Lukashenka's visit has to do with Minsk's disagreement regarding a proposed permanent Russian airbase on Belarusian soil. According to some sources, Russian air force official Alexander Lyapkin appealed to Lukashenka to accelerate the signing of the airbase agreement. This may have angered Lukashenka, who has long been trying to rebuff the Russian government on this issue. Several analysts have opined that if Moscow continues to maintain pressure on Minsk regarding the airbase, such a facility could eventually appear in Belarus under the auspices of a joint command of the Union State of Russia and Belarus (Svaboda.org, November 21), but not as a Russian airbase per se.
According to analyst Yury Drakokhrust of the Belarusian service of Radio Liberty, the logic behind Belarus's geopolitical maneuvering may be entirely benign, aiming mainly at lowering international tensions. This logic was expressed by Alyaksandr Lukashenka in his greeting to his Azerbaijani counterpart: "The world has gone mad. You see what is going on. And it is in this volatile and unpredictable world that we have to live, or rather to survive, so we should stick closer to each other to counter the existing threats." The same speech, though, abounded in barely disguised jibes against Russia. For example: "We remember how during a difficult time you backed us without paying attention to what others would say. At some point, we will tell the world how we managed to resolve big financial issues within several days." This was in reference to 2010, when Belarus's natural gas trade war with Russia was in full swing and an anti-Lukashenka documentary, "The Godfather," was being aired by Russian TV. At that time, Aliyev issued a short-term $200 million loan to Minsk, which allowed Belarus to repay its debt to Russia's Gazprom and thus facilitate the resumption of natural gas flows from Russia (Tut.by, November 30).
Drakakhrust does not rule out, however, that Aliyev's invitation to visit Minsk at this point in time was really meant to stop the gears of the "Doomsday machine"—alluding to Henry Kissinger's description of the geopolitical situation prior to World War I. According to this point of view, Aliyev is a kind of Turkish Lukashenka: while he is indeed the best friend and brother of Turkey, he has remained cool-headed amidst the growing Russian-Turkish tensions (much like Lukashenka has not been emulating Putin's aggressive rhetoric). This point of view echoes a broader perspective first shared by the Russian philosopher Vladimir Pastukhov (BBC—Russian service, November 25). According to Pastukhov and to Drakakhrust alike, Russia and Turkey are mirror images of each other in the sense that their foreign policies are based on adolescent myths of rising up from their knees, reclaiming their lost spheres of influence, and on Manichean worldviews. Furthermore, the northern part of Syria has become a war-torn Donbas of sorts, in this case populated by Turkomans, very close to ethnic Turks and sharing their worldview. So Ankara could not tolerate foreign intervention in northern Syria, just as Moscow claimed it was responding to the violation of the rights of Russians in Donbas.
While these geopolitical analogies should be taken with a grain of salt, they are somewhat useful in making sense of what stands behind the current international situation. And Belarus is doing its best to navigate in this increasingly chaotic, multipolar world.