Belarus: The End of a Cycle
Publication: Eurasia Daily Monitor Volume: 9 Issue: 88
By: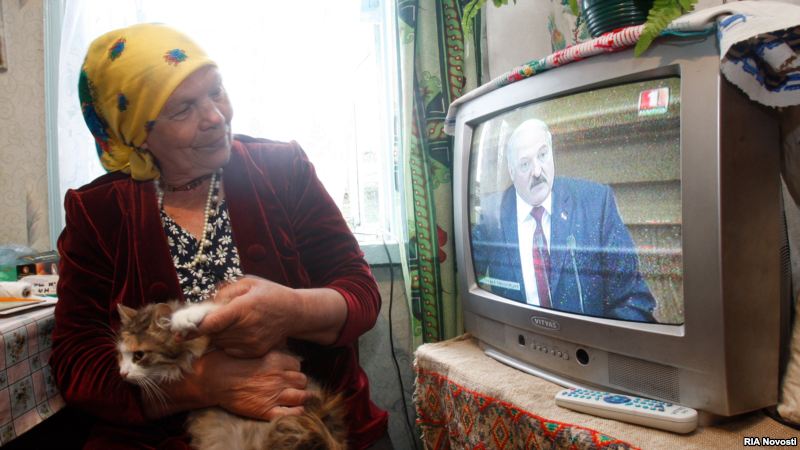 On May 8, Alexander Lukashenka delivered his annual address to the National Assembly and to the Belarusian people. Mr. Lukashenka postponed the address, which was originally scheduled for April 19, ordering speechwriters to edit parts of the text that focused on privatization and foreign policy. In particular, Mr. Lukashenka said that the address should emphasize that an "excessively liberal approach" to privatization and "wholesale" privatization are unacceptable, while the interests of workers and all ordinary citizens of Belarus must be taken into account. In addition, Mr. Lukashenka "spoke against excessively tough ways of responding to problems that arose in relations" between Belarus and the EU (https://naviny.by/rubrics/english/2012/04/19/ic_news_259_391671/).
One of the highlights of the actually delivered speech is Lukashenka's comment on Vladimir Putin, who could allegedly "stifle Belarus" upon reclaiming his presidential post. Referring to the period of heightened prices on Russia's oil and gas sold to Belarus, Lukashenka said that "Russia understood that one more year of such policy – and Belarus would never be on its side." According to Lukashenka, Putin "would not repeat that mistake" (https://naviny.by/rubrics/politic/2012/05/08/ic_news_112_392744/). In an article that showed up one week prior to Lukashenka's address, Ales Gorski, a blogger, pointed out that Putin would not be able to subdue Lukashenka. The main reasons, according to Gorski, are that Putin has too many problems on his hands, and that Lukashenka can torpedo Russia's economic integration efforts with Belarus or threaten to side with Europe – a trick that works (https://naviny.by/rubrics/opinion/2012/04/28/ic_articles_410_177676/).
In his address, Lukashenka called upon the EU to solve mutual problems through dialogue. "The policy of sanctions is mistaken, useless, and bears no results. Belarus entertains no hostility either to the EU or to the US. Now, many people sound like a broken record: either you side with us or with them; [and] is there a [geopolitical] seesaw or not? But this is an outdated approach and primitive thinking. There is no seesaw but there are objective interests of the country dictated by its current situation and its future," said Lukashenka (https://naviny.by/rubrics/politic/2012/05/08/ic_news_112_392732/).
Whether or not the image of a geopolitical swing set is relevant, it is by far the most tenacious refrain of many leading commentators on both the government and the opposition sides. On the latter's side, Alexander Plashchinsky writes that "Russia does not guarantee that it will keep its oil and gas discounts for a very long time. Sooner or later Belarusian authorities will face the prospect of the collapse of their economic model. At that moment, the EU should be ready to offer Belarus a comprehensive package of financial and technical assistance in reforms and enter into a dialogue with authorities and businessmen on the future development of the country" (https://belarusdigest.com/story/belarus-trapped-eurasian-integration-9029). Alexander Klaskovsky (also a voice of the opposition) avers that "the current propositions of the EU do not impress. A recently presented 'Dialogue on Belarus's modernization' looks formal and unprepared, just like the Eastern Partnership." With reference to Yevgenii Preigerman, Klaskovsky remarks that "quite frankly, the EU cannot make up the losses Belarus would incur as a result of its putative break with Russia." He also admits that Belarus's leadership has a powerful political will to dodge "re-colonization by Russia." But this will is fixated on Lukashenka retaining a grip on power in the first place (https://naviny.by/rubrics/politic/2012/05/07/ic_articles_112_177758/).
On the government side, Vadim Gigin, a prolific political writer, poses the following question to which he subsequently responds. "What are the reasons for the West (the EU in the first place) to pursue contacts and, however inconsistent, rapprochement with Alexander Lukashenka?" According to Gigin, "there are several reasons and the foremost of them is Russia. Yes, some of the catch phrases we can now hear from our Western partners are 'Do not scare us with Russia. This trick is not going to fool us anymore. We will not sacrifice our values on the altar of our geopolitical interests.' But when these are repeated over and over again like a mantra, you get to understand that the growing influence of Russia on Eastern Europe indeed scares the West the most. In the Western capitals, they do understand perfectly well that if the greatest assets of Belarus are taken over by Russian business owners, this country will be lost for the West for a long time if not forever." Gigin notes that Putin's return is a strong catalyst of the beginning rapprochement between Belarus and the West in part because this event undermines any hope for Russia and the West coordinating their policies on Belarus. The passing euphoria over Arab revolutions and the waning hopes that the economic crisis would destroy Belarus's political system are also factors in Belarus-West reconciliation, according to Gigin. Finally, Gigin observes that even though the rapprochement between Belarus and the West seemed unavoidable even shortly after December 19, 2010, the current pace of reconciliation is impressively fast (https://www.belta.by/ru/blogs?auth_ID=16&art_ID=175).
As for Belarus's financial crisis, there are obvious signs of relief, chief among them being a surplus in international trade. Between January and March, this surplus amounted to $716 million, whereas from January to March 2011 there was a deficit of $2.886 billion (belapan.com/archive/2012/05/02/546219/). This deficit was one of the main reasons for Belarus's financial crisis. In his annual address, Lukashenka also admitted to mistakes in economic policy and vowed not to live beyond Belarus's means. "The example of the European countries that used to hide their heads in the sand and did that for years, while postponing the necessary decisions, should be a warning for us. The main lesson of the economic crisis is that one has to live within one's means. You cannot spend more than you have earned," Lukashenka declared (https://naviny.by/rubrics/economic/2012/05/08/ic_news_113_392687/). With this in mind, he vowed to limit the amount of new housing stock, which is sold at discounted prices to the general public. "During the last five years, one million Belarusians improved their living conditions. Belarus is the CIS leader in housing construction per 1000 people" (https://naviny.by/rubrics/society/2012/05/08/ic_news_116_392708/).
By most accounts current developments in and around Belarus mark the end of certain geopolitical and economic cycles that have remarkably converged. From both of these, the Lukashenka government has emerged victorious contrary to many predictions and as it did in the past. It remains to be seen what the new cycles will bring to that medium-sized country squeezed between Russia and the West.