Belarus Tries to Flap Its 'Second Wing'
Publication: Eurasia Daily Monitor Volume: 11 Issue: 212
By: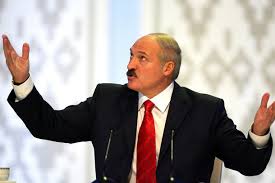 "We have been flying with one wing and we badly need to engage the other one," President Alyaksandr Lukashenka once quipped, in reference to Belarus's asymmetric international engagements—too much with Russia, too little with the West. The imbalance, of course, is still there and so are Minsk's attempts to rectify the situation (mfa.gov.by, September 23, 2002).
On November 14, Belarus's Investment Forum took place in London. The event was analogous to an earlier one conducted this fall in New York City (see EDM, October 1). Belarus's Deputy Finance Minister Maxim Yermolovich informed the forum's guests about the country's 2015 plan to issue Eurobonds worth $1 billion to ease servicing Minsk's international debts. Over the course of twenty years, Belarus has never delayed paying its creditors. Also made public at the event were plans to sell certain Belarusian businesses, including one bank and several machine-building enterprises, through the London Stock Exchange (Tut.by, November 14).
Earlier, a roundtable devoted to the "harmonization" of Belarus's relationship with the European Union took place at Belarusian State University (BSU) in Minsk. Besides BSU, the Observation Point of the Council of Europe and the ECOOM Analytical Center co-sponsored the roundtable. The state-run information agency Belta called the harmonization in question one of the major tasks of Belarus's foreign policy (Belta, October 31). At the roundtable, it was mentioned that Belarus's trade with the EU had reached a record high of $26.8 billion, making the European common market the second-largest destination for Belarusian exports. Taking part in the event, Belarus's Foreign Minister Vladimir Makei once again criticized European sanctions. "It is impossible to expect," said Makei, that "whereas just yesterday we lived in the totalitarian Soviet Union, tomorrow we will somehow wake up in a democratic Belarus." Makei's refrain was that, yes, Belarus problems, but given time, it will be able to proceed with gradual reforms. Setting rigid conditions does not make sense, he asserted (Nasha Niva, October 31).
It seems that little by little this gradualist approach is gaining acceptance in the West as well. At the annual meeting of the Association for the Advancement of Slavic, Eurasian and East European Studies (San Antonio, TX, November 20–23), Stephen White, a preeminent political scientist from the University of Glasgow, criticized Europe for what he conceptualized as "values imperialism"—a rush to establish normative standards of public life and to demand adherence to them even from the countries that do not plan to accede to the EU (Author's observations, November 20–23).
Apparently reflecting this sort of disposition on the part of Europe as well as popular perceptions of the Ukrainian crisis, public support for the idea of joining the EU has declined in Belarus. According to a quarterly survey by the Independent Institute for Socio-Economic and Political Studies, a polling firm funded by the West, in September the share of Belarusians in favor of EU membership was just 25 percent, whereas the share of those opposed was 50.3 percent (Belorusskie Novosti, November 16).
Aside from "values imperialism," yet another indication of Western soul-searching vis-à-vis Belarus has been a set of direct contacts undertaken by Gunnar Wiegand, European External Action Service Director for Russia, Eastern Partnership, Central Asia, Regional Cooperation and the OSCE, during his November visit to Minsk. For the first time, he did not meet with the leaders of the opposition. According to one of Wiegand's Minsk contacts, Alyaksandr Sinkevich, a businessman and an associate of the government-friendly think tank Citadel, "certain personalities from Belarus's political affiliations have discredited themselves in the eyes of the EU in view of the low efficiency of their activity… Consequently, [Europe's] emphasis will [now] be on contacts with those civic activists and entities that are more sober-minded and efficient…" "In the wake of his previous contacts with the opposition," Sinkevich added, "Wiegand was led to believe that our country is a sort of North Korea; so now this Eurocrat was surprised that, in fact, 43 percent of our members of parliament are women and 60 percent of our employees work for the private sector" (Euroradio, November 19).
Meanwhile, out of seven major Belarusian opposition entities, only five have signed an agreement aiming at the selection of a single presidential candidate to unseat Lukashenka in the next elections (scheduled for 2015). Among those signatories are 2006 presidential hopeful Alyaksandr Milinkevich, who leads the civic campaign For Liberty, and 2010 presidential hopeful Uladzimer Nekliaev, who leads another campaign—Speak the Truth. The Belarusian Popular Front also signed the agreement. However, the United Civic Party, led by Anatol Lyabedzka, and the left-wing party The Just World, led by Sergei Kalyakin, did not. Alyaksandr Klaskovsky, a veteran opposition journalist, opined that Lyabedzka, the most long-serving of the opposition leaders—he had been a major Lukashenka supporter during the run-up to the first presidential elections of 1994, but broke up with him one year later—simply has no chance of becoming a united opposition candidate (Belorusskie Novosti, November 18). While the electoral chances of any opposition candidate are currently lower than ever, earning the joint support of all the major Belarusian opposition groups remains a coveted goal because of the limelight and funding it would attract.
To be sure, any presidential candidate from the ranks of the political opposition and even the Belarusian presidential elections at large may lose much of the public's attention if hostilities resume in southeastern Ukraine. Writing for Tut.by, the most prominent political commentator of Belarus, Yury Drakakhrust, opined that such a resumption is probable—fairly soon. He also pointed out that during their November 19 meeting with Russian Foreign Minister Sergei Lavrov in Minsk, neither Lukashenka nor Makei made any statement that would underscore Belarus's own and different-from-Russia standpoint on Ukraine—something they used to do in the recent past and on multiple occasions. This time, however, they kept mum, as the situation is grim and Belarus itself may be easily sucked into the funnel of war (Tut.by, November 21).
If this happens, bemoaning the failed desire to conduct a balanced foreign policy will be much like crying over spilt milk. And flying with one wing will remain a pattern for the foreseeable future.