Belarusian Elections: The Eve and the Aftermath
Publication: Eurasia Daily Monitor Volume: 17 Issue: 117
By: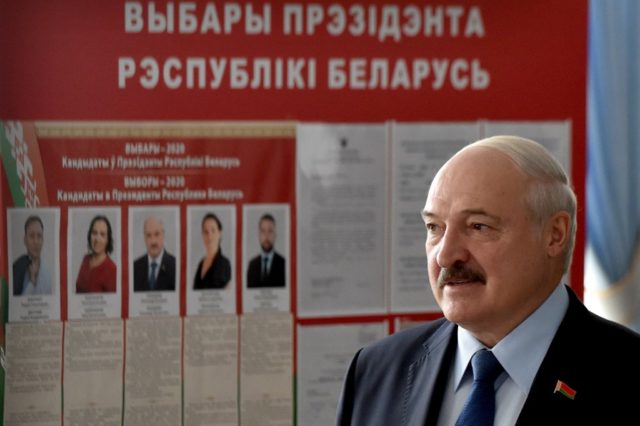 Sunday, August 9, was election day in Belarus. The official result: 80.8 percent for the incumbent, President Alyaksandr Lukashenka, and 10.09 percent for his main challenger, Svetlana Tikhanovskaya. Six percent of eligible Belarusians voted against all candidates (there is such an option), so the remaining three presidential hopefuls garnered only minuscule support. The turnout apparently exceeded 84 percent (Onliner.by, August 10). It may seem that Lukashenka, who ran for his sixth term, could paraphrase Mark Twain: "The reports of my defeat were greatly exaggerated."
Opposition-minded Belarusians do not believe the votes were fairly counted. In Minsk, clashes between the protesters and riot police lasted until 2 AM, on August 10; authorities used flash grenades, water cannons and rubber bullets to disperse the crowds. Quite a few rioters were injured. Unlike in 2010, angry demonstrations took place in other Belarusian cities, too. About 3,000 people were apprehended (Onliner.by, August 9). On August 9, the Belarusian segment of the internet was completely shut off. Curiously, Lukashenka stated that the internet troubles were caused not by the authorities but by external hacking attacks meant to stir up public discontent (Svaboda.org, August 10),
Despite urgent and repeated requests by Tikhanovskaya for her supporters to refrain from early voting, which began on August 4, 41.7 percent of eligible voters apparently chose to cast their ballots prior to last Sunday (Sputnik.by, August 10). The opposition has long suspected that votes cast before election day would be most vulnerable to falsifications by members of local electoral commissions (for the most part secondary school teachers, a group loyal to the incumbent) charged with stuffing ballot boxes. Because of multiple appeals by the opposition not to vote early, it is likely that most of the early vote favors the incumbent. It is no less important that, out of 6.9 million eligible voters, 2.7 million are retirees and more than 1 million are dependent on wages from the state. Additionally, according to neoliberal economist Yaroslav Romanchuk, 15–25 percent of the entire electorate shuns what might be considered Western liberal-democratic values or retains deep nostalgia for the Soviet past (Theworldnews.net, August 5). In all those categories—collectively, at least half of the electorate—most were likely to vote for the incumbent.
On Friday, August 7, Lukashenka received a phone call from his Russian counterpart, President Vladimir Putin. Much of their conversation was devoted to the 33 Russian Wagner Group mercenaries arrested in Belarus on August 1. Both heads of state shared a commitment to "substantively and thoroughly study each available fact in order to establish the true causes of the current situation, find the perpetrators and bring them to justice" (Belta, August 7). This formulation implied that, at a minimum, Lukashenka's version of the events had some credibility. According to the abundantly publicized alternative version, the apprehended Wagner group was the umpteenth such team to travel to a third country via Minsk, but Lukashenka frivolously arrested these transiting fighters in order to proactively justify his harsh treatment of the would-be post-election protests (Deutsche Welle—Russian service, August 7). On the eve of Putin and Lukashenka's last call, Komsomolskaya Pravda, a Moscow daily, published a lengthy piece claiming that the entire recruitment of the 33 mercenaries and their transfer to Belarus was an operation by Ukrainian intelligence, aiming at undermining the relations between Russia and Belarus (Komsomolskaya Pravda, August 6).
Yet, a day before Komsomolskaya Pravda's publication, Lukashenka gave a 2.5-hour-long, interview to Ukrainian journalist Dmitry Gordon, in which Belarus's president suggested that certain Russian government officials at the level of deputy ministers stood behind the entire affair (YouTube, August 6). He tellingly revealed that some of those allegedly involved had previously worked in Belarus—a hint that almost certainly points to Deputy Minister of Economic Development Mikhail Babich, the former Russian ambassador to Minsk, whose mission was terminated in 2019 because of Lukashenka's ultimatum to Putin. In speaking with Gordon, Lukashenka referred to the apprehended mercenaries as "gangsters."
In light of all these purported revelations, two major explanations of the entire gambit have come into focus. According to one, a Russian-Belarusian compromise is in the works: "Russia recognizes the facts about the mercenaries revealed by the Belarusian investigators, whereas Belarus is turning a blind eye to the sponsors of the entire operation. After the election results are recognized by Moscow […] those arrested will be extradited back to Russia" (Facebook.com/piotra.piatrouski, August 8). According to the second explanation, "the version of the Ukrainian intelligence's role presupposes a lack of professionalism on the part of its Belarusian counterpart," which strains credulity and thus insinuates the Belarusians may have actually cooperated with the Ukrainians (Russiancouncil.ru, August 8).
In his interview to Gordon, Lukashenka spoke with the utmost respect about Putin and even acknowledged mutual friendliness between him and the Belarusian president's youngest son, Nikolay. Lukashenka also revealed he "takes pity" on Tikhanovskaya because the electoral staffs of three would-be candidates (Victor Babariko, Valery Tsepkalo and her husband, Sergei Tikhanovsky) "cornered her."
One day prior to the interview, in his state of the country address, Lukashenka reproached Russia for switching from genuinely brotherly to businesslike partner relations with Belarus. He accused his presidential rivals of the desire to return to the "dashing 1990s," when criminals and industry privatizers reigned supreme. He acknowledged that his side lost the battle in the internet. But he declared that the country is safe as long as the power vertical remains consolidated, which it is. At the same time, he suggested that those wanting a different president should vote but not engage in disorderly conduct, because this would result in a crackdown. He specifically admonished parents to keep their children from behaving recklessly on election day and thereafter. He ended his speech on a high note: "Belarus is […] clean and beautiful, somewhat naïve and vulnerable, and, above all, beloved; and we cannot betray somebody we love so much" (YouTube, August 5). Three days later, in their video-recorded address to the citizens of Belarus, Tikhanovskaya, Veronica Tsepkalo (the wife of Valery Tsepkalo, who was denied registration as a presidential candidate) and Maria Kolesnikova (Babariko's electoral director) responded, "The authorities say that Belarus is beloved, and they do not give away what they love. We tell them: you do not earn love by violence; if you love somebody, let go." (Svaboda.org, August 7). On August 9, Veronica Tsepkalo left for Moscow (Svaboda.org, August 9).
Time is certainly needed for the present emotions to settle. Currently, when talking about the events of August 9, both sides invoke their own mantras. On one side, these were "unfair elections," "people in revolt," "the birth of a nation," "the departure of a dictator"; and on the other, "color revolutions," "Maidan," "George Soros," and "conspiracy" (Facebook.com/sergey.markedonov, August 10). Depending on what is yet to come, August 9 could be remembered as a watershed date in Belarus's modern history.