Belarusian Opposition: Feuds Abroad, Harsh Treatment at Home
Publication: Eurasia Daily Monitor Volume: 19 Issue: 109
By: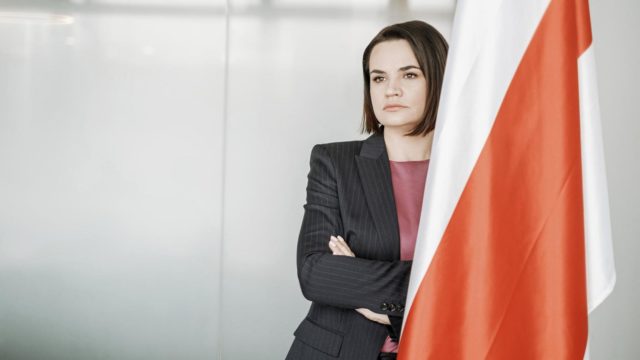 On July 11–12, answering the question of who should speak on behalf of Belarusians became even more confusing (see EDM, July 12). On those days, in Berlin, the 2nd Forum of Democratic Forces in Belarus took place. Headed by Valery Tsepkalo, a 2020 presidential hopeful, and his wife Veronica, the gathering was largely focused on Svetlana Tikhanovskaya, who is widely recognized as the Belarusian opposition's primary leader (Deutsche Welle, July 12).
During the run-up to the August 9, 2020, presidential election, the female triumvirate of Veronica Tsepkalo, Svetlana Tikhanovskaya, and Maria Kolesnikova was emblematic of the opposition's struggle with Belarusian President Alyaksandr Lukashenka's regime, and their joint photo was widely distributed throughout world media. Today, the picture is quite different: Kolesnikova is serving an 11-year prison sentence, and Tikhanovskaya and Tsepkalo are no longer on speaking terms.
Semyon Sharetsky offered the opening statement at the Berlin congress. Sharetsky served as Belarus's Supreme Soviet speaker until the constitutional crisis of November 1996. He left Belarus in 1999 and, since then, has lived in the United States. Containing affronts directed at Tikhanovskaya, Sharetsky's recorded speech set the tone for the gathering. One affront portrayed Tikhanovskaya as the realization of Vladimir Lenin's famous 1918 famous quote, "Every cook has to learn how to govern the state." A flamboyant former restaurateur from Minsk, Vadim Prokopyev, well-known for his obscene YouTube tirades directed at Lukashenka, also proposed that Tikhanovskaya be proclaimed some equivalent of Queen Elizabeth and obtain "her own Churchill" persona. At the meeting's end, the attending parties agreed to establish the Belarusian liberation movement "as a front of physical struggle against Lukashenka."
Nearly every opposition-minded commentator opined about the event. Artyom Shraibman, a nonresident scholar at Carnegie Endowment for International Peace, observed that Tikhanovskaya's entourage understands well the grievances of their comrades-in-arms, and they have suggested a joint gathering on August 8–9. However, given a lack of mutual trust, Shraibman believes it would be difficult to arrive at any commonly agreed voting procedure to elect leadership for this movement. Furthermore, Belarusians within Belarus have become increasingly indifferent to internecine fighting within the opposition. Even so, recent surveys show growing political polarization within the country. Thus, the Carnegie scholar stipulates, the demand for more militant leadership in the opposition is real, and Tikhanovskaya's "cabinet" will have to cobble together an effective response to that demand (Zerkalo.io, July 14).
In his own opinion on the gathering, Yury Drakakhrust of Radio Free Europe/Radio Liberty (RFE/RFL) suggests that the authority Tikhanovskaya has earned in the West would not be easy for her rivals to disregard; even the Russian opposition does not have a single spokesperson in the eyes of the West, whereas the Belarusian opposition does. Moreover, if Tikhanovskaya is still somehow subverted in the selection process, the leadership role will most likely remain vacant, as it came to be in the wake of the 2001 and 2006 elections, when first Vladimir Goncharik and then Alexander Milinkevich were displaced from their respective leadership positions. Without a clear leader, the Belarusian opposition will again resemble its rudderless Russian counterpart, but "Belarusians are no strangers to being like Russians," sardonically observes Drakakhrust (Zerkalo.io, July 15).
While jockeying for the leadership role divides Belarusian opposition, what unites it on a symbolic level is shared bitterness over attitudes of Ukrainians toward Belarusians. Those sentiments have increasingly worsened since the beginning of Russia's "special military operation" in February 2022 and have deteriorated even more after the resumption of Russian artillery attacks from Belarusian territory in late June. Following that, many Belarusian exiles in Ukraine were denied an extension of their stay and have been subjected to public verbal abuse. The Belarus service of RFE/RFL has published about a dozen articles on this issue, and this stark change in Ukrainian public attitude is considered unfair by many Belarusians (Svaboda.org, July 15; Euroradio, July 13).
On its part, the Lukashenka government considers Western sanctions to be grossly unfair and has responded in a dual and ostensibly confounding way. On the one hand, prison sentences have become incomparably harsher than before, and qualifications for alleged wrongdoing, such as treason, have become increasingly more broad. The sentencing of Ekaterina Andreeva, a journalist from Belsat, a Polish digital TV channel broadcasting for Belarus, clearly illustrates this reality.
Andreeva was first arrested in November 2020 and received a two-year sentence for reporting on postelection protests. Her term was originally scheduled to end in September 2022. However, she was sued again by a court in a closed session—this time for allegedly disclosing state secrets to a hostile foreign power. As a result, she was sentenced to an additional eight years and three months in prison, which is even more than Aleksandr Solzhenitsyn was sentenced to back in 1945 for similar "anti-Soviet" actions (Zerkalo.io, July 13). Such harsh sentences are more than likely directly related to the sanctions imposed by countries, in this case Poland, that own and fund media companies similar to Belsat. And these political prisoners may become bargaining chips if and when the West resumes talks with Minsk, as has happened several times in the past.
On the other hand, Minsk prides itself on breaking through the Western-imposed Iron Curtain by opening visa-free travel to Poles, Latvians, and Lithuanians. Sputnik.by recently described a trip by a Polish citizen who is relieved to finally be able to visit the graves of her parents and older son on the Belarusian side of the border (Sputnik.by, July 13).
Alexander Nosovich, a reputable Kaliningrad-based Russian commentator with Belarusian roots, has suggested that Russia needs to open its Kaliningrad exclaves to visitors (T.me/Nosovichchannel, July 15). Additionally, he presents a peculiar twist on the Kremlin's relations with Minsk (T.me/Nosovichchannel, July 16). Referring to Turkey's initial rejection of Sweden and Finland's accession to the North Atlantic Treaty Organization (NATO), Nosovich characterizes the situation as an auction sale with Turkey's stamp of approval. Similarly, he argues, back in 2013, Ukraine, under Viktor Yanukovych, auctioned its fidelity to Russia and the European Union, and Russia took the bait. In contrast, Russia did not take Belarus's balancing between Moscow and Brussels seriously. According to the Russian commentator, as a result, Russia did not gain Ukraine but rather Belarus without an auction or a war.
Nosovich, however, omits one key detail. Based on a "fight-for-democracy" argument, the West unilaterally withdrew from the bidding war over Belarus, thus why Russia "won." That vital fact makes it an entirely different story that may yet contain more critical lessons for the future.