Belarusian President Speaks to the West
Publication: Eurasia Daily Monitor Volume: 19 Issue: 68
By: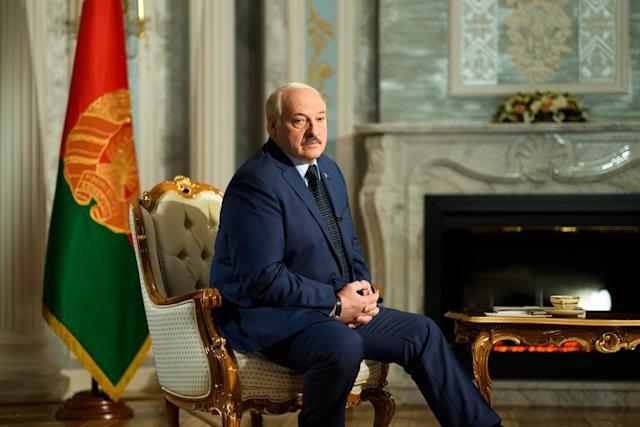 While the Belarusian opposition insists that President Alyaksandr Lukashenka is unworthy of attention because he no longer has anything to offer to the collective West (YouTube, May 2), opposition leader and 2020 presidential candidate Svetlana Tikhanovskaya is seen navigating the corridors of power in Europe and the United Sates (Euroradio, May 4). And yet, Western journalists continue to request Lukashenka for interviews, which, indeed, he has lately been sitting down for "much more frequently than prior to 2020" (Svaboda.org, May 5). Notably, on May 5, Lukashenka gave a 1.5-hour interview to Ian Phillips, the vice president of the Associated Press (AP) news agency (YouTube, President.gov.by, May 5).
Three issues touched upon by Belarus's president in his conversation with the AP arguably rise above the rest. The first was yet further reassurance that the Belarusian military is not going to enter the war in Ukraine. Phillips posed the question on this subject by linking it to Belarus's announcement of combat readiness exercises on the eve of the interview. Lukashenka justified these drills by pointing to the vastly increased military presence of US, British and other Western armed contingents (up from 3,000 service members one year ago to 32,000 now) next to Belarus's borders and by the alleged necessity to safeguard his country's southern border from "nasty surprises." At least to some extent, the oft-repeated pledge to not enter the Russo-Ukrainian war contradicts Lukashenka's acknowledgement that Belarus and Russia "have effectively a common army"; and it is contradicted by his acknowledgement that upon concluding the joint Allied Resolve exercises with Russia back in February, some Russian units indeed entered Ukraine from Belarusian territory. While the latter point hardly needs further confirmation, Lukashenka had hitherto refrained from recognizing that fact personally (YouTube, President.gov.by, May 5). Incidentally, the Pentagon's May 5 press briefing confirmed that the US military saw no signs Belarus was about to enter the war (Svaboda.org, May 6).
The second issue of importance raised in the interview was Lukashenka's professed certainty that Russia is "doomed" (obrechena) to emerge victorious from the ongoing war regardless of massive Western arms aid to Ukraine. Belarus's leader mentioned that twice and insisted that the war can be stopped within a week provided Washington tells Ukrainian President Volodymyr Zelenskyy to rejoin negotiations with Russia. In Lukashenka's view, the lack of such an order from the US side subjects Ukraine to needless death and destruction. Washington, according to the Belarusian leader, is interested in the continuation of this conflict in order to weaken Russia before focusing on a showdown with China (YouTube, President.gov.by, May 5).
The third issue of import was Lukashenka's opinion that contrary to his initial expectations, Russia's war is, indeed, dragging on (YouTube, President.gov.by, May 5). Western media outlets focused most strongly on these utterances in their accounts of the AP interview. The next day, the Kremlin's press secretary, Dmitry Peskov, replied that the military operation was unfolding as planned (RIA Novosti, May 6).
Lukashenka opined and then repeated the assertion that Russia is taking it too easy in Ukraine, avoiding the use of weaponry that is more "serious" but still short of nuclear. Lukashenka also acknowledged that he asked his Russian counterpart, Vladimir Putin, why the deliveries of Western munitions to Ukraine were not being thwarted more decisively, when, he alleged, this would be so easy to accomplish. Most probably, Putin does not want a head-on collision with the North Atlantic Treaty Organization (NATO), hypothesized Lukashenka, only to deduce that, therefore, there is still a chance of meeting halfway. Stopping the war now, before it "moved to another level," is desirable, possible and necessary, he posited. Yet Lukashenka's repeated assurances that he wants Ukraine to retain its territorial integrity contradicted his own admission that "the east of Ukraine—Donetsk and Luhansk [oblasts]—could now only be pushed into Ukraine by force" (YouTube, President.gov.by, May 5). Just one day after the interview, the Russian Senator Andrei Turchak declared that "Russia came to the Kherson region forever" (RIA Novosti, May 6). Needless to say, unlike Ukraine's east, Kherson did not even have a separatist movement; but it abuts Crimea from the north and controls Crimea's fresh water supply from the Dnieper River that Ukraine cut off back in 2014.
Lukashenka described his relationship with Putin as "the best possible between the leaders of two states." He attributed tensions that at times flared between him and Putin to character traits (whereas he is more open and flamboyant, Putin is more private) and to the still lacking level playing field between Russia and Belarus as far as economic prices are concerned. Given that, Lukashenka expressed his satisfaction with Russia now allowing Belarus to buy oil and natural gas for Russian rubles instead of US dollars. "Behind bad luck [i.e., the war] comes good luck," observed Lukashenka (YouTube, President.gov.by, May 5).
Other issues touched upon in the interview, including economic sanctions, accusation that the United States was plotting against Belarus in 2020, as well as Lukashenka's attempts to turn the tables on the US on human rights and on suppressing information and dissident opinions, are hardly new. Whereas his verbal attacks against the United Kingdom and Poland attained some new wording: "On the one hand England and on the other hand Poland and you [the US] have squeezed the European Union as if in a vise and are holding it so tightly that they cannot move" (YouTube, President.gov.by, May 5).
So, is Lukashenka, a devout autocrat, still worthy of attention? This clearly depends on one's perspective. Belarusian society is divided on this and other matters, and so Lukashenka retains his clout. The duality of US relations with Belarus effectively reflects this division too. A few days prior to Lukashenka's interview to the AP, Svetlana Tikhanovskaya "handed over to American politicians documents with evidence of Lukashenko's involvement in the war as well as information about loopholes used by the Belarusian authorities to circumvent sanctions." In the summary of Tikhanovskaya's visit issued by her office, the first item reads, "The United States does not recognize the Lukashenka regime and does not intend to resume diplomatic or political contacts with it" (Svaboda.org, May 1). This wording sounds confusing, as diplomatic ties between Washington and Minsk, however lopsided, still exist: whereas the US suspended the operations of its embassy in Minsk, the Belarusian embassy in Washington never stopped working. Consequently, one cannot rule out that the main reason Lukashenka's interviews are requested by Western journalists with such an unusual frequency is that they effectively compensate for the West's limited diplomatic presence in Minsk.