Belarus's Economic Downturn
Publication: Eurasia Daily Monitor Volume: 19 Issue: 121
By: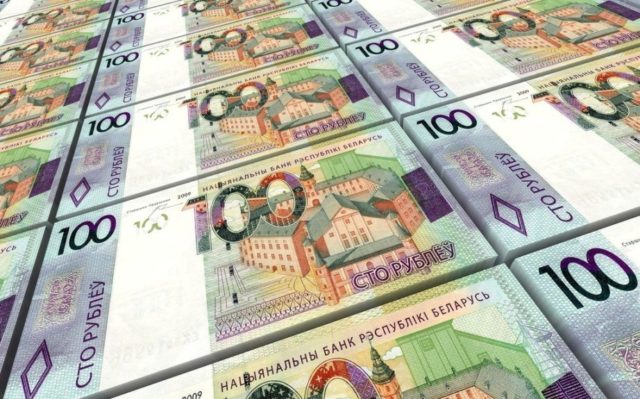 In mid-July 2022, Moody's and Fitch—two of the three international credit rating agencies—declared that Belarus is in technical default on its debt. Government economists consider this qualification politically prejudiced (Sputnik, July 13). However, a technical default is only a deficiency in a loan agreement that arises from a failure to uphold a certain aspect of the loan terms. In this case, Minsk proposed that it will pay in Belarusian rubles instead of US dollars. This proposition was extended on the grounds that Western sanctions imposed on Belarus prevent European banks from transferring payments from Belarusian banks to the actual owners of Belarus's Eurobonds. This reportedly happened for the first time in February 2022 (Zerkalo.io, June 29).
The US-dollar-denominated amount that Belarus owed in July, about $22 million, was minuscule in comparison with the $7.5 billion worth of gold and hard currency reserves that Minsk owns. In other words, under normal conditions, the Belarusian government would not hesitate to pay using these resources. To be sure, the actual liquidity available for paying off debts may not exceed $2.4 billion. And considering that $800 million will be due in February 2023, such reserves are nothing if not modest. Out of $7.5 billion, more than $3 billion is in gold and may not be easy to convert, as the European Central Bank has banned operations with the National Bank of the Republic of Belarus. About $1.4 billion are the so-called "special drawing rights" (SDRs), or international reserve assets, created by the International Monetary Fund (IMF) to supplement member countries' official reserves. Under normal conditions, SDRs are exchangeable into dollars and euros, but now, the IMF may reject Belarus's conversion request. Out of the remaining $3 billion, $600 million may actually be in euros, whereas the debt is denominated in US dollars. Economist Ales Alekhnovich, who shared this data, also believes that, should Belarusian authorities fail to redirect Belarus's exports, its potential decline may amount to a whopping 40 percent (Svaboda, July 25). This is because the share of exports to the 40 countries that have imposed sanctions on Belarus account for 27 percent of total exports from Belarus, and 14 percent used to be the share of exports to Ukraine. Some redirection of exports has taken place. Thus, from January to May 2022, exports to all countries except Russia declined by $2.2 billion; exports to Russia increased by almost $500 million.
It does not seem possible that relations between Belarus and Russia could become any tighter, but the closure of Western markets has brought Minsk and Moscow closer still. It is, therefore, not by accident that Belarusian President Alyaksandr Lukashenka has called Minsk's embassy to Russia, located in downtown Moscow, Belarus's "second government." He made this specific remark while appointing Dmitry Krutoi (former economics minister and deputy premier) Belarus's new ambassador to Russia, somehow retaining his previous vice-premier rank, this time with specialization on ties with Russia and other Eurasian Economic Union countries. Krutoi replaced Vladimir Semashko, a heavyweight among the Belarusian nomenklatura, who is 72 years old (Lenta.ru, August 1). Lukashenka particularly advised Krutoi to facilitate demand for Belarusian products in Russian regions other than Moscow and its environs. At present, it appears Belarus has 11 missions in Russia's far-flung regions that are subordinated to its Moscow embassy. On a separate occasion, the Belarusian president even mused that Krutoi may one day replace him at the helm of power—nothing serious at the moment but noteworthy still (T.me/pul_1, July 29).
From January to May 2022, Belarus's exports to China have grown by 1.5 times, to the tune of $500 million (BelMarket, July 22). Overall, however, a sharp decrease in exports triggered a sharp decline in gross domestic product (GDP). During the first two quarters of 2022, GDP was 4.2 percent less as compared with the corresponding period in 2021. Monthly declines have also continued; thus, GDP in June 2022 was about 8 percent less when compared with June 2021. The logistical problems with reorientation of potash and refined oil exports will not be resolved quickly. Demand for these products is significant outside the West, but Russian transit bottlenecks are still causing major problems (BelMarket, July 20).
Perhaps the only bright spot is food exports. These exports amounted to almost $3.5 billion during the first two quarters of 2022, and given that the overall agricultural exports back in 2021 amounted to $6.7 billion, that should be exceeded this year. Almost 70 percent of this year's food exports have been to Russia; however, the share of exports to faraway markets is on the rise. Thus, food exports to China increased by 86 percent (Sb.by, August 1).
Geographically, economic contraction affected the most advanced region, Minsk and Minsk Oblast, the most. Accordingly, throughout the first six months of 2022, contraction amounted to 7.8 percent of GDP's regional equivalent. In contrast, in Mogilev and Vitebsk oblasts, economic attrition amounted to 2.7 and 2.4 percent, respectively (BelMarket, July 20).
Belarus is a country of modest salaries, although one has to take into account that the nominal out-of-pocket costs of healthcare, education, utilities and recreation facilities are also low, and, for example, the visual blight of homelessness is altogether absent in Minsk, as visitors from nearby national capitals, such as Riga, Latvia, often attest (YouTube, July 11). Still, the national monthly average salary of 1,573.40 Belarusian rubles in May 2022 (6 percent less than in May 2021), equivalent to $467, is lower than in every other neighboring country except Ukraine. One must also subtract 13 percent for income tax and 1 percent for social security.
Out of all domestic economic sectors, the highest average monthly salary is paid in Minsk (2,404 rubles) and the lowest in Mogilev Oblast (1,277 rubles). The highest salary by far is in information technology (4,910 rubles), and the lowest is in the so-called administrative-and-auxiliary services (renting, leasing, employment agencies, tourism, building maintenance, etc.)—1,052 rubles (MyFin, June 27). Inflation is at between 6 and 7.4 percent per year, according to various estimates (MyFin, July 11).
Back in 2019, Belarus was 53rd in the Human Development Index out of 189 countries, a notable achievement (Hdr.undp.org, 2020; President.gov.by, 2022). Yet, by all accounts, it will be a tall order to retain this position in the years to come.