Belarus's Freedom Day: Post-Celebration Anxieties
Publication: Eurasia Daily Monitor Volume: 15 Issue: 56
By: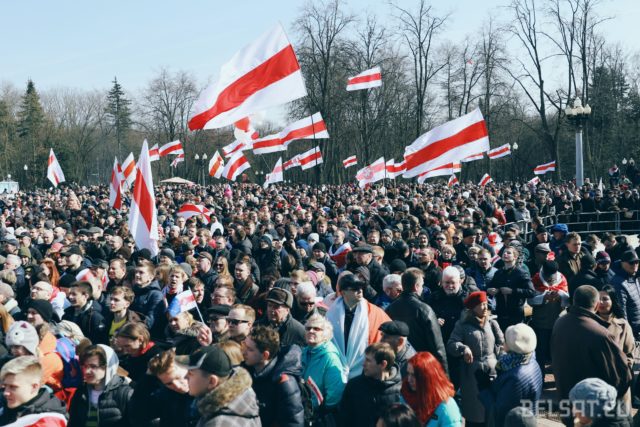 The March 25 centennial celebration of the Belarusian People's Republic (BPR) has triggered multiple anxieties and is still reverberating emotionally in the Belarusian media and across online social networks. Somewhat unexpectedly, one epicenter of anxiety has become the speech by the founder and owner of Tut.by, Yury Zisser, which he delivered during the government-sanctioned commemorative concert in downtown Minsk (EDM, April 2). In discussions of the articles devoted to that speech, many participants of the celebration militated against the language it was delivered in (Russian). Furthermore, critics panned Zisser's thesis that nationalism is a thing of the past and that Belarusians need to focus on what unites them, not on what divides them, the latter largely being history. How come Israel managed to revive an extinct language and made it a factor of national consolidation, whereas Belarus reportedly cannot do the same thing, exclaim the authors of some comments (Svaboda.ru, March 30; Tut.by, March 25).
Anxieties have not calmed on the other side of the barricade either. After Artyom Shraibman, Tut.by's political commentator, showed up posing in a group photo with Stanislav Shushkevich and Ivonka Survilla, Andrei Lazutkin, a commentator of Communist persuasion, remarked that had Shraibman run into Survilla's father in the early 1940s, who knows what would have happened (Imhoclub.by, March 28). Shushkevich led Belarus from 1991 to 1994 as the chairman of the Supreme Soviet, while Survilla, who is Canadian, chairs the Rada (Council) of the present-day BPR, which claims to be Belarus's government in exile. The point of Lazutkin's remark is that Shraibman is Jewish, whereas Survilla's father served in the administration of the city of Baranovichy under a Nazi German military administration. Notably, Survilla's recorded Freedom Day greeting was played on a screen during the celebrations in Minsk (See EDM, April 2).
Domestic anxieties, however, pale in comparison with the full-blown hysteria exhibited by some Russian responses to the celebration. Thus for Eurasia Daily, the fact that the celebration actually occurred in downtown Minsk was "an intellectual catastrophe of epic proportions" on the part of the Belarusian leadership, those responsible for relations with Belarus in the government of Russia, and also on the part of the government-friendly Belarusian experts (Eurasia Daily, March 27). This third group is castigated with utmost ferocity. While no names are mentioned, the Belarusian newspaper Nasha Niva, the mouthpiece of Westernizing nationalists, dutifully filled in the blanks in its comment on the Eurasia Daily publication (Nasha Niva, March 28). According to Eurasia Daily, members of this group are all too willing to tap into Russian funding but participate in persecuting defenders of the Russian World in Belarus: "Even contacts with The Jamestown Foundation, […] the neo-Nazis of Western Europe, neo-pagans from Eastern Europe, and with law enforcement from various countries did not help these pseudo-experts to at least roughly predict what actually transpired in Belarus." The reference to neo-Nazis is most probably meant to publicized meetings with certain ideologues. As for the mention of Jamestown, the implication appears to be personal contacts with some freelance analysts, including, presumably, this author. In the eyes of Eurasia Daily, such contacts are reputation killers. The source even criticizes the Russian state's propaganda outlet RT for expressing the opinion that the March 25 celebration was actually instrumental in consolidating the active part of Belarusian society (RT, March 25). No, says Eurasia Daily, it was an act of division and ideological bankruptcy.
Another Russian information portal, Lenta.ru, usually more level-headed than Eurasia Daily, this time sounded in unison with it. In a lengthy piece portentously titled "Batka's [Alyaksandr Lukashenka's nickname, meaning 'father'] Nazis: The Belarusian Right Is Cleansing the Country of Russia, and Lukashenka Does Not Mind," the March 25 event is characterized as a drastic change in the relationships between Belarus's ruling regime and radical nationalists. According to the article, "The powers that be have proposed a new pact to them [Belarusian nationalists]: We completely legalize your activities, and you switch from antagonism to cooperation with the state." It continues, "[U]nder the existing trends, the paradigm of the Belarusian state's development is going to change on its own without any Maidans [a reference to the 2013/2014 EuroMaidan revolution in Ukraine] whatsoever. What will post-Lukashenka Belarus look like is getting increasingly clear and does not leave room for optimism" (Lenta.ru, April 3).
Against this backdrop, Russia and Belarus Unity Day, on April 2, marking the anniversary of the Union State treaty signed in 1999, did not amount to a celebration. Even Piotr Petrovsky, a philosopher and member of the government-friendly group lambasted by Eurasia Daily, stated that the Russian-Belarusian union treaty requires an upgrade (Sputnik.by, April 2). Lukashenka declared that "the Union State possesses enormous potential; but to realize it in full, both sides ought to abide by their agreements and commitments (Belta, April 2), apparently implying the lingering lack of single oil and natural gas prices.
Opposition-minded experts have also shared their derisive comments about the April 2 Unity Day event. Thus, according to the veteran journalist Alexander Klaskovsky, integration with Russia became a trap that did not allow Belarus to reform its own economy. One important product of this integration has been an energy subsidy (through price discounts) that accounted for 20 percent of Belarus's GDP; but by 2016, it had declined to 2.1 percent and then rose slightly to 4.5 percent. Klaskovsky believes that it was only through pure luck that Belarus has not yet lost its independence (Naviny.by, April 2).
Such derision ought to be taken with caution and a grain of salt. The Belarusian-Russian relationship remains extremely close. The two countries share a transparent border and largely a single information space, wherein Belarusian TV channels operate on their Russian counterparts' platforms. Citizens of third countries who land at any airport within the Union State fill out a joint Russia-Belarus immigration form. Cooperation in air defense and defense in general is tight. And Belarus still enjoys a notable energy subsidy from Russia. These are just the most obvious trappings of the Russia-Belarus Union State.
Ongoing trends, however, point to a gradual loosening, not a tightening of those bonds. Thus, the anxieties following Belarus's Freedom Day celebration seem to reflect this particular reality.