Belarus's Rising International Standing and Its Implications
Publication: Eurasia Daily Monitor Volume: 12 Issue: 28
By: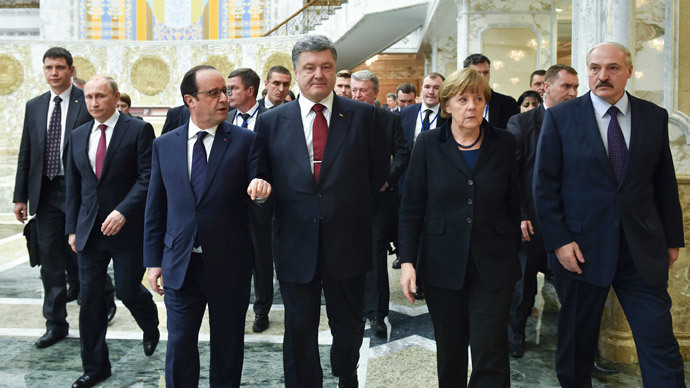 Renewed high-level negotiations on the war in Ukraine, with an agreement signed in Minsk, on Thursday, February 12, further raise the stature of Belarus in the eyes of the international community. Alongside the September 2014 ceasefire agreements previously also signed in the Belarusian capital, Belarus's long-term, active role in the mediation process provides further testimony to a carefully thought-out policy of President Alyaksandr Lukashenka. In particular, the Belarusian president has sought to maintain close ties with both Russia and Ukraine while steadfastly appealing to Western leaders to abandon their increasingly contradictory policy of sanctions toward Belarus.
Importantly, Minsk's elevated standing appears to be reverberating in the corridors of power in Moscow—at least judging by the unprecedented statement by Alexander Surikov, Russia's ambassador to Belarus. "We must understand," Surikov said, responding to a question from reporters about Russia's attitude to Belarus's policy vis-à-vis Ukraine, "that although we closely interact within our Union State, Belarus is a sovereign country. Also, Belarus's dependency on Ukraine exceeds that of Russia," referring to the $7 billion annual trade turnover between Ukraine and Belarus. Moreover, commenting on Moscow's alleged misgivings regarding Minsk's rapprochement with the West, the Russian ambassador underscored that in the multi-directional foreign policy of Belarus, there is nothing inherently "anti-Russian or offensive for Russia" (Tut.by, February 5). Clearly, Surikov's words came across to many in Minsk as a repudiation of what some Belarusian analysts call a "hysterical attack of some Russian media," according to which Belarus is headed toward "rigid Belarusization" and is selling out to the West (RadioRacja, February 1).
Along the lines of Surikov's statement, Alexander Dugin's criticism of Russia's attitude toward its closest allies may be even more revealing. A radical chauvinist, an empire builder, and a devotee to 19th century geopolitics, Dugin claims that "we [Russia] have not paid true attention to integration even with our closest neighbors [Kazakhstani President Nursultan] Nazarbayev and Lukashenka. We allowed various liberal-minded activists to insult them. We generated information flows that demonstrate our profound contempt in regard to our integration partners. We imposed effectively dictatorial conditions on them on sundry economic and political issues. And then we are surprised when they do not support us at critical moments and look the other way…" He added, "I see how Russian bureaucrats […] treat those integration initiatives. They believe they are of minuscule importance and that the only partner with whom [Russia's] relations are truly important is the West. Obviously, our Eurasian integration partners cannot but feel that" (Novorosinform.org, February 2).
"I spoke with the presidents of those countries," Dugin declared, noting, "They told me many times, 'We are not treated as partners, we are treated as second-order people, whereas we are your brothers, we are part of the same civilization.' " He continued, "If we want to once again become a great power, we are required to do certain things that should not be expected from our junior partners. They have a right to be capricious, we do not. And we cannot speak with them using the language of coercion or economic sanctions. That is why we lost Ukraine, no doubt. This Maidan was bound to happen. That is because we believed that natural gas prices are a sufficient form of regulation of our relations [with Ukraine]… We used to send down there people who are entirely inept and professionally unfit for the task of making our ties with Ukraine closer…" "Receiving the Maidan is a justifiable result of us neglecting the integration processes within the post-Soviet space," he concluded (Novorosinform.org, February 2).
Paraphrasing Voltaire's well-worn maxim about God, if Dugin did not exist, he would have to have been invented specifically for the purpose of pronouncing these suggestive words. Dugin's remarks are extremely likely to be heard in the Kremlin. And that means that not only Belarus's improved standing in the West deserves mentioning but also Belarus's starting negotiating position with Russia about financial aid—particularly, in view of the shrinking Russian market, the devaluation of the Russian ruble, and the necessity for Belarus to spend $4 billion in 2015 to service its international debt.
According to Yury Drakakhrust of Radio Liberty, Lukashenka has driven his tactics of teasing Russia without crossing the red line, to perfection. Not only does he shake hands with Petro Poroshenko of Ukraine, but in April, Lukashenka is scheduled to pay a visit to Tbilisi (Tut.by, February 5). During a meeting of the Atlantic Council think tank, Pavel Shidlovsky, Belarus's Charge d'Affaires in Washington, even appealed to the panel in a question and answer session that it was time for the West to start treating Belarus seriously as its independence is at stake (By24.org, January 31). Although his remarks were met with some bad jokes from the representatives of Belarus's close neighbors—jokes reeking of adolescent egocentrism ("Who is threatening Belarus's independence? Perhaps Lithuania?"), not of foreign policy insight—Shidlovsky's plea was noted by most media outlets in Russia. According to Drakakhrust, Lukashenka's foreign policy tactics are now being replicated by Prime Minister Alexis Tsipras of Greece who uses it against Germany.
According to Yaroslav Romanchuk, a liberal economist and a 2010 Belarusian presidential hopeful, the scale of devaluation of the Russian ruble is a bomb that threatens to eliminate the Belarusian competitors of Russian producers. Indeed, from January 1 to December 18, 2014, the Belarusian ruble became 1.9 times more valuable relative to the Russian ruble. Although thereafter, by February 5, 2015, the Belarusian ruble lost 42 percent of its value relative to its Russian counterpart, Belarusian goods have yet to regain their competitive edge in Russia. Hence Belarus's need to take out a new Russian loan to the tune of $2–3 billion and for Belarusian enterprises to gain access to Russian state procurement contracts on equal footing with Russian production units (Naviny.by, February 5).
Until recently, Belarus was the world's leader in the frequency of predictions of its imminent economic collapse. Yet, similarly frequent projections have been made in regard to the looming failure of Lukashenka's geopolitical maneuvering. None of these outcomes materialized to date, and are unlikely to do so in the foreseeable future.