Between Scylla and Charybdis: Belarus's Balancing Act
Publication: Eurasia Daily Monitor Volume: 10 Issue: 82
By: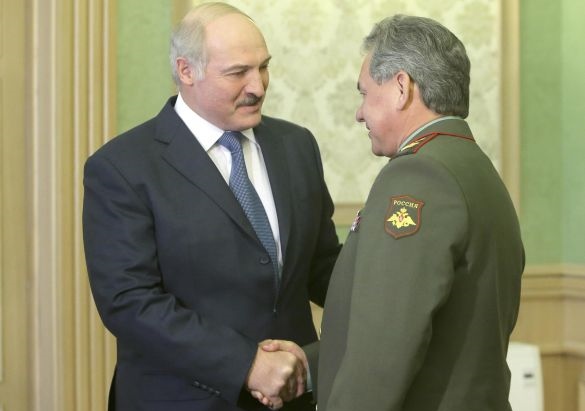 On April 23, following his trip to Minsk, Russia's Minister of Defense Sergei Shoigu revealed that Russia plans to create its own military airbase on Belarusian soil near the city of Baranovichi, with the first set of Russian fighter jets due to arrive there later this year. "In 2013, we will establish a military commandant's office and provide a wing of combat fighters on alert duty," Shoigu said; and more jets will be added later. "We hope that an air force regiment will be here by 2015 to protect our borders," Shoigu also noted. Furthermore, in 2014, Russia will deliver to Belarus four battalions of S-300 surface-to-air missiles. According to Shoigu, the decision was made during his meeting with President Alyaksandr Lukashenka (https://en.rian.ru/world/20130423/180798707/Russia-to-Deploy-Fighter-Jets-in-Belarus—Defense-Minister.html).
Three days later, speaking in Khoiniki district, located within the Chernobyl zone that Lukashenka routinely visits in conjunction with every anniversary of the April 26, 1986 nuclear power plant tragedy, the Belarusian president tried his best to disavow Shoigu's announcement. "This is just about supplies to our own army," said Lukashenka. "Whether this will be a base or just a supply of the existing Belarusian regiments with fighter jets is subject to further negotiations" (https://naviny.by/rubrics/politic/2013/04/26/ic_articles_112_181605/). According to Russia's Kommersant Daily, Lukashenka's speech was meant to placate the North Atlantic Treaty Organization (NATO). Indeed, according to Kommersant's source at Russia's Ministry of Defense, "The statements of our Belarusian colleagues come across to us as their attempts to justify to a third party the normal relations between the two countries. We would not make this public if the negotiations were at some intermediary stage. But both sides have come to a consensus at the highest level" (https://kommersant.ru/doc/2181680).
Alexander Klaskovsky, a usually well-informed veteran opposition journalist, writes that the West's reaction to Shoigu's announcement has been restrained. "Formally speaking, the airbase plans do not violate anything. In Lithuania, at the Siauliai airfield, NATO fighter jets are on duty. Poland has already deployed American Patriot missiles and is bracing for [sic] the American F-16s. In this regard […] the delivery of Russian S-300 surface-to-air missiles to Belarus in 2014, as well as the deployment of SU-30 planes, looks like a symmetrical action" (https://naviny.by/rubrics/politic/2013/04/26/ic_articles_112_181605/). Still, there is a perceived necessity for damage control on the part of Lukashenka as the unusually cohesive voices of the Belarusian opposition have already accused him of betraying Belarusian sovereignty, and such accusations may resonate with the broader society.
"The foreign policy of Minsk is a constant balancing act," writes Klaskovsky. "But the Belarusian president has been performing it for 19 straight years. And so far he has been miraculously slipping between Scylla and Charybdis." Indeed, recently, the envoys of the two most "meaningful others," Russia and the United States, made news in Minsk. First, the Russian ambassador to Minsk, Alexander Sourikov, gave an extensive interview. But also, Belarus's Foreign Minister Vladimir Makei had a talk with Ethan Goldrich, Charge d'Affaires of the United States, and even passed on a letter to the US Secretary of State about the prospects of Belarusian-US relations. According to Yury Drakakhrust of Radio Liberty, "Lukashenka likes Americans even less than Europeans, but he respects the former much more. It could be that he finds it easier to talk to them." In this regard, some observers expect the release of the remaining political prisoners. During his aforementioned speech in Khoiniki, President Lukashenka sent mixed signals on this issue. On the one hand, he repeated that "we do not incriminate anybody for politics. We have no political articles in our penal code." On the other hand, he said that "the state will withstand those two to three people who want to become heroes by way of having been imprisoned but cannot understand that the time when this was possible is long gone" (https://naviny.by/rubrics/politic/2013/04/27/ic_articles_112_181608/). It is likely that the latter remark reflects Lukashenka's musings about the potential danger posed by the release of his most unbowed political opponents.
Whether or not Foreign Minister Makei talked with the top US diplomat in Minsk about the prisoners remains unknown, and the same pertains to other possible topics they may have touched upon. In contrast, Sourikov, the Russian ambassador to Minsk made sure to publicize his opinions. For example, he confirmed that Moscow closed a loophole that allowed Belarus to export refined oil products without paying export duties to the Russian budget. He also explained that switching from annual to quarterly negotiations about Russian oil deliveries to Belarus had to do with those loopholes and other potential deviations of the Belarusian side from the mutually agreed course of action. And he made a point that Belarus will be able to receive from Russia a $2 billion loan for modernization only if this loan is to be spent on joint Russian-Belarusian ventures. The Russian diplomat also opined that the pace of decision-making with regard to some joint ventures is inadequate. For example, the merger of MAZ (Minsk Automobile Factory) and Kamaz (Russia's Kama Automobile Factory) has been discussed for one and a half years. Moreover, on April 19, Lukashenka indicated that he was determined to back out of the deal (See EDM, April 23). Finally, Sourikov observed that prospective investors are not going to be interested in state-run businesses. This was a reminder that Russian tycoons crave privatizing Belarus's most lucrative production units (https://naviny.by/rubrics/politic/2013/04/29/ic_articles_112_181623/).
It is unlikely, however, that Russia will apply extreme pressure to make Belarus comply with the previously agreed integration deals. Belarus will most probably be dealt with gently in order to entice Ukraine to join the Customs Union and eventually the Eurasian Economic Community. That this latter institution is scheduled to be ushered in in 2015 plays into Lukashenka's hands as the next presidential elections will take place in that year. If in the meantime, Belarus's relationship with the West also improves, this would mean that Lukashenka's geopolitical maneuvering continues to bear fruit.