Beyond Arms and Ammunition: China, Russia and the Iran Back Channel
Publication: China Brief Volume: 23 Issue: 6
By: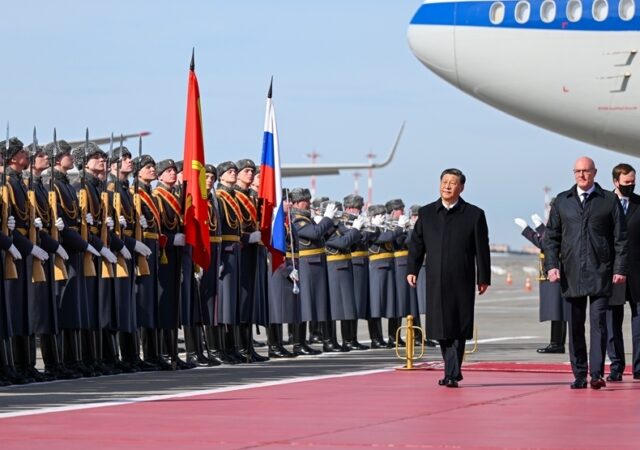 Introduction
Along with Iran's increasing involvement in supplying Russia's war effort against Ukraine, a potential increase in Chinese support for Russia presents a challenge for both Kyiv and NATO (Eurasia Daily Monitor, March 6).  Indeed, Western governments have recently expressed alarm over China's potential provision of dual-use or military equipment to Russia (U.S. Department of Defense, February 28). According to U.S. intelligence, Chinese arms transfers to Russia would probably take the form of artillery and drones (Straits Times, February 26). As both items are badly needed by Russia to sustain its war efforts, the entry of Chinese arms on the Ukrainian battlefield may drastically shift the balance of power in the ongoing conflict. However, in addition to trackable military aid packages, Chinese assistance is manifesting itself more subtly in ways that are often overlooked. Consequently, a forthcoming Chinese aid package to Russia is likely to take several forms.
Can Chinese Financial Aid and Investment Resuscitate Russia's Fortunes in Ukraine?
With a long history, the burgeoning trade relationship between China and Russia are hardly news. Over the past two years, however, economic and trade ties between the two countries have deepened, despite the Kremlin's decision to invade Ukraine last February. Currently, energy, minerals, machinery, automobiles, electronics, nuclear fuel and reactors are among the robust areas of trade (China Daily, March 20). During President Xi Jinping's March 20-22 state visit to Moscow, the two sides agreed to sign joint statements on "Deepening the Comprehensive Strategic Partnership of Coordination for the New Era" and the "Pre-2030 Development Plan on Priorities in China-Russia Economic Cooperation" (PRC Foreign Ministry [FMPRC], March 22). In their joint statement on the pre-2030 development plan on priorities in China-Russia economic cooperation, both parties pledged to increase trade ties, deepen cooperation in key areas, energy and agriculture, and expand financial cooperation, notably including by increasing "the proportion of local currency settlement" (i.e., yuan or ruble) in trade or investment transactions (State Council Information Office, March 22).
Since Russia invaded Crimea in 2014, China-Russia relations have greatly deepened. This phenomenon was most visible in the cooperation agreements and joint projects signed over the past few years, as well as the significant increase in bilateral trade since 2021. Wary of this trend, the U.S. has criticized the close relations between its strategic rivals. In response, Beijing has claimed that the U.S. has "no right to point fingers at China" and asserted that Washington should stay out of China-Russia relations (Global Times, December 31, 2022). As Moscow turns to new options to sustain its invasion of Ukraine, the improving relationship between the two countries becomes increasingly troublesome for the West as well as the future of the ongoing war.
According to official sources, in 2022, the total China-Russia trade volume increased by around 30 percent, year-on-year, hitting a record high of $190 billion (TASS, January 13; South China Morning Post [SCMP], December 22, 2022). Pending plans seek to further increase bilateral trade, including by settling logistical problems (e.g., railroad capacity) and improving cross-border transport. At present, the two sides are exploring establishing new trade routes to connect additional port cities and deploy more container ships to facilitate connectivity. By opening up new channels of transport, this initiative will potentially expand the trade volume between the countries (Silk Road Briefing, August 5, 2022).
In addition to deepening mutually beneficial trade relations, China also offers Russia significant financial aid. The two countries have their own respective cross-border payment systems, and collaborate on various joint projects within the Belt and Road Initiative (BRI). In addition, Russia's state sector is a major recipient of Chinese foreign direct investment (FDI) (Russian Ministry of Science and Higher Education, September 1, 2022). Moscow has largely embraced this close partnership with Beijing, placing hopes that forthcoming economic and financial assistance from China will lend essential support to Russia's war with Ukraine (Lenta, March 16, 2022). As Russia's financial resources are running low under the crippling impact of Western sanctions and a prolonged war, Chinese hot money might provide the Kremlin with a real lifeline.
Will Chinese Artillery and Drones Tip the Balance in Ukraine?
As the Ukrainian conflict has become an artillery-driven war of attrition with multiple frontlines, stocks on both sides are already becoming exhausted. While NATO is trying to ramp up production to meet rising demand from Ukraine, Russia is turning to alternative sources to replenish its rapidly deteriorating arsenal and maintain high-tempo artillery firepower superiority over Ukraine.
Russia's current operational challenges call for two military assets in particular, where China can come into play; artillery, and unmanned aerial vehicles (UAVs). Faced with a significant lack of ammunition, artillery support would boost the capabilities of the Russian Armed Forces and support Russian advances. For the past few months, a shortage of ammunition has been a major bottleneck for Russian offensives. On February 17, Wagner founder Yevgeny Prigozhin confirmed that the group's access to ammunition is severely restricted, with some fighters "completely cut off from [ammunition] supplies" (Gazeta.ru, February 17). Some local sources claim that this was also a major issue that hindered the Russian offensive in Bakhmut (Topwar.ru, March 7). Western intelligence believes that the potential artillery aid that China could send includes 122 mm and 155 mm rounds, which Russia needs most. [1]
In addition to supplying Russia with ammunition for its artillery attacks, drone warfare is also gaining increased importance on the battlefields of Ukraine. As Ukraine is skillfully targeting Russian logistics lines (e.g., supply trains) as well as high-value targets such as command-and-control stations and S-300V4 surface-to-air missile (SAM) systems (Ukraine Weapons Tracker, March 9), Russia needs to step up its game in drone warfare to counter this threat. If used smartly, Chinese drones can enhance Moscow's intelligence, surveillance, target acquisition, and reconnaissance (ISTAR) capabilities at a low price. As the costs of indigenous drone production soar due to Western sanctions and difficulty accessing spare parts, Chinese UAVs could provide Russia with a cheap and effective alternative.
Chinese Components in Iranian Military Systems
So far, China's reticence to send ammunition to support the Russian Armed Forces have mainly been rooted in political concerns. Therefore, should it decide to support Russia's ongoing invasion of Ukraine, Beijing would likely opt to do so in a largely clandestine manner. Now that Iran is involved, China might have found itself a back channel to funnel support to Russia. The Sino-Farsi military relations date back to the mid-1930s and over the past few years, the two countries have grown closer. Earlier this month, China brokered a deal to restore normal diplomatic relations between Iran and its long-time geopolitical rival, Saudi Arabia (Xinhua, March 11).
Beijing also plays a key role in the design and manufacturing of some Iranian military assets. In fact, the U.S. recently sanctioned five Chinese firms for supplying Iran with drone parts (81 UAV.cn, March 10). While slightly late, the decision was not unfounded. At present, a large number of Tehran's military systems include Chinese engines or subcomponents. For example, the engine of the infamous Shahed-136 is made by a Chinese firm called MicroPilot Flight Control Systems (Institute for Science and International Security, October 31, 2022). The Shahed-131's engine is built domestically in Iran; however, it is a reverse-engineered copy of another system by the same company. The engines of these drones are either produced in China or are based on designs sold by their Chinese manufacturers to Iran. These designs are often heavily based on European technologies, which allow Iran to build engines and systems that mimic these advanced military assets. Therefore, China not only supports Tehran's defense-industrial base, but also grants it indirect access to Western military designs. In other words, for decades, China was the middleman that carried Western technology to Iran. Now Tehran acts as a conduit, providing these capabilities and technical know-how to Russia in its war with Ukraine.
As it seeks to leverage its position, Tehran appears willing to shoulder some of the burden for Beijing of funneling further military and financial support from China to Russia. In this way, China can avoid further Western sanctions while still managing to provide Russia with sorely needed assistance. By hiding behind Iran, which already has systems that the Russians actively use on the battlefield, China seeks to maintain its global image and reputation by indirectly supporting Moscow rather than openly siding with it. Therefore, this strategy will not only allow China to help its partner in crime, Russia, in a low-profile fashion, but it will also help its efforts to cultivate an image as a new type of great power, that is impartial and committed to resolving global conflict.
Conclusion
Until recently, Beijing has maintained a careful balancing act on the Russia-Ukraine conflict. As seen in its recent twelve-point peace plan document, China has no intentions of becoming directly involved in the conflict (FMPRC], February 24). In the rapidly changing world order, China will need to play smart and maintain relations with both sides, the West and Russia, based on its own interests.
In Ukraine, Beijing knows that Russia is not the winning horse. Therefore, it is also well aware that putting all its bets on Russia is probably a bad idea. However, supporting Russia prolongs the current war of attrition, which is exhausting Western military resources. A weaker NATO would serve Chinese interests, especially in a potential confrontation over Taiwan. Consequentially, China's primary interest is not in ensuring that Russia wins but in making certain it does not lose. In order to maintain the status quo, Beijing might be willing to step up its aid, even if it means hiding behind Iran, or resort to more "silent" non-military means (i.e., providing financial support) of assistance to Russia in order to protect its geostrategic interests.
Sine Ozkarasahin is an analyst at EDAM's defense research program. She holds a BA from Leiden University in International Studies (with a specialization in North American Studies) and a postgraduate degree in International Development (with specializations in Middle Eastern Studies and Project Management) from Sciences Po Paris. Her work at EDAM focuses on open-source intelligence analysis, drone warfare, defense economics and emerging defense technologies.
Notes
[1] Ellen Nakashima, John Hudson and Karen DeYoung, "China considers sending Russia artillery shells, U.S. officials say," Washington Post, February 24, 2023.