'Black Friday' Sanctions Against Putin's Inner Circle
Publication: Eurasia Daily Monitor Volume: 15 Issue: 53
By: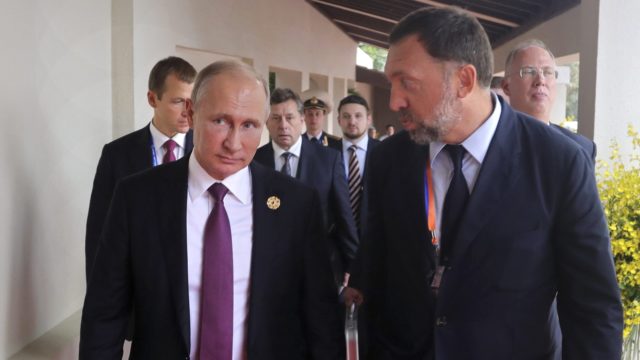 The fact that, last Friday (April 6), the United States Department of the Treasury published a new list of severe sanctions targeting Russian businessmen, officials and companies came as no great shock—rumors about that looming punishment had been swirling around Moscow for weeks. The surprise was the list's composition—with fewer "oligarchs" and many more officials than expected—and the timing. The sanctions came on the heels of Western democracies' coordinated expulsion of over a hundred Russian diplomats over Moscow's alleged role in poisoning a former Russian double agent and his daughter with a nerve toxin in Salisbury, United Kingdom. The Kremlin had expected that its firm response to the diplomatic expulsions would make the West think twice about escalating the row further, but the new blow hit where it really hurts—the personal interests of Kremlin loyalists who hold "fluid assets" safely parked in London or Miami. The newly sanctioned Russian elites' first response was to reassert their loyalty; but for dozens of courtiers and hundreds of subordinates, the moment has come to contemplate the consequences (Nezavisimaya Gazeta, April 6). President Vladimir Putin needs to project confidence to the elites but finds it difficult to deliver anything resembling a convincing answer.
Unlike the broad so-called "Kremlin List," published by the Treasury Department in late January (see EDM, February 1, 5), this one is better prepared. It targets several groups of accomplices in various cases of Russia's aggressive behavior; and pointedly, those involved in the 2014 annexation of Crimea were not omitted (Kommersant, April 7). The most devastating blow hit Oleg Deripaska and his business empire, and the most probable reason for such targeting is his role in bankrolling the interference in the 2016 US election, even if Treasury Secretary Steven Mnuchin avoided any mention of this crime when announcing the new sanctions (Forbes.ru, April 6). Alexei Navalny, a leader of the Russian opposition, who has frequently singled out Deripaska for the latter's massive corruption, has applauded this punishment. At the same time, Navalny expressed regret that Alisher Usmanov and Roman Abramovich were not included (Navalny.com, April 6). However, they, as well as a few other beneficiaries of Russian crony-capitalism, have likely taken note of sanctions against Arkady Vekselberg, who is cautiously circumspect about his connections to the Kremlin (RBC, April 7). Meanwhile, the inclusion of such "new generation" prodigies as Kirill Shamalov and Igor Rotenberg demonstrates that family members of Putin's inner circle are legitimate targets (Meduza.io, January 25).
New sanctions are increasing the pressure on Putin's spies, protectors and enforcers; and the targeting of Viktor Zolotov, the commander of the National Guard and long-term head of Putin's security service, is particularly significant (RIA Novosti, April 6). This newly created 330,000-strong army is the Kremlin's main force against public protests, like those in the Moscow region sparked by the poisonous fumes from over-flowing local rubbish dumps (Novaya Gazeta, April 7). Priority budget funding for the National Guard has been irritating other special services, which fiercely compete with one another in predatory rent-extraction and direct capture of private (though politically connected) businesses, like in the recent case against Ziyavudin and Magomed Magovedov (Rosbalt.ru, April 6). These squabbles are frequently camouflaged as anti-corruption operations, with mid-level customs officials or military contractors demonstratively thrown behind bars, while big-time crooks like Suleiman Kerimov or Andrei Skoch, who were included on the Treasury's list, remain immune from Russian prosecution (Kommersant, March 21).
Typically, it is precisely these latter individuals who most forcefully demand that Moscow respond to the US squeeze on their ill-gained fortunes, which they tend to identify with Russian national interests (Gazeta.ru, April 6). The Russian foreign ministry worked itself into a veritable frenzy last week denying any involvement in the chemical attack in the UK with a weaponized nerve agent produced at the Shikhany military research facility (Grani.ru, April 5). Yet, this aggressive rhetoric failed to curb international outrage: Russia lost a vote against it in the Organization for the Prohibition of Chemical Weapons and achieved no support at the meeting of the United Nations Security Council (RBC, April 4). Russia's diplomacy may have indeed grown desperate, but the top brass led by Defense Minister Sergei Shoigu also took an extra-tough anti-Western stance at a recent Moscow security conference (New Times, April 6).
Putin is hard pressed to retaliate with the "tough response" promised earlier by the foreign ministry (RIA Novosti, April 6). A demonstration of Russia's nuclear might could have been satisfying for him, but he had already delivered a bombastic "missile speech" six weeks prior that conspicuously failed to boost Russia's international status (Russiancouncil.ru, March 2; see EDM, March 1, 5, 8). When the Sergei Magnitsky Rule of Law Accountability Act was approved in the US in late 2012, Putin retaliated with a ban on American adoption of Russian children; some kind of "asymmetric response" could be invented this time as well (Kommersant, April 6).
Syria might be a tempting theater for exploiting US wavering, but the recent trilateral Turkey-Iran-Russia summit in Ankara opened no useful opportunities for Putin, who shies away from forming a true alliance with Iran (Nezavisimaya Gazeta, April 5). Experts in Moscow warn that any expropriation of US business assets in Russia would inflict damage to Russia's struggling economy, but the urge to hit back might overcome economic sense (Business Online, April 6). What tempers this urge is the prospect that Putin may visit Washington, DC (Newsru.com, April 7). The Russian leader is confident in his ability to handle and "befriend" difficult counterparts, but his need for a successful summit puts him in a vulnerable position vis-à-vis the maverick US president (Republic.ru, April 6). And Donald Trump's rebuke of Russia and Iran for their support of Bashar al-Assad following the Syrian regime's latest chemical attack on civilians (NBC, April 9) will likely further narrow Putin's field of maneuver.
Putin's new presidential term is off to a rocky start, both domestically and on the international stage. As an aging autocrat, he has grown capricious and suspicious of intrigues at his court; the need to assert his dominance is acute. Cadre reshuffles often help, but at the moment it is awkward to replace even the incompetent Alexei Miller at Gazprom or the compromised Andrei Kostin at VTB Bank while they brag about qualifying for US sanctions. The special services chiefs want to hit back at the US, but Putin is still reluctant to give up on finding ways to manipulate Trump. The domestic opposition makes for a far easier target for retribution, particularly since many in this disjointed camp have welcomed US sanctions. Tightening the repressive screws could give the illusion of greater control—until the next reality check.