Boko Haram Exploits Sectarian Divisions to Incite Civil War in Nigeria
Publication: Terrorism Monitor Volume: 9 Issue: 18
By: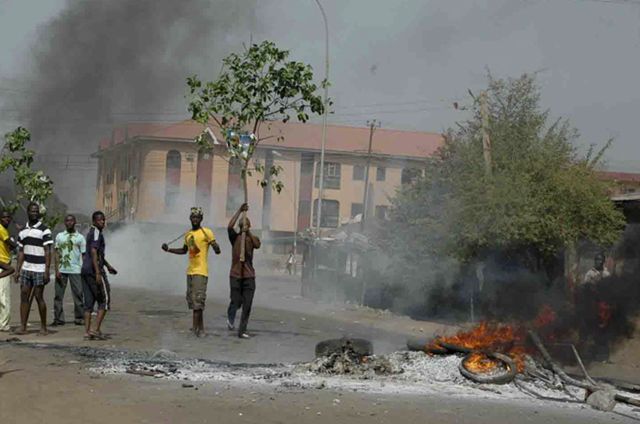 Boko Haram carried out a series of attacks in northern Nigeria during the country's elections, which began on April 9 with legislative elections and continued on April 16 and April 26 with presidential and gubernatorial elections. While Boko Haram has typically targeted government buildings, military facilities and major public events since the group began militant attacks in 2004, many of its attacks in April – especially in the Borno State city of Maiduguri – were clearly aimed at disrupting the voting and campaigning.
The victims of the election attacks in Maiduguri were primarily party leaders, government officials and voters:
• An All Nigeria Peoples Party (ANPP) gubernatorial candidate was assassinated on January 28 (newsonnigeria.com, January 29).
• The police chief of Borno State and an undercover policeman were assassinated in their homes during the week of February 20 (AFP, February 24).
• Imam Ibrahim Ahmed Abdullahi, an Islamic scholar and preacher against sectarian violence, was assassinated outside his mosque on March 13 (news24.com [Lagos], March 14).
• The Chairman of the ANPP was assassinated on March 28 after a party meeting (Daily Trust [Ikeja, Lagos State], March 28).
• At least ten people were injured in a bomb blast at the Unguwar Doki polling center and six casualties incurred at the Independent National Electoral Coalition polling center on April 9 (Vanguard [Lagos], April 9; Daily Trust, April 11).
• On March 29, police uncovered a Boko Haram plot to bomb an ANPP election rally in Maiduguri, but that same day Boko Haram militants killed three civilians in an attack spoiling the rally anyway (Reuters, March 30).
Boko Haram did not claim responsibility for each of the attacks, but the methods – such as motorcycle and SUV drive-by shootings – and the victims targeted for assassination bear the mark of Boko Haram (AP, February 24). In flyers written in Hausa and Arabic that Boko Haram sent to news organizations in Borno State on April 24, the group said: "We do not believe in any system of government, be it traditional or orthodox. That is why we are fighting against democracy, capitalism, socialism and the rest… We do not respect the Nigerian government because it is illegal… We will continue to fight its military and police because they are not protecting Islam…" (Saferafricagroup.com, April 25; BBC, April 25).
However, Boko Haram's attacks were not the lone factor in sparking the post-election violence between Muslims and Christians that left more than 500 people dead and 75,000 people displaced. In fact, Boko Haram's attacks did not cause a delay or shutdown in any of the polls and Maiduguri was spared from most of the post-election violence. Thus, there is no clear correlation between the frequency of Boko Haram terrorist activity and the degree of post-election sectarian violence (AP, April 24).
Political and economic forces beyond Boko Haram's control fueled the flames of sectarian strife. Allegations of vote-rigging, the economic marginalization of the northern Muslim majority relative to the more prosperous Christian-majority south and the 57% of the presidential vote for Goodluck Jonathan (a Christian from the south) compared to the 31% for Muhammad Buhari (a Muslim from the north) brought disaffected Muslims into the streets, but then the protests took on religious rather than political or economic overtones.
Regardless of the factors behind the violence, Boko Haram may have set an example for some of the worst acts of religious-inspired terrorism during the rioting. On Christmas Eve in 2010, Boko Haram members attacked and burned down two churches in Maiduguri and bombed a church in Jos, killing 80 people (al-Jazeera, December 31, 2010). In April's post-election violence, Muslim rioters burned down as many as 40 churches.
As one of Boko Haram's main goals is to destroy the Nigerian state and impose Shari'a in the entire country, Boko Haram has much to gain from the religious fighting. Muslim dissatisfaction with the Christian leadership in Nigeria and feelings of inequality strengthen Boko Haram's argument for replacing what is perceived to be an ineffective secular political system with an Islamic system and for replacing Western education with Islamic education – the original purpose for Boko Haram's existence (Boko Haram means "Western Education is Sacrilege" in Hausa). The religious fighting spreads the Nigerian security forces thin as personnel seek to manage the riots while also countering Boko Haram and other rebellious groups in the southern Niger Delta and elsewhere.
If these tensions continue to resurface year after year as they have in 2009, 2010 and now 2011, Boko Haram may then be able to brand itself as the champion of the Muslims by making headlines and gaining notoriety from highly-publicized attacks, even if most Muslims in northern Nigeria do not support to its radical interpretation of Islam and use of violence to achieve political objectives. The Nigerian government must evaluate the roots of the religious divide and find solutions to reduce conflict between Muslims and Christians, which would then undermine Boko Haram's raison d'être and counter its recruiting propaganda. Despite capturing and killing the Boko Haram leader, Muhammad Yusuf, in 2009 and conducting several crackdowns killing hundreds of sect members, Boko Haram has replenished its ranks by attracting radicalized Muslims, making the group is as active as ever right now.
Thus far, existing Muslim-Christian tensions in Nigeria have had a destabilizing effect on the Nigerian state far outweighing Boko Haram's tens of terrorist attacks. While these sectarian tensions simmer, all Boko Haram needs to do is to continue fuelling the fire with terror attacks against state institutions, government officials, and churches until the group becomes closer to achieving one of its more insidious objectives – launching Nigeria into a "full-scale war" (Daily Champion [Lagos], February 3).