Border Clashes With Kyrgyzstan Threaten Tajikistan's Regional Integration
Publication: Eurasia Daily Monitor Volume: 11 Issue: 94
By: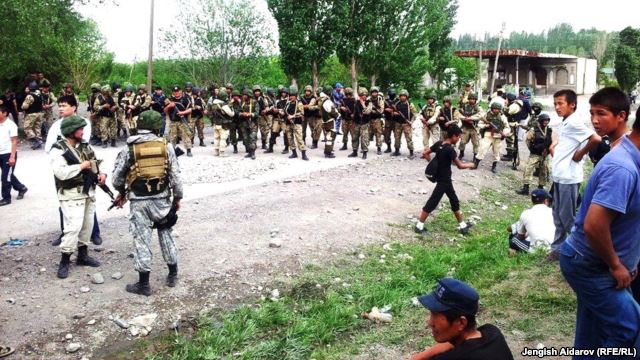 On May 7, 2014, clashes occurred along the disputed border between Tajikistan and Kyrgyzstan, injuring as many as 60 people (Ozodi, May 8). Reportedly, the clashes began with a small group of drunk youths throwing stones at each other, but the incident soon escalated to gunshots. Subsequently, up to 1,500 people gathered at the scene. The violence took place between Tajikistan's Isfara and Kyrgyzstan's Batken districts, whose poorly delineated border has seen periodic skirmishes over access to water, grazing lands and roads. While cross-border violence in this region is usually limited to civilian residents, ten Kyrgyzstani policemen were reportedly injured in the violence. In January 2014, eight members of various Tajikistani and Kyrgyzstani security forces were injured in a cross-border shootout in the same region (see EDM, January 20).
In the week following the violence, several high-level meetings between officials from Bishkek and Dushanbe have taken place, including a meeting between presidents Emomali Rahmon of Tajikistan and Almazbek Atambayev of Kyrgyzstan, on May 8, on the eve of the (World War II) Victory Day celebration in Moscow (Asia-Plus, May 10). Additionally, on May 12, diplomats from both countries met to discuss the recent violence, but were unable to reach an agreement on how to delineate the border (BBC Tajik, May 14). Despite their failure, the violence does not seem to have negatively affected relations between Bishkek and Dushanbe as neither seems interested in internationalizing what is effectively a local dispute.
While outsiders might applaud the measured reactions of both Rahmon and Atambayev, continued cross-border violence could exacerbate intra-state regionalism in both Kyrgyzstan and Tajikistan. Both countries suffer from a "North versus South" political divide where the political elite hail overwhelmingly from one region (see EDM, August 4, 2011; February 7, 2013). On a basic level, in the case of Kyrgyzstan, the northern political elite in Bishkek are resented by their southern counterparts, and in Tajikistan, the southern political elite in Dushanbe are resented by their northern counterparts. The border violence, however, occurs along the politically marginalized border regions of northern Tajikistan and southern Kyrgyzstan. If the border skirmishes continue to escalate at a local level, further diplomatic restraint could be perceived as apathy by the central authorities and be exploited by domestic political rivals to aggravate regional tensions. On the other hand, saber rattling and nationalist rhetoric could lead to diplomatic fallout or even open inter-state conflict.
Given Tajikistan's poor relationship with neighboring Uzbekistan (see EDM, October 22, 2013), prolonged border closures and damaged bilateral relations with Kyrgyzstan would be particularly harmful for Dushanbe. On May 14, during a Shanghai Cooperation Organization (SCO) conference entitled "Ensuring Regional Security: Difficulties and Outlook," Homidjon Orifov, Tajikistan's representative in the International Commission on Large Dams (ICOLD), complained that Uzbekistan's obstruction of transportation routes is dramatically increasing the cost of building the Rogun hydro-electric dam and noted that currently Kyrgyzstan is the only viable option for importing required materials (Ozodi, May 14).
In 2011, the primary rail link between Uzbekistan and Tajikistan was blown up, purportedly by a "terrorist group," dealing a major setback to Tajikistan's procurement efforts for Rogun (see EDM, November 28, 2011). This event, along with frequent border closures, was instrumental in pushing forward the construction of the Turkmenistan-Afghanistan-Tajikistan (TAT) rail line, which would allow Tajikistan to circumvent Uzbekistan. On May 5, Turkmenistan's President Gurbanguly Berdimuhamedov met with Emomali Rahmon in Dushanbe and they both affirmed their desire to expand bilateral relations and complete the railway "as soon as possible" (Ozodi, May 5). The project broke ground last June and is scheduled to be finished in mid-2015. However, some analysts have expressed doubts about the project's viability.
The biggest question looming over the project is whether northern Afghanistan is stable enough to serve as a transit link between the two countries. Additionally, some fear that even if northern Afghanistan remains relatively secure after the withdrawal of International Security Assistance Force (ISAF) troops in 2014, a new administration in Kabul might not have the same interest in perusing the project (Millat, May 10). The concern stems from the question of how much of a role Rashid Dostum, the ethnic-Uzbek warlord who effectively controls much of northern Afghanistan (see EDM, March 10), will play in the next Afghan government. Ashraf Ghani, a leading presidential candidate, has aligned himself with Dostum in his bid to beat rival Abdullah Abdullah. Some Tajikistanis fear that if Ghani is elected, Dostum, who has longstanding ties to Uzbekistan, will be granted de facto control over northern Afghanistan and act as Tashkent's surrogate in the region.
Uncertainty in Afghanistan, poor relations with Uzbekistan, and problems of infrastructure and geography with China make maintaining healthy relations and open borders with Kyrgyzstan a priority for Tajikistan. Failure to demarcate the border in a timely manner and address the underlying political and economic issues in the region could lead to increased cross-border violence, regional instability, and strategic isolation for Tajikistan.